Every blogger starts somewhere, and that somewhere is a shiny, brand new website and their very first post. If you've always thought about having your own blog, whether for business or personal uses, there's no time like the present to get started!
So you get your blog up and running. You give it a name, and you decide what you want to write about. You start writing and publishing.
If you want to see results from your blog (even if it's just a large and engaged readership), you need to do more than just write and publish blog posts regularly.
There is, unfortunately, more to blogging than knowing the differences between "there, they're, and their" and "it's and its." You need more than just being a great writer, or even having interesting ideas.
In many cases, amateur bloggers make at least one of the seven same mistakes that keeps them from getting the traffic they were hoping for, limiting the blog's potential and success. This is true whether they're reviewing video games, starting a tech blog, or are writing about their experiences traveling, parenting, or recovering from addiction.
In this post, we're going to take a careful look at the 7 most common but impactful mistakes amateur bloggers make that you want to avoid.
1. Forgetting Blog Distribution
This is one of the biggest mistakes, hands down, that I regularly see from amateur blogs that otherwise could gain major traction. They can write great posts, but then they leave it at that. They completely forget about (or likely don't know about) content distribution, losing traffic from their blog.
Content distribution is what happens after you publish the content, and it's the process of strategically finding ways to get your content in front of your target audience.
You can't count on people to find your blog magically, or hope that you'll go viral after sharing a link in your personal Facebook Page once. Even SEO optimization shouldn't be all you're doing to drive traffic your way.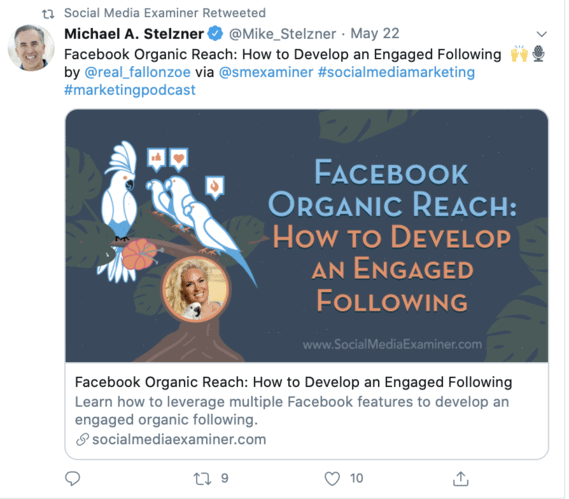 Instead, consider using some combination of the following content distribution strategies:
Promotion on public social media profiles, including Facebook, Instagram, Twitter, and Pinterest. Ideally, set up a public business Page for your blog so it's separate from your personal account; when the blog takes off, you'll be glad for this separation, and the business accounts come with advanced analytics features.
Optimize for search. We'll discuss this in the next section, but if people are looking for you, you want them to be able to find you!
Build an email list. Create an opt-in box on your blog that allows people to subscribe.
Contribute to guest post publications. Contributing to other publications allows you to increase your potential reach. Look for well-respected, ideally high-authority publications that your target audience is likely to read regularly.
2. Neglecting Search Engine Optimization (SEO)
Hang on, everybody. This is going to be the bulkiest section, but I promise it's worth it.
If you're reading a lot of sites talking about blogging and content marketing, you'll see a bunch of them talking about "SEO."
Search engine optimization (or "SEO" for short) is the process of optimizing your website and your blog's content so that it will rank well in search results. It's easy to see why this is so important; the ability to help your target audience find your content when they're actively looking for it is essential.
Many amateur blogs don't know about or remember to factor SEO into the picture, but the process is actually pretty easy! The goal is to essentially tell Google what your blog post is about and prove that it offers value (or is at least relevant) for that particular search intent of the keyword at hand.
This means that you'll want to do what's called "keyword research" ahead of time. You can use a free tool like Google's Keyword Planner to look for keyword ideas and the best keyword to optimize for each post. You'll want to find options that have a nice balance of as high volume in searches as possible, but the lowest competition possible. Especially for amateur bloggers getting started, it's important to remember that you'll struggle to rank with big brands and long-established sites, so low competition is key.
If, for example, I'm starting a cooking blog, and I want to write about key lime pie, I'd search for the term "key lime pie."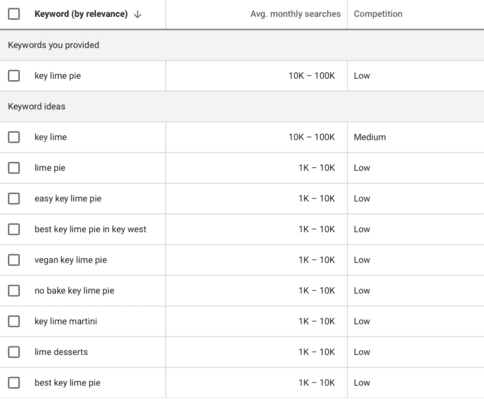 The only medium competition keyword here is "key lime." Terms like "vegan key lime pie," "no bake key lime pie," "best key lime pie," and "easy key lime pie" all have between 1k-10k searches per month but low competition.
This can not only give you insight into what to optimize your blog post for, but also give you a new angle that can help you better reach the audience you want. You should always choose a primary keyword, but bolstering the content with a few additional relevant keywords (which are called "secondary keywords") is a good call.
Optimizing Your Content for SEO
Once you've chosen a primary keyword, you'll want to leverage it completely.
Here's how you optimize our post for a specific keyword:
Include the primary keyword in your blog post title exactly how it is.
Use the keyword multiple times in the blog post, but do so naturally and without spamming it.
Use the keyword in at least one subheading (or more!) if possible (H2s and H3)s.
Create a meta description including the keyword. Your meta description can be created with tools like SEO Yoast on WordPress, and may be native on other platforms. It's the small snippet of text that appears under the blog post title in the search results, which you want to capture user attention.

Include "alt text" on every image that features the keyword. Most platforms allow you to edit an image, and add alt text. This tells Google what the image is, and it also allows those with screen readers to better understand what the image is, too.
3. Your Focus is Too Broad
I've come across a lot of lifestyle blogs in particular that are well-written and have great insights, but they're just too all over the place.
If you're writing a mommy blog, for example, you're going to have a tough time building an audience when you're writing one post about "5 Quick Ways to Speed Up Our Morning Routine" and another about "The Ultimate Elegant 7-Course Dinner Your Guests Will Love." Even though we as people are all capable of being complex (trying to rush out the door in the morning and making over-the-top seven course meals), this is like whiplash for your audience.
You want to be a resource for a single general focus. You might want to choose between the general focus of Tricks for Busy Moms or Entertainment Tips or Cooking for Company.
When I want to learn a new recipe, I go straight to Sally's Baking Addiction. And when I want to learn about Korean cooking, I had over to Maangchi's site.
Niching down helps you become that resource, but it also makes it much easier for you to have a distinct point of view and connect with your target audience. A cooking blog alone could have more unique focuses of vegan cooking, fast cooking, affordable cooking, cooking for picky eaters, cooking for kids, learning new cuisine, technical cooking tips for home chefs, and so many more. The more unique your point of view and your focus is, the better.
4. You Aren't Creating Strong, Original Blog Visuals
Your blog isn't just about the words on the page. You also need beautiful, interesting, strong visuals that are original to you.
Even just for sharing purposes this is essential. You physically need images to be able to post on Pinterest and Instagram, and visuals also significantly boost reach and engagement on other platforms like Facebook and Twitter.
Visuals also help break up the text, keeping the reading experience easier and more dynamic for your readers. The content looks better, and your audience enjoys it more.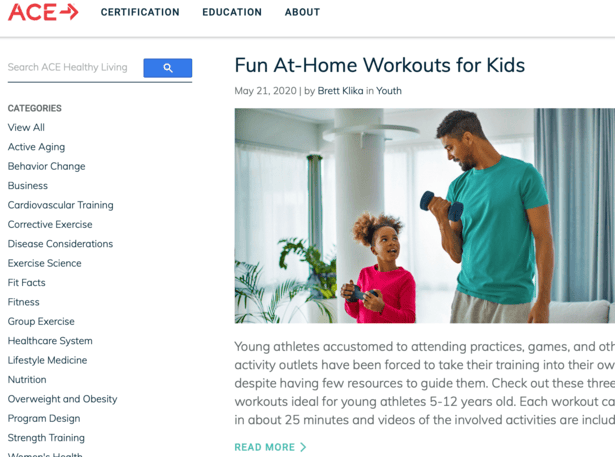 Note that we stress "original" here. That's because you can't just Google "exercising woman," find a picture you like, download it, and upload it to your own exercise blog. This can actually land you in a world of hurt, because all images (and text!) online are copyrighted automatically unless that copyright has been waived. You can receive cease and desist orders and fines.
Fortunately, even if you're a downright abysmal photographer (hello, my fellow I-somehow-cut-people's-heads-off-in-pictures friends!), there are options available to you.
Snappa is a great resource for amateur bloggers and professional content creators alike. It's affordable, and it utilizes drag-and-drop technology so that you can create gorgeous graphics without having any graphic design experience.
Upload your logo, text, and graphic elements quickly. You can also utilize our entire library of copyright-free stock photos that you can use to keep users engaged. And don't worry; there are plenty of incredible templates that can get you started, for everything from your blog's header image to your social posts.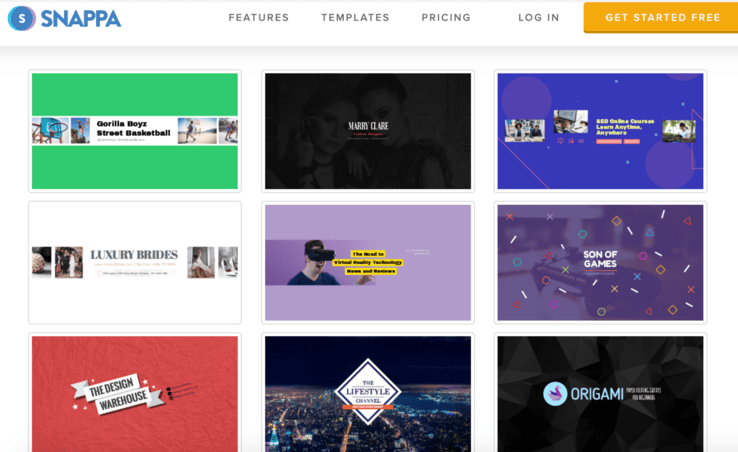 Remember that high-quality graphics will help your blog to look more credible. This is important.
5. Not Self-Hosting Your Site
You've got two options when it comes to where to set up your domain, or where our blog lives. You can use a third-party platform like Medium or Blogger, or set up your own website through self-hosting. Having your own website at your own URL (think www.mysite.com instead of www.blogger.com/mysite) is a huge advantage, and it gives you more control over what's happening.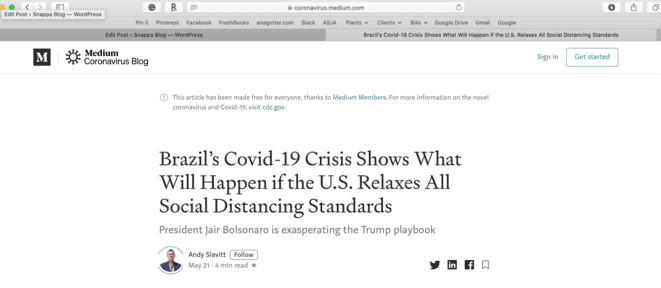 Hosting is what allows your site to exist online, being stored in a server that can be accessed by other users.
Self-hosting does require you to pay, but it's affordable. Bluehost (which I use for my business site) has plans starting at $7.99 per year, including your domain name for free for the first year. There are plenty of other great hosting sites available.
When you're self-hosting, you get a unique link to your domain name, which looks much more official than having a "medium" or "blogger" stuck somewhere in there. You're also in much more control; you can manage backups yourselves, have more control over the customization of the look of the site, and you're not at any risk for a third-party platform to just decide to shut down or delete any of your posts. The latter doesn't happen often, but it could happen.
If you've already got a site set up on a third-party platform, you can migrate the content to a self-hosted site. How you do so will depend on two factors: the platform you're moving from, and the platform you're moving to. A quick Google search will give you the information you need. If you feel this is outside of your technical ability, you can hire someone to do this for you. Even for amateur blogs, we believe this is well worth the investment, and you might as well do it now before the blog grows anymore.
6. Excluding An "About Me"
You want to have an "About Me" section on your blog. This is actually a lot more important than you think, and you need this even if you regularly share anecdotes about yourself or your family in the actual posts.
People want to know who they're listening to. An "About Me" builds trust, rapport, and credibility. Someone is taking accountability for these posts, wants it tied to their name, and has a story behind writing. This is all immediately appealing to writers.
When you're creating your About section, keep it relatively short, no more than three paragraphs if possible. Make it fun and use your unique voice; it shouldn't be boring and stiff.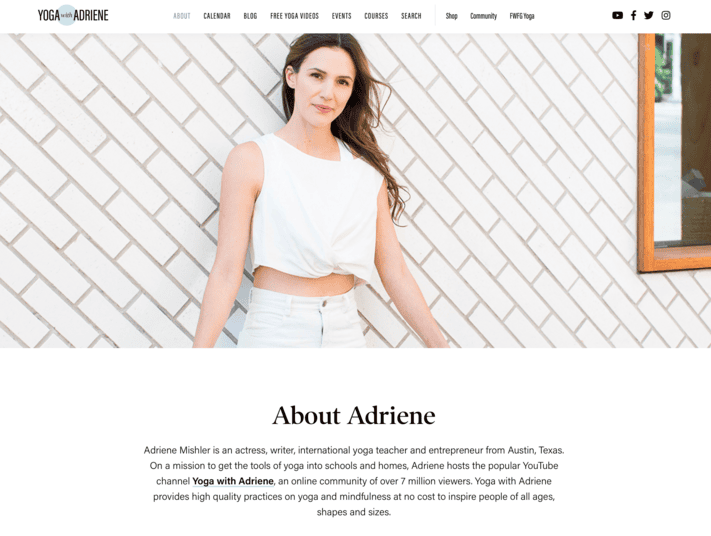 Consider including the following information:
A little bit about your personal life. Who you are, where you're from, if you have dogs or kids or a lot of plants.
Why you're writing. "I've been a hardcore video gamer since I was 12, and my favorite part was finding the secret parts of the games that developers hoped you'd find! And when I find them, I want to share them with you so you can search for them, too!"
What experience you have. This can be "I've got a Master's degree in English literature and worked on three literary journals, and I've learned how to find the best up and coming books during that time!" to "I've been an avid reader my whole life, and have a knack for finding the next big book before it even gains popularity."
What you want users to gain from reading. Maybe your goal is to make technology more accessible to those who can't even operate a cell-phone. Or you want to share your family's long-time knitting patterns so they can create higher-quality, longer-lasting goods for their family.
7. Not Properly Linking
The last mistake I see amateur blogs making that impacts them in so many ways without them realizing it: They're getting the link building (and general linking) wrong.
This can happen in a few ways.
They're participating in link-building schemes. You don't want to do this. Link building can help you increase your domain authority, which means you rank better. But Google can and will catch you if you're trading links for links with other companies or using Private Blogging Networks (PBNs), which is the process of paying a third-party to link to your site from what are essential fake sites. It's like buying fake likes on Instagram; the accounts aren't real. Building links can take time, which is frustrating, but you want to do it organically and with methods like guest posting.
Forgetting internal linking. You want to include links to your own content on each post so that you encourage people to keep bouncing around your own site instead of leaving. This also allows you to offer any context needed instead of leaving them to go Googling for another resource when you had one right there! I always shoot to include at least three internal links (aka links to your own site) in every blog post.
Not linking to other sites. This may sound contradictory to the last post, but it's not. Despite what some people think, linking to third-party sites does not hurt you; instead, it can give you a strong SEO advantage. Linking to non-competing third-party sites that have high-quality information will allow your users to get more value from your post, it builds credibility, and it's also good for Google. Google likes seeing that you're linking to high-quality posts, and it looks at those links for context. Whenever possible, try to choose posts that are high-ranking (in the top five) in the search results.
Conclusion
Even if you don't want to scale your blog to the point where it lets you quit your full-time job or you're getting hundreds of thousands of daily readers, there's a good chance that you want your target audience to find it and appreciate it!
If you want to build your readership and to see your blog gain traction, keep these 7 amateur blog mistakes you want to avoid center stage when you're getting everything up and running. Making the right moves both early on and consistently throughout your blogging journey is key to long-term success, helping you achieve every goal you have for the content you've worked so hard to create!
Need help with the visual part of creating a gorgeous blog? Start your free trial with Snappa to access those effortless graphic deign tools, templates, and free stock photos!
What do you think? What made you most excited about starting your own blog? Have you made any of these amateur blog mistakes? What long-term goals do you have for your blog? Share your thoughts and questions in the comments below!