You start a YouTube channel so you can connect with a new audience and build more solid relationships with the customers you already have. You do everything right. Overtime, you start to see views increase, and your viewer retention rates are high.
This is all great, but you realize that you aren't actually seeing a lot of results off platform. Your subscriber number isn't increasing, there isn't a lot of traffic to your site, and sales are unaffected. What gives?
In many cases, branded YouTube channels that have great content, a strong profile picture, the best video format, solid channel art are dropping the ball in one major way: their YouTube outros. In this post, we're going to discuss what YouTube outros are, why they're so important, and how to create one that will help you get the results you're looking for.
What is a YouTube Outro?
When you're watching a YouTube video on popular channels, there's a good chance it will be broken down into three sections: an introduction into what the video will cover, the video itself, and then an end slide known as the YouTube end screen or the "outro."
A YouTube outro will typically contain some sort of end screen template ending that contains links to content, sites, and products mentioned, along with a CTA. This CTA might encourage users to check out your site, buy a product, watch additional videos, or subscribe to the channel. You can make these dynamic, and add video snippets to the template, but simple works well, too. As long as there are clickable links, you're good to go.
You can see what this looks like here:
YouTube outros will help you drive specific actions from viewers who enjoyed your video enough that they watched it the whole way through. This can make the difference between someone thinking "that was cool" before clicking on a suggested video and someone thinking "that was cool, let's check out that site or channel" and converting.
The Best YouTube Outro Size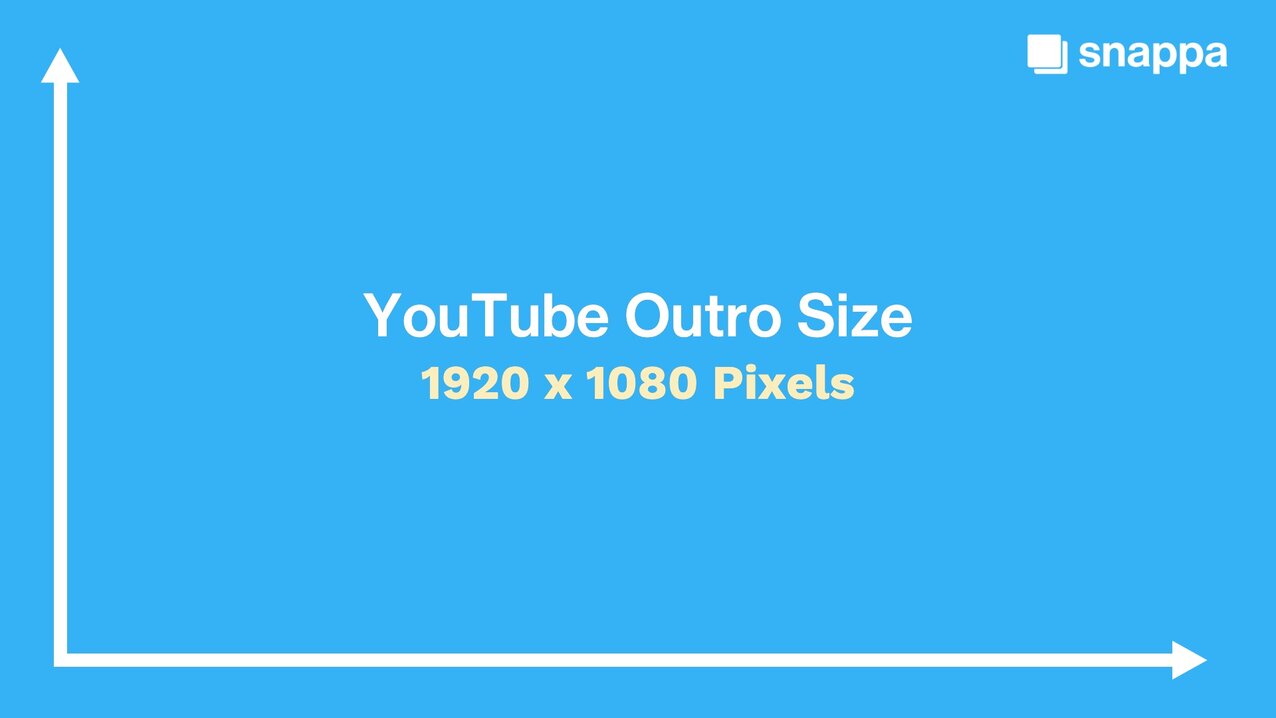 The best YouTube outro size will be 1920px by 1080px, which should be the same dimensions as your actual video and will yield the standard HD aspect ratio of 16:9. This will look great when viewed on large screens and mobile devices alike.
When it comes to YouTube end screens, there are a few technical things to keep in mind.
You won't just want to have the slide appear for two seconds at the end of the video. That isn't enough time for viewers to process what they're seeing and make a decision to take any action or not. Give it a good eight seconds minimum so that viewers can read over what you're asking and take action before the screen goes black.
How to Make a YouTube Outro
Creating a YouTube outro is easier than you'd think. Start by logging into Snappa. You can either choose a YouTube end screen template, or start from scratch.
In this example, we'll do the former and choose to start from a template.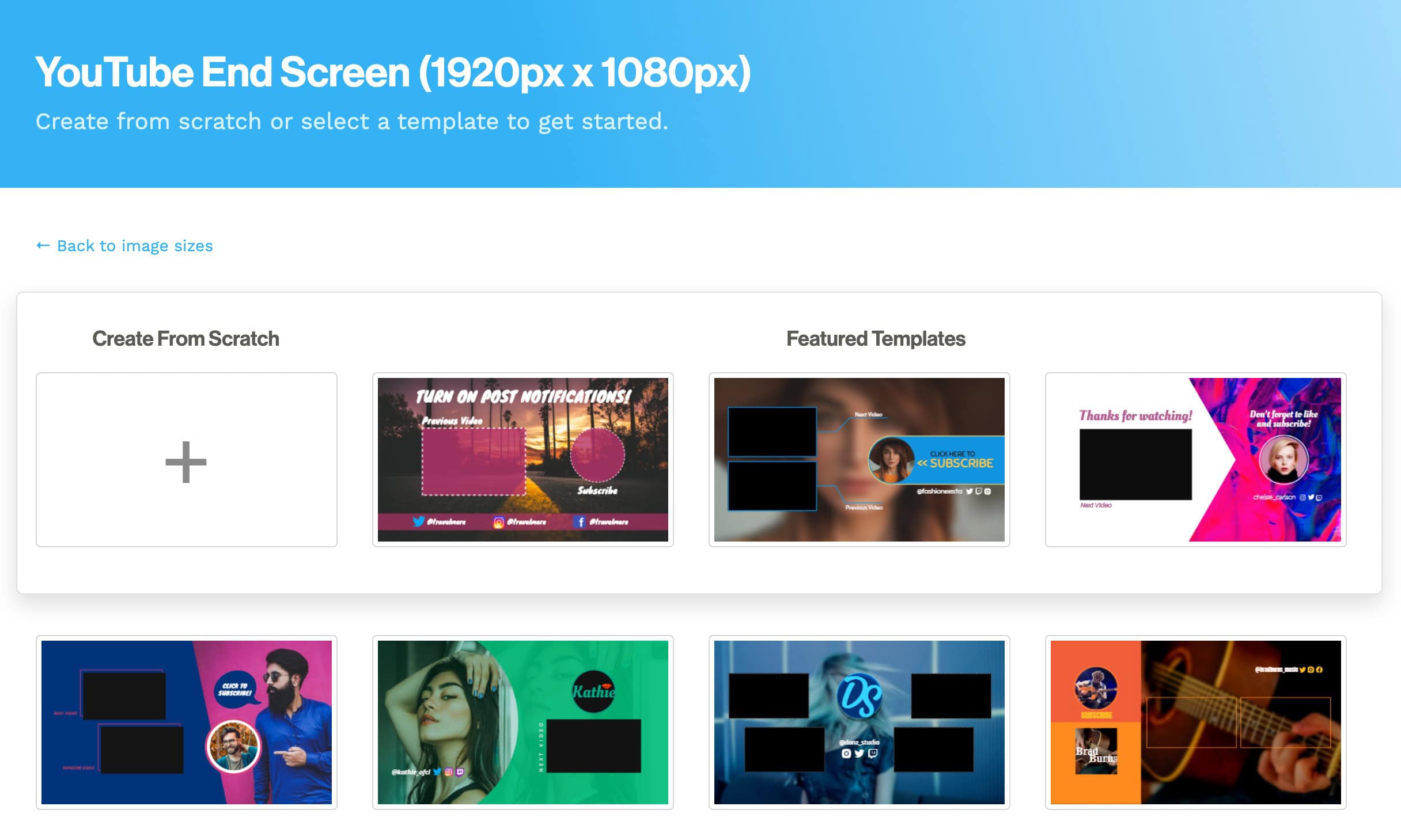 Once your template is loaded on the canvas, it will be optimized for the proper YouTube end screen dimensions. Each template contains blank frames where you'll be able to add your featured videos and other calls to action.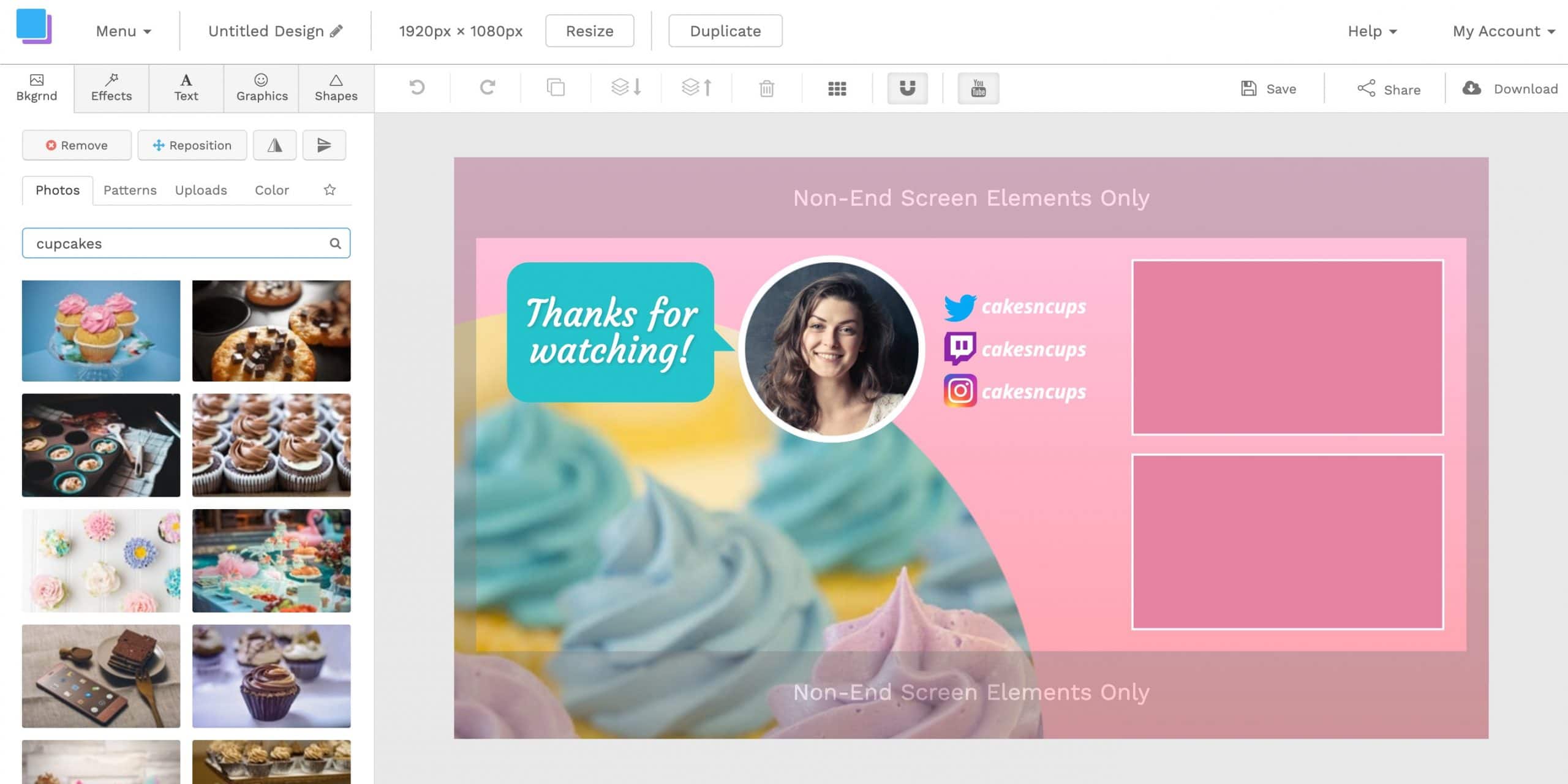 Customizing the template is very easy. To start, you may want to swap out the background with your own photo. Alternatively, you can choose one of the stock photos in our library or use a simple background.
Next, modify the text with the details of your channel and edit any other graphics or elements necessary. Within a few minutes, you'll have a custom professional-looking end screen ready to be uploaded to YouTube.
These templates can be added to your video editor when editing each YouTube video, and smaller video clips can be overlaid on top of them. You can also add additional effects through your video editor, turning this template into something extra magical.
YouTube End Screen Best Practices
The results you get from your videos will often only be as strong as your YouTube end screen. For this reason, it's important to really knock it out of the park. Since you only really have to create one template for your YouTube outro, a tool like Snappa makes it easy to do. Take the time to make sure your outro is extraordinary.
Here are a few best practices that can help you do so:
Use plenty of whitespace. This is a good design tip in general. If the outro becomes overly crowded with different elements stacked on top of each other, it will be overwhelming and you won't see any results.
Choose CTAs that make sense. Link to relevant videos or blog posts. Include links to relevant products, but only if it makes sense. You can ask for more than one action to be taken and give people options, but make sure that the CTAs you're optimizing for actually make sense based on the video users just watched.
Have some consistency. Using the same few templates will add a feeling of consistency to your channel, which can add credibility. It also makes things easier for you. Consider having your social media handles available on each outro and a subscribe button in addition to whatever else you choose.
Conclusion
You've created your YouTube channel with a clear purpose in mind. For many businesses, it's to promote your products and build relationships with your viewers. If you neglect to have a strong YouTube outro, you're losing an opportunity to take that relationship a step further.
Whether you choose to send users to your site, another video, a landing page, or event, just asking them to subscribe, use the momentum you've got to drive significant actions that will push the relationship forward. They're easy to create, especially with Snappa's ready-made templates waiting for you, and they'll increase your channel's ROI across the board.
What do you think? How do you optimize your YouTube outros? Which end screen practices work best for you? Share your thoughts in the comments below!