When starting a Twitch channel, you want to make sure that your channel branding is on point. You'll want to add a nicely designed Twitch banner, a profile picture, and even some Twitch panels to give your viewers a better idea of what you'll be streaming.
We've covered most of the other elements of a Twitch channel in our other blog posts, but one thing we have not touched upon is the Twitch panel size.
In this article, we'll give you the best possible Twitch panel dimensions, along with ideas and tips to help you create the best possible panel designs!
Bonus: 
We've integrated Twitch's panel size and free custom templates into our design tool. It will look perfect on mobile and desktop!
Create a Twitch Panel for free!
What is a Twitch Panel?
If you're new to the streaming world, a Twitch panel is used as a call-to-action or an info banner under a user's live stream.
The purpose of the panel is to provide some more information about a user's stream or it can be used as a way to direct viewers outside the Twitch platform with external links.
What is the best Twitch panel size?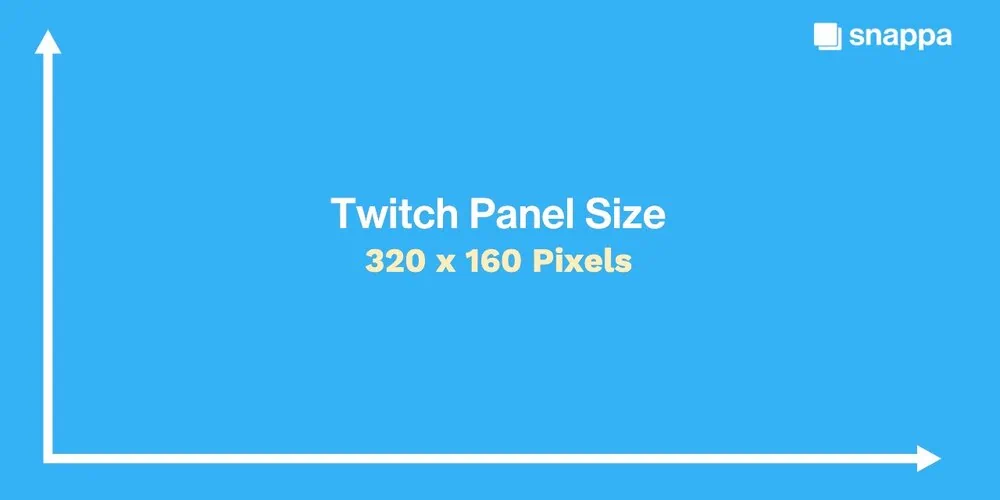 The best Twitch panel size is 320 x 160 pixels. The dimensions of a Twitch panel has a fixed width at 320 pixels and you can adjust the height based on your needs. In our case, we made the panel with a 2:1 aspect ratio.
Note: Keep your Twitch panel image file size under 2.9 MB to meet Twitch's requirements!
If you're looking to get the best possible HD quality from your stream panel, I would recommend doubling up on the Twitch panel dimensions and going with 640 x 320 pixels.
Use a Free Twitch Panel Maker
If you're looking for an easy way to create a free Twitch panel, you should check out Snappa! You can create a great Twitch panel design with great icons and Twitch images in less than 5 minutes!
Start by using the best Twitch panel size which we provided above (320 x 160). By starting your design from scratch, you can fully customize your text and the overall panel design.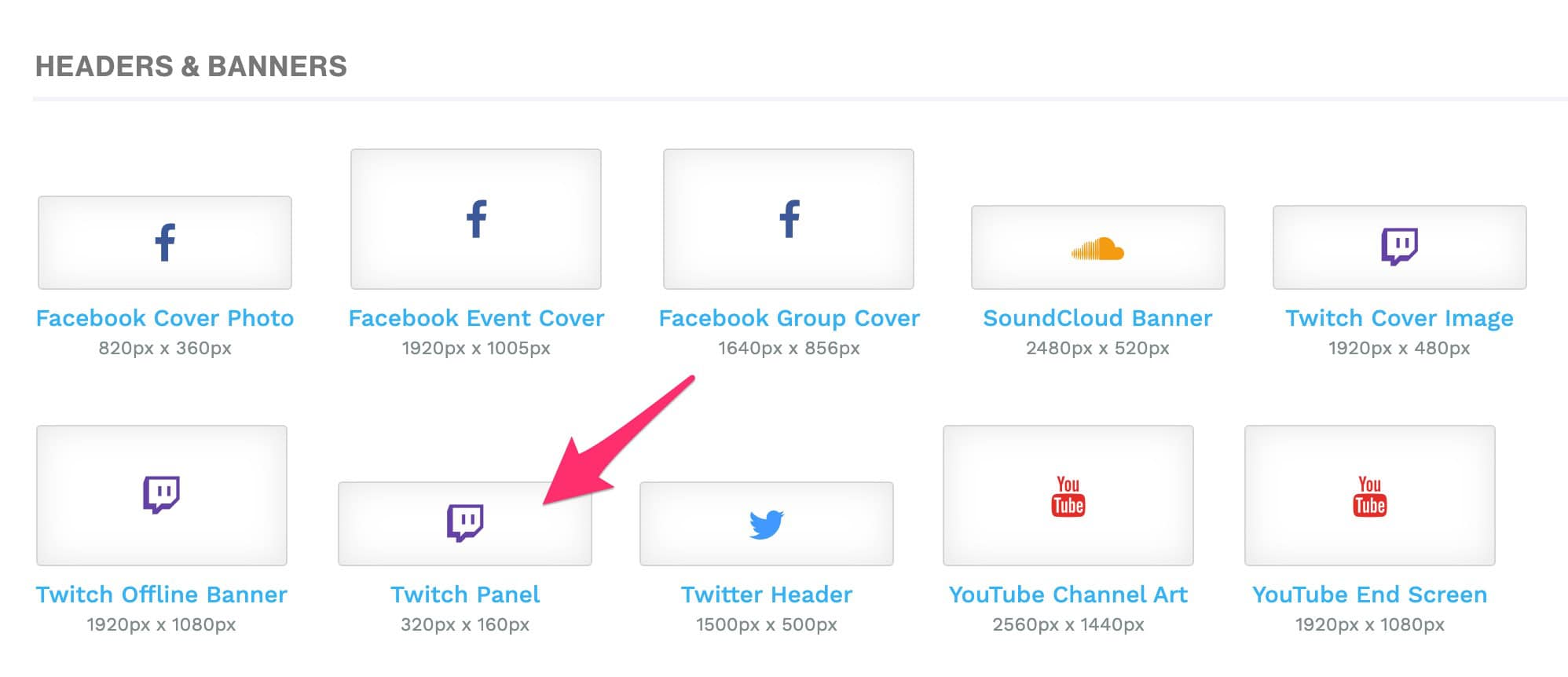 Add Text to Your Panel Design
Navigate to the text tab in Snappa and click to add a heading. From there, you'll be able to customize your text by modifying the font color, style, and attributes based on your Twitch needs.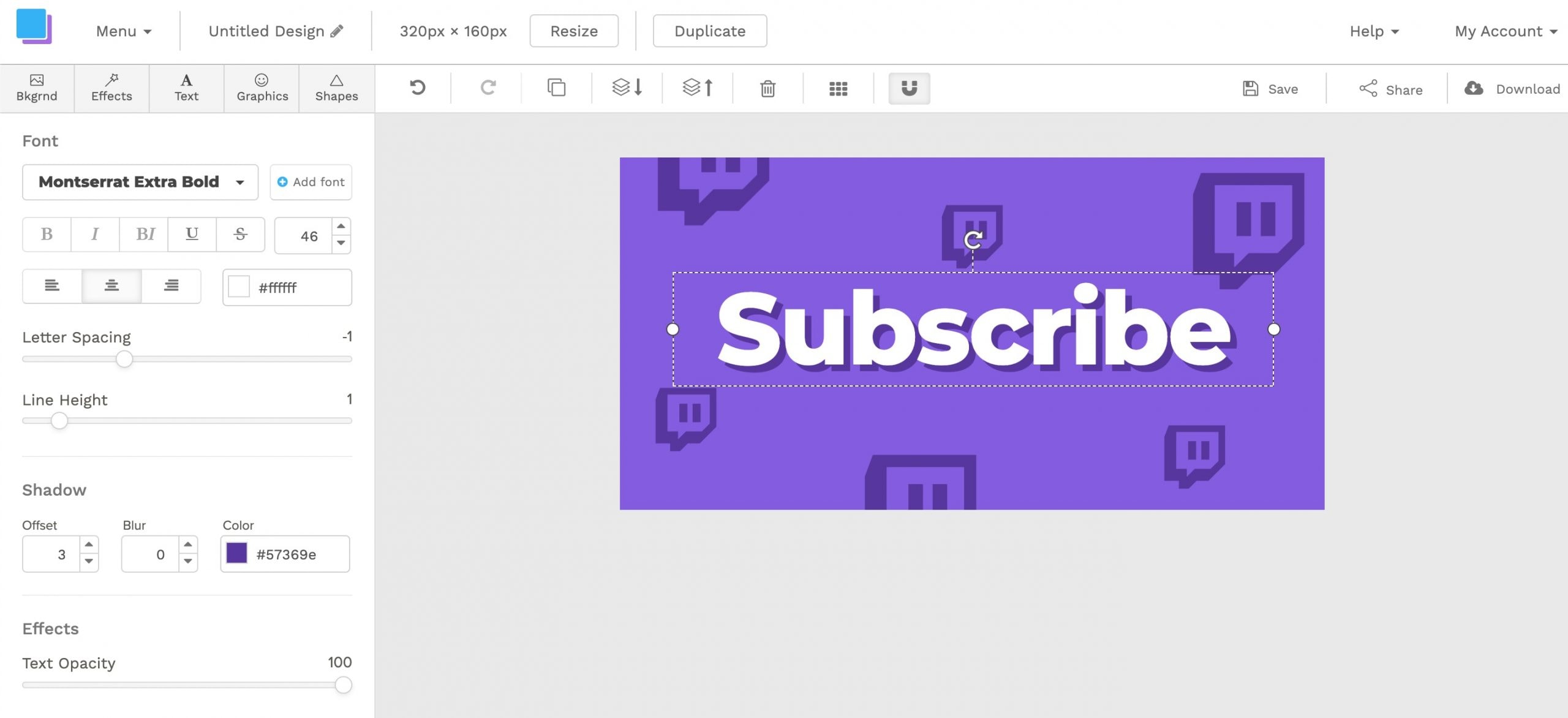 Choose Your Twitch Panel Icons
Using Snappa, you can choose from a large selection of Twitch panel icons. The library includes icons for social media or icons that properly represent the type of panel you are creating for your Twitch channel.
Pick Images for Your Twitch Panel
Similarly to the icons library, Snappa offers a large selection of free stock photos which you can use for your Twitch panel images. You can search the library and add multiple panel photos in or select a single photo which you can then edit to your liking.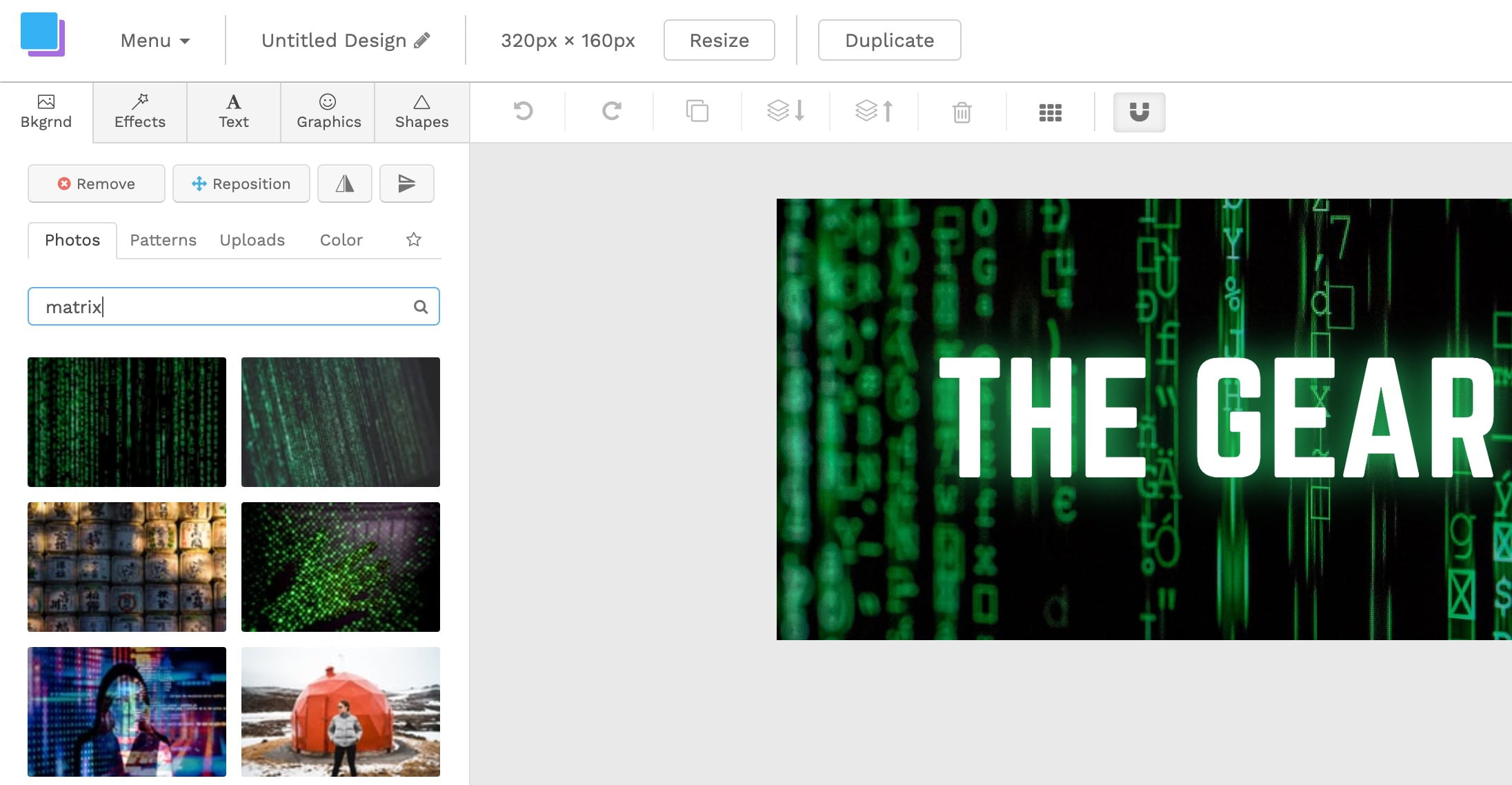 Once you're done with your Twitch panel design, you can simply download the image to your computer and upload it to your Twitch channel! If you want to make more, you can simply duplicate your design and modify the text and imagery!
The Different Types of Panels
There are several different types of panels you can add to your Twitch channel. Keep note that you should only add whichever panels apply to you! Adding too many panels can confuse your viewers and will be less effective.
About Me Twitch Panel
The about me Twitch panel is meant to be a little summary about your channel and stream. This is used as a way to introduce yourself to your followers or first time viewers.
When creating an about me panel, you want to make sure that you're not adding too much text and that you keep it short and concise.
Twitch Panel Schedule
You should be including your stream schedule in your Twitch cover photo or your Twitch offline screen, but you can also add it as a Twitch panel.
Emphasizing your streaming schedule is often overlooked, but it's extremely important. Having consistency in your stream is one of the key factors to becoming successful on Twitch and you want your followers to know exactly when you'll be live!
Social Media Panels for Twitch
Creating social media panels for your Twitch stream is a great idea. Use these panels as a way to cross-promote your different social media platforms so that viewers have a way to stay updated outside of the Twitch platform.
Remember that you don't need to include every single social media platform in your Twitch panels. Include the most relevant social channels that you actually use!
Twitch Donation Panel
Another panel that you can create for your stream is a donation button. Using your Twitch donation panel, you can direct your viewers and followers to an external website where they can donate money to support your stream!
Discord Channel Panel
If you have a Discord channel, it's a great idea to add a Twitch panel that links to your Discord server. This is a great way to build an engaged community of viewers and gives you another way to interact with your fans outside of Twitch!
Sponsored Twitch Panel
As your stream grows, you'll be approached by sponsors who are willing to pay in order for you to promote their brand on your Twitch stream.
One way is to create a sponsored Twitch panel which promotes the brand or links to the sponsor's website. Sponsored panels are a great way to make money from Twitch streaming!
Stream Merchandise Twitch Panel
After some time, you'll start to gain a following and another way to make money with Twitch is through selling your own merchandise. You can promote your channel merch using Twitch panels to help it gain more visibility!
Twitch Panel Ideas & Examples
Similarly to what we discussed previously, Sodapoppin includes most of the Twitch panels that we mentioned. He has a customized info, donation, and gear panel, but also includes some social media panels along with merch promotion.
What I like about TFBlade's Twitch panels is the consistency in his design. He uses his own logo in most of his typical panels and uses the same font and gaming icons. Using the same design elements makes it easier for viewers to read, but also makes the overall Twitch branding visually appealing.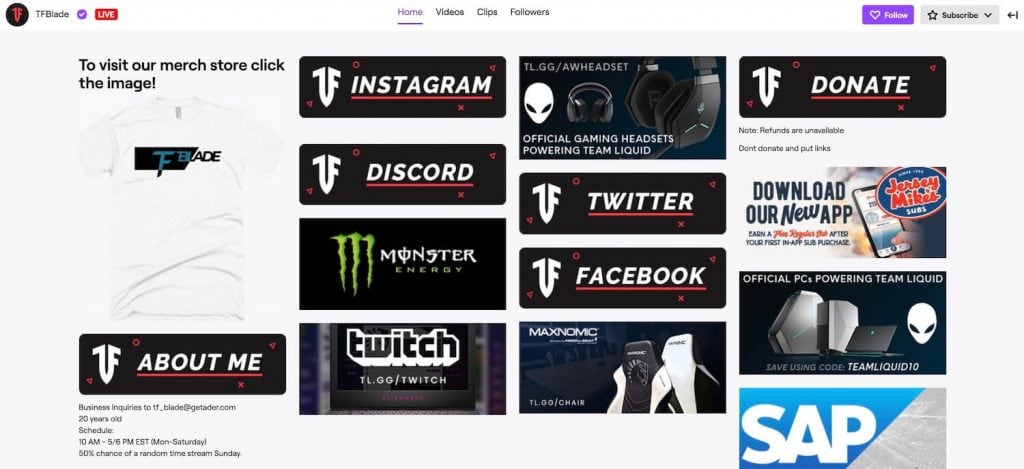 Less is more and Dakotaz definitely shows that in his Twitch panel designs. While most stream pages include text and more design elements, Dakotaz uses a single icon for each Twitch panel.
Since each icon is well designed and specific to the call-to-action, you know right away where the panel will link you to. This is perfect and a simple way to direct your users without cluttering their viewing experience!
Final Thoughts
Being able to create your own panels for your stream allows for you to really customize your channel's branding. Producing some nicely designed Twitch panels will really help your stream stand out from the rest. Additionally, well-designed panels will give your viewers the proper information to come back to your livestream!
With the resources out there, it will take you little to no time to create an amazing Twitch graphic – so you have no excuses. Get started and show us what you come up with!
Do you have any other tips when it comes to making a Twitch panel? Let us know in the comments below!