Etsy is a popular site that entrepreneurs, crafters, artists, and artisans use to sell products that can range from everything including bath bombs to hand-carved chopsticks to diamond jewelry. Anyone with the talent to create valuable goods can get on Etsy and start selling their products directly to consumers, a little like an Amazon for hand-crafted goods.
While the goods themselves are an important part of your success on the platform, they aren't the only factor that you need to consider. Most of the top-selling stores on Etsy have strong branding and marketing, helping their customers to remember them while establishing both credibility and momentum. Your Etsy banner is an important part of this.
In this post, we're going to look at the best practices for how to tackle this important part of your store branding, including the perfect Etsy banner size and design techniques to help you stand out!
What Is An Etsy Banner and Why Does It Matter?
When you click to your store, people are going to see a few images that represent who you are and what you do, along with a text description, the date you started up on Etsy, your location, reviews, and number of sales.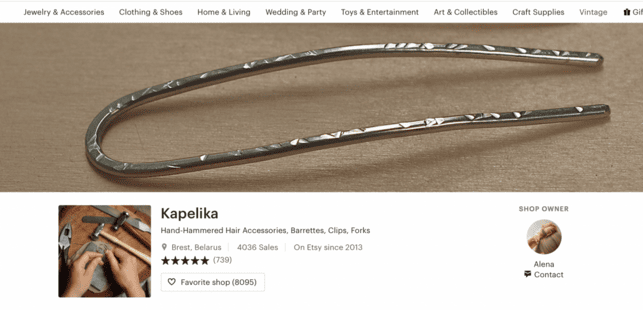 I want to point out that there are two different key images that you're seeing here. The biggest one will be the Etsy banner, which is stretched across the top of the store and may be the first thing that people notice when they come to the actual store's page, making it important. That's located here: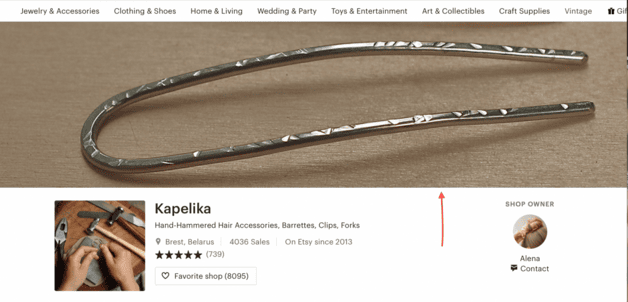 The Perfect Etsy Banner Size

The perfect Etsy cover photo size is 3360 x 840 pixels (which is newer and slightly larger), while the ideal size for an Etsy small banner is 760 pixels by 100 pixels. That can seem a little extra small, but it's quality and relevance that matters here. Thus, you will want to keep that smaller canvas in mind so you can choose an image type that works well with the size restrictions.
The first step towards the perfect Etsy banner is to use the perfect Etsy banner size. This will ensure that you're creating the most high resolution image possible and that it won't be stretched or contorted because it's been created to fit the ideal size!
Should I Create an Etsy Cover Photo or a Small Banner?
Note that Etsy banners and Etsy cover photos show up in the same place. But the cover photos are larger and will show up on mobile and desktop devices, while the small banner only shows up on computers. Because of this, many shops choose to actually create "cover photos" instead. We recommend that you choose to create an Etsy cover photo as pictured below!
3 Etsy Banner Best Practices You Need to Be Using
Creating an Etsy banner is actually pretty simple – you just have to know the best practices to follow to ensure that you create one that represents your store well. Let's look at three different techniques you can use to do this.
1. Show What Your Etsy Store is About
When someone lands on your store page for the first time, you want them to immediately see what you're doing and why they should be interested. The below Etsy banner is a great example of how to do this.
They're showcasing multiple products in a clean, organized way, demonstrating a variety of goods they have to keep customers interested.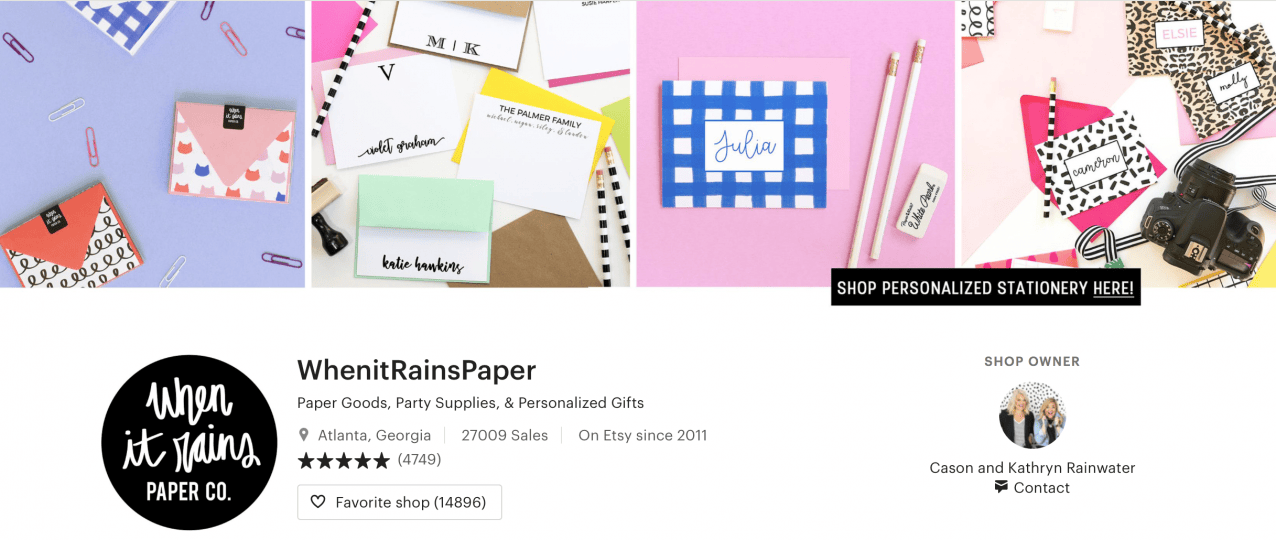 Another option is the example from Garden Party Decor. They use a graphic image to show a sample of their products but also follow up with text to explain their value proposition to customers: unique decor for all your special occasions. People get the gist quickly, and this helps them to get on board.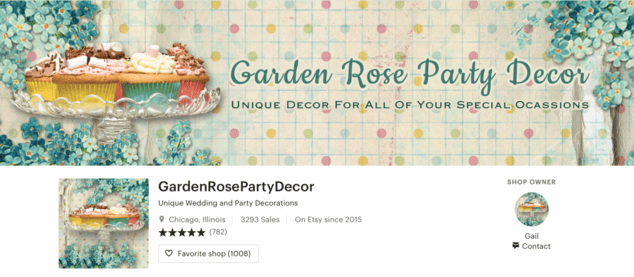 2. Opt for Simple
When it comes to things like profile photos or Etsy banners, simple is almost always best. It's part of the reason why people recognize those double arches as being tied to McDonalds and how we all know the Wendy's girl with her red pigtails; these are simple graphics that we've been repeatedly exposed to overtime.
Ideally, you want your banner to have the same effect, and you want it to be immediately recognizable even though it's relatively small. If you're going for a graphic, make sure it's cleanly designed. If you're using a photograph, opt for high resolution and ensure it doesn't look cluttered.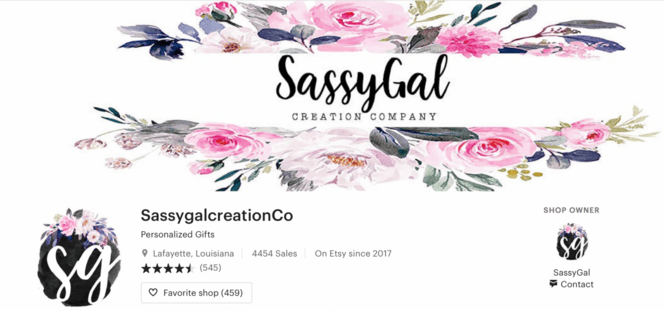 The above banner is the perfect example of this, as are the others featured in this post. They use simple but pretty graphic designs, but the bright florals don't dominate the entire banner. Instead, they complement the white space they create and help the eye focus on the branding and store name in the center.
This is one of the reasons why I recommend using white space in Snappa and make sure to include plenty of it in all of our templates. You can use Snappa's drag-and-drop design tools to create a banner exactly like the one above. You can upload your logo (or create a new one!) and add text to a blank canvas that's been perfectly sized to the correct dimensions.
We've got everything from simple patterned backgrounds to high-quality, free-for-use stock photos and a ton of graphic effects that you can use to create the perfect design.
3. Use Dramatic, Contrasting Colors.
The Etsy banner pictured here is a great example of how you can use the pop of a contrasting color to draw the eye. Not only does it capture attention, but it makes your products look particularly exceptional, too.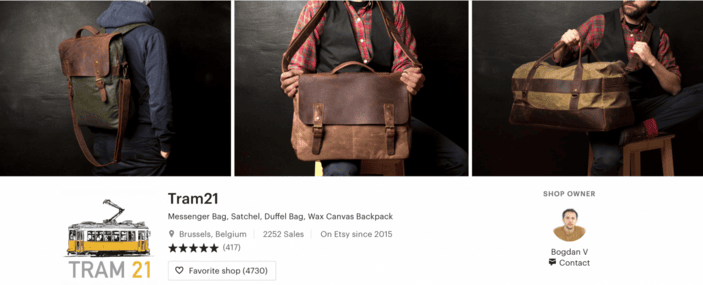 Dramatically contrasting colors can include having bright colors that pop against the white background. It can also look like the example above, which has a textured light brown bag (amongst others) showing up prominently against a darker background.
Conclusion
Having a strong visual representation of what your store can offer will help you look more professional on Etsy. Showing that you're taking it seriously and getting customers up to speed with what your store is all about. Since credibility can be an issue on the site, doing what you can to show that you're legit and treating it like a business is an important step. It will also aid in branding purposes and make your store more memorable overall, both of which will work in your favor.
Do you need help creating the perfect Etsy banner for your store? Start your free trial with Snappa today.
What do you think? How did you create your Etsy banner? Did you use any of our best practices? Which strategies did you find most useful? Share your thoughts and questions in the comments below!