Visible validation is a major driving force for most users. In other words, it's all about the likes.
We know that psychologically, users can become addicted to the thrill of having content that's "liked" quickly.
And we also know that users are going to take notice of content that's accrued a ton of likes on social media, too; partially because the algorithms give that content a boost, and partly because social proof is powerful (#FOMO).
And yet despite this, Instagram has recently given accounts the option to hide their likes.
*Cue the sound of a car screeching to a stop.*
Yup. We said hiding the likes.
While it seems like this may defeat the purpose of an engagement-heavy social media platform, this is a feature that users are asking about. In this post, we're going to show you how you can hide your posts' likes on Instagram, why some users may want to, and why we recommend that most brands don't.
Why Would You Want To Hide Your Likes on Instagram?
We love likes. It feels good to get them. Every notification can be a rush of validation and a boost to our self-esteem when we're a little down and needing that sense of acceptance.
The problem is that sometimes the likes feel less like "ah, cool picture of your car" and start becoming more ingrained with the user's sense of self-worth. This is particularly true with teenagers.
One study found that teenagers deleted social media posts if they didn't get enough likes, and there are others that indicate that it's too easy to get wrapped up in social media engagement. The thought that your life isn't worth caring about if others don't validate it isn't a healthy one, especially as it's out there for everyone else to see. Then there's cyberbullying, which is in itself a huge issue.
As a result, Instagram tested the option to hide likes. They found that likes helped some and hurt others, so about this time last year, they gave users the option to hide the likes that would appear on their own content.
How to Hide Your Likes on Instagram
Hiding your likes on an Instagram post is exceptionally simple, and you can reverse the decision at any time. You're going to need to hide them on individual posts, one at a time, but you can do this before or after posting.
To hide your likes preemptively while creating the post, go all the way through the post creation to the last slide. On the same page where you can enter a caption, tag people, and choose to share it to different accounts, find "Advanced Settings" on the bottom and click.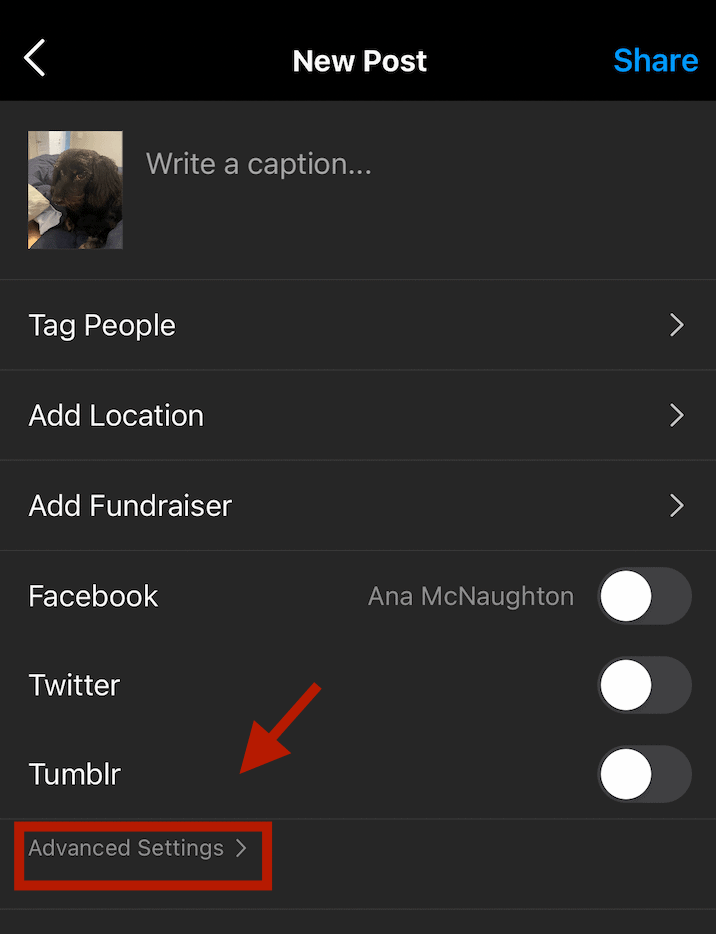 You can turn the toggle on for "Hide Like and View Counts on This Post." It's right at the top of the screen, making it easy to find. Then click back and post.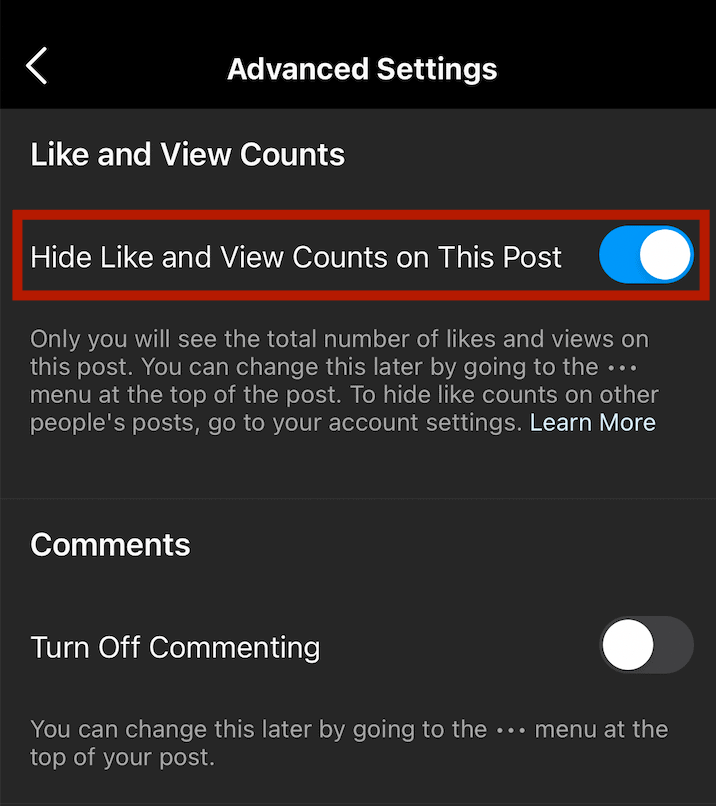 To hide your likes after you've already shared a post, go to the post in question that you want to hide the likes on.  Find the "…" in the top right corner of the post, across from your user name.
This will open up a menu that allows you to delete the post, turn off commenting, and (of course!) hide the like count. Click it, and the effects will be immediate.
You can reverse this decision at any point by going to the settings on the individual post (as seen above) and to then enable the like count.
Will Hiding Likes Impact the Algorithm?
For businesses or public-facing accounts that want growth and that are worried about the negative ramifications of hiding likes, good news: Just because you choose to hide likes on your content doesn't mean that Instagram can't see them.
Hiding your likes will not impact your performance in Instagram's algorithm in any way. This shouldn't be a factor that comes into the decision-making equation.
Can I See My Likes If I've Hidden Them?
If you've hidden likes from your account, business and creator accounts can still access the data they need to create strong content moving forward.
You will always be able to see the likes on your own content.
You can also find your total number of likes for each post underneath your Instagram Insights, which is free and available to all business and creator accounts.
Final Thoughts: Should Brands Ever Hide Their Like Count?
So now the question that most of our readers will have: If hiding likes is mostly meant to help protect the mental health of personal users, why should I hide my likes or choose to keep them public?
The reality is that while likes can be detrimental to personal users over time, they can be beneficial to businesses on the platform. When new users see your content in the Discover section of the app or when it shows up in their feed as a suggested post, they may be more likely to take note if you have a solid chunk of likes.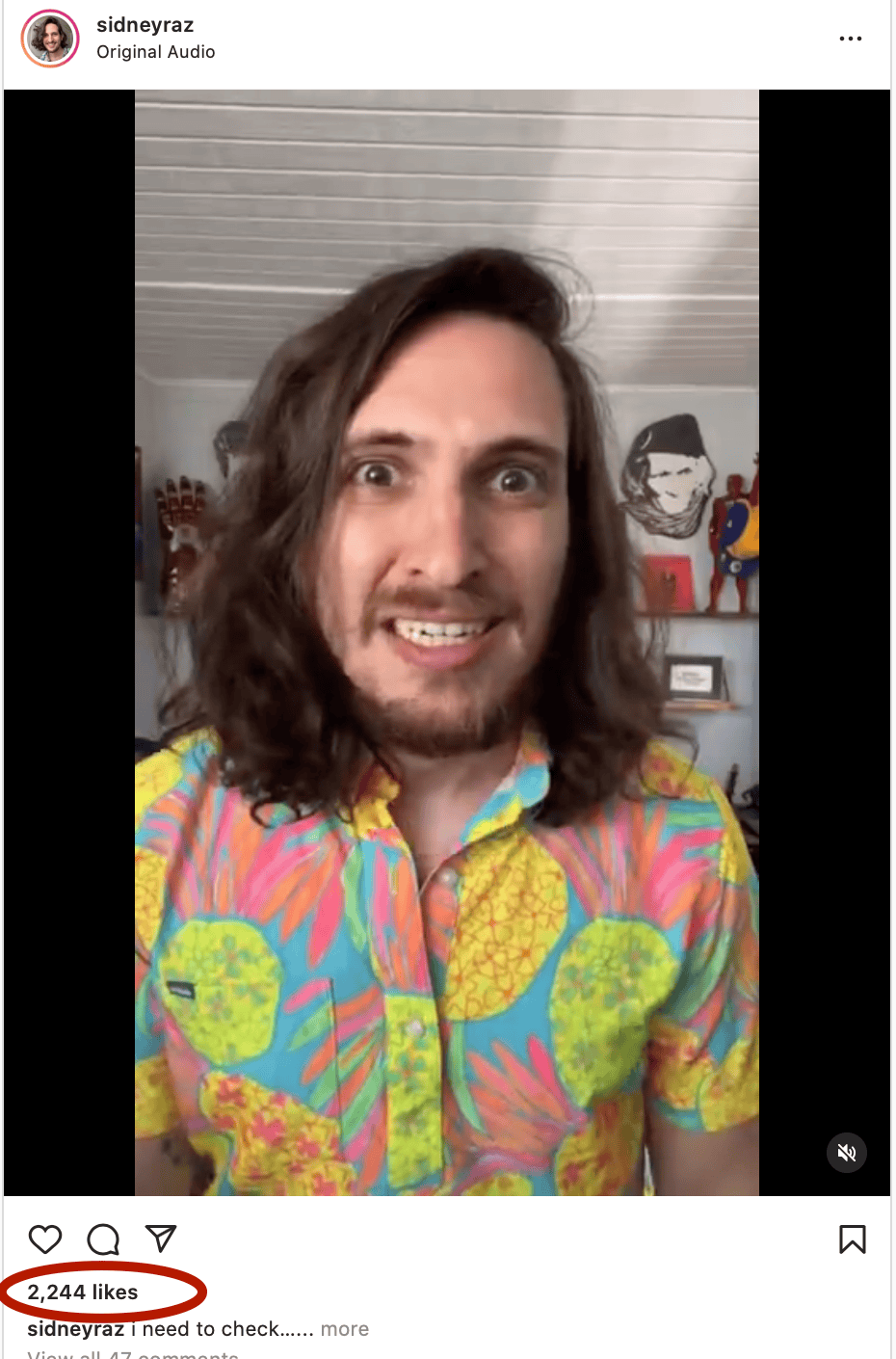 Social proof is valuable. It shows them that:
Your account is real, and it's not some spam site that's selling low-quality goods
Your business has been around a while, long enough to collect those likes
Your business and/or the content is valuable enough that all those people liked the post
Social proof can build trust much quicker, which can lead to faster growth on- and off-platform. Users are going to be more likely to purchase from accounts that seem to be thriving (or at least holding their own), and with Instagram Shopping features, that can mean immediate sales from new customers.
Because of this, we recommend not hiding your Instagram likes if you're promoting a business or brand in any way on Instagram. It can work against you.
That being said, if you choose to, that's totally your prerogative. Great content will likely still gain traction either way, it just might not build trust as quickly as it could otherwise.
And either way, don't forget to take care to engage intentionally with users in the comments, too. Answer their questions and thank them for their thoughts. That goes a long way.
What do you think? Have you ever hidden likes on your business's or organization's Instagram posts? What do you think of the feature? Share your questions in the comments below!