It's no secret that social media marketing can feel like a heavy lift.
To engage users across so many platforms, brands need to post multiple times per day, every week. According to Sprout Social, you should be posting an average of 11 posts per day across all your social media platforms. That includes Facebook, Instagram, LinkedIn, TikTok, Pinterest, and Twitter.
It's important to keep content flowing so you don't fall behind on your marketing strategy. At the same time, you need to keep your followers engaged. So how do you generate more ideas for social media posts?
There's plenty of inspiration out there. Still, idea generation can feel overwhelming when you're spinning so many digital plates. That's why we're sharing some helpful tips you can use to generate more ideas for your social content.
Ready to learn more? Let's jump right into it. 
Leverage Frequently Asked Questions
Your customers' questions could be great material for social media content. Think about the questions you and your team answer on a regular basis. Can that information be repurposed into helpful content you can post across your social platforms?
Frequently asked questions are a great source of content creation for everything from short Reels to long-form content. These can include questions about your specific products, services, brand, or your industry overall. Whatever questions you can answer from your area of expertise, consider those as potential sources of social content.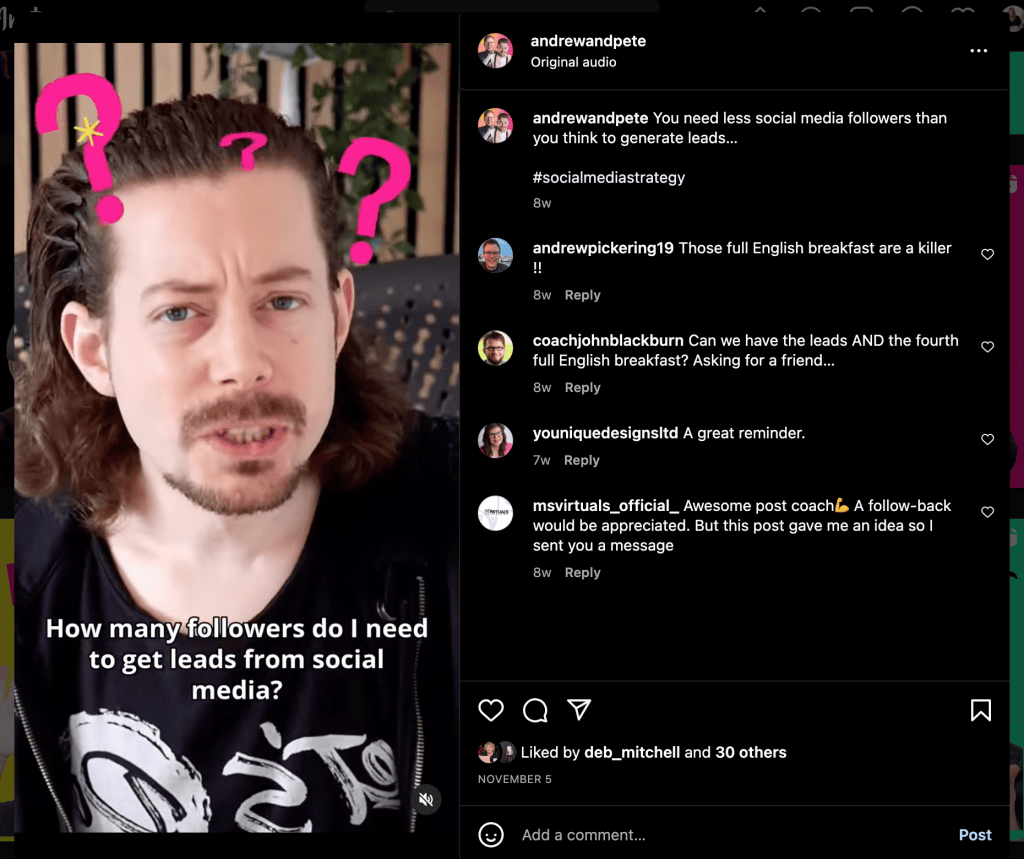 Even better, once you've created these posts, you can direct customers to your social channels to get answers. That way, you can grow your following while providing relevant and helpful information.
Monitor and Share Relevant Trending Topics
Trending topics can give you plenty of material to create social posts from. Look for trending topics and media to help you along the way. Here are a few ways you can search:
From your main Twitter feed, you can search for trending hashtags. Keep an eye on the ones that are relevant to your brand or area of expertise.
Look for viral sounds and trends on Reels and TikTok.
Pay attention to the topics other brands in your network are posting about.
Trending can help you increase visibility fast, but only if you stay on top of what's happening. You'll need to monitor your social platforms closely so you don't miss anything.
Keep Up With Industry Trends
In addition to social media trends, you'll want to keep up with industry trends. By paying attention to the direction your industry is heading, you'll be able to inform your audience and make accurate predictions that will help them in the near future.
Subscribe to industry accounts on social media to see what's trending in your industry. Many marketers and brands keep tabs on new developments and deliver that information to their followers.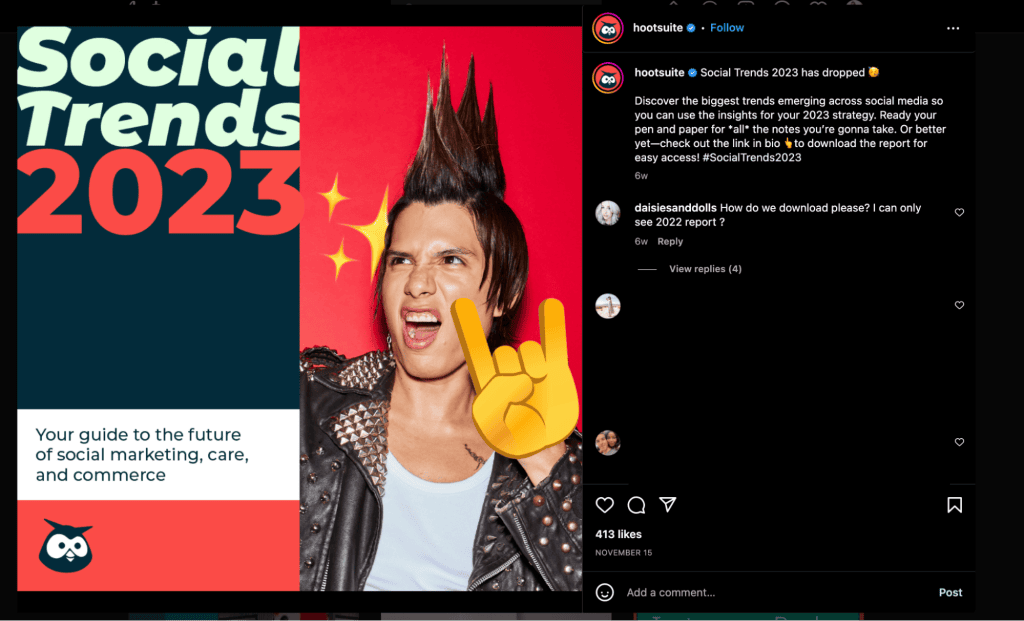 Don't just educate your followers about industry trends, though. Be sure you're following them yourself. By acting on trends, you can show your audience how effective they are.
Keeping up with industry trends yourself means that you'll also be able to collect plenty of data about what works and what doesn't.
Are there particular trends that help your social following or engagement grow? On the other hand, did some of those trends fall flat? Watch your own analytics so you can report back to your audience in real time.
Share Behind-the-Scenes Content
People love behind-the-scenes content. Sharing a look at your daily routine or giving your followers a glimpse of your team helps them feel connected on a deeper level. After all, social media can't always be about polished content.
Think about what behind-the-scenes moment would enhance your brand. Can you give your audience a peek at an aspect of your business that reinforces your brand values or company culture?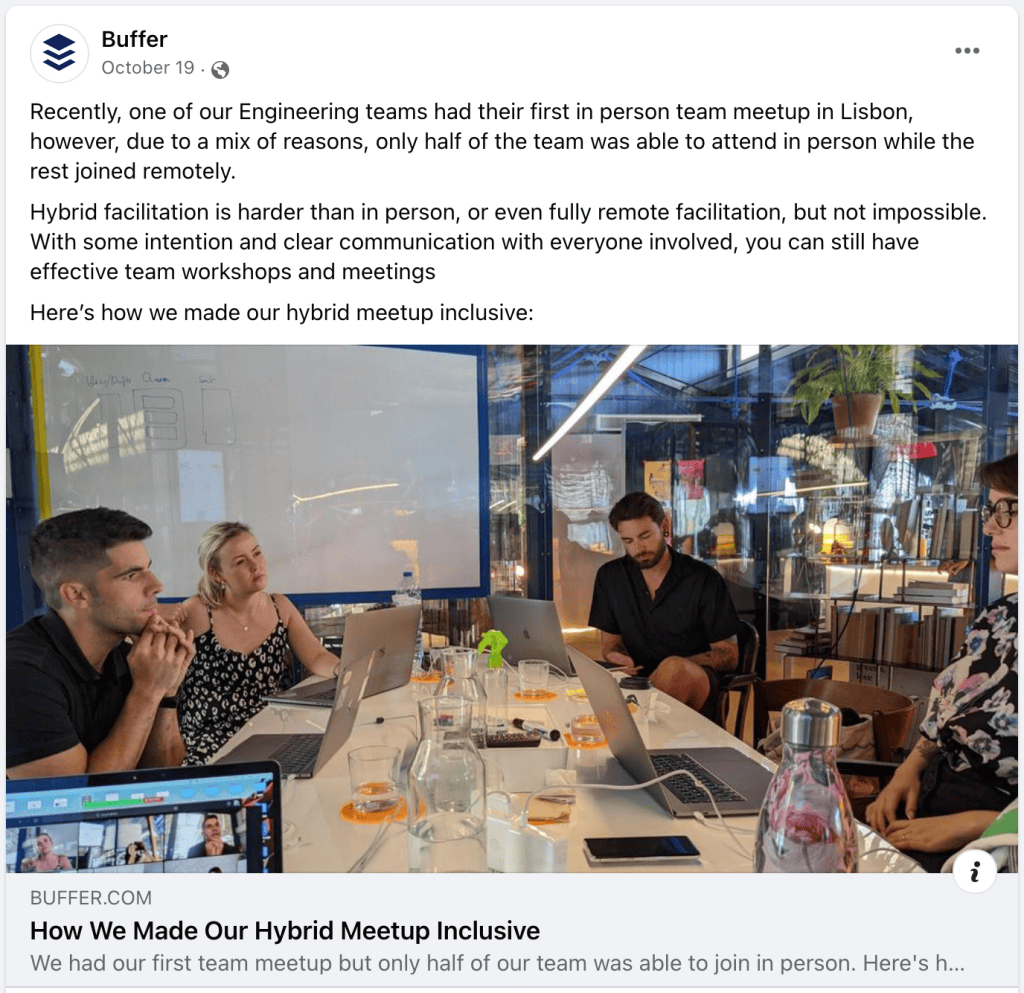 Behind-the-scenes content can come in a variety of formats, both formal and casual. Images, video, carousel posts, Stories, and Reels are all great ways to show your followers what goes on at the office (physical or virtual).
Research Holidays and Events
There's no question that you'll need plenty of content to fill in gaps and keep your engagement up. One way to generate ideas is to research holidays, national days, and events.
It's fairly easy to come up with content surrounding major holidays. But there are hundreds of national days you can use to create fun and engaging social posts, too. Spend a little time searching, and you'll have tons of new topics to choose from.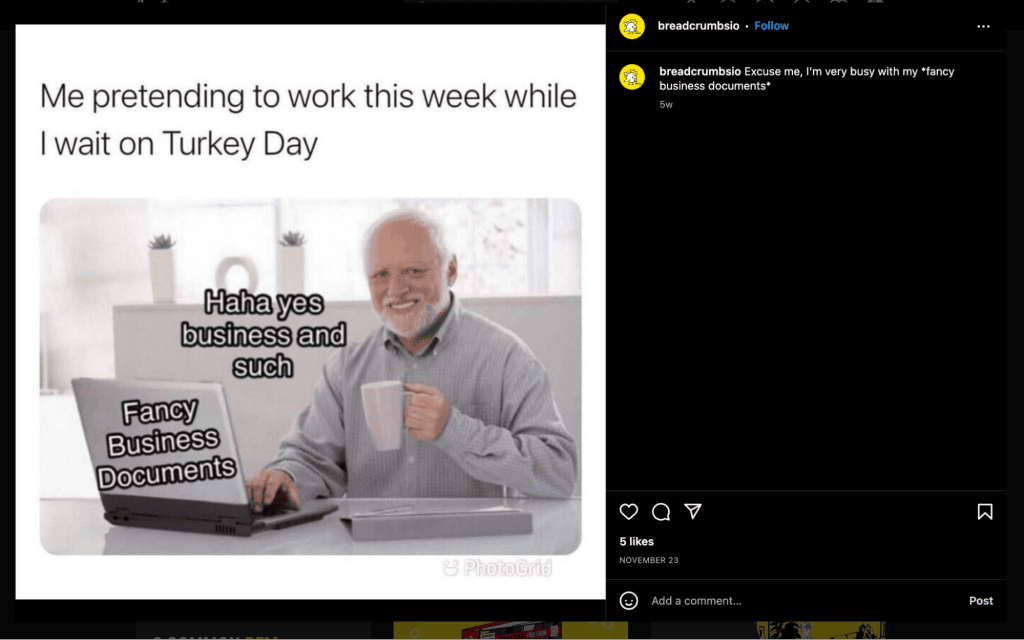 Repurpose Your Existing Content
Take a little time to think about how you can repurpose your existing content. For example, you can turn a series of static image posts into an exceptional Reel. Or, you could create a long-form text post by elaborating on a shorter one.
In the example below, Social Media Examiner created an image-driven Facebook post repurposed from a blog. Followers can choose to read the full blog post by following a link included in the text.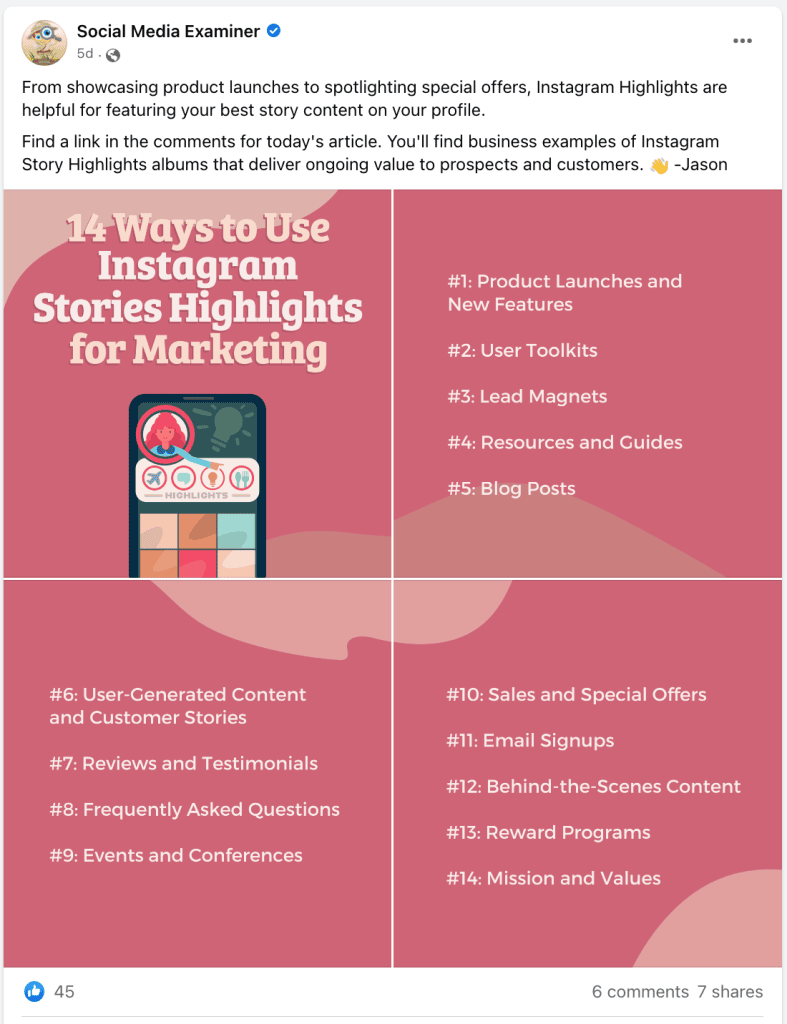 Offer Valuable Resources to Your Followers
One great way to keep your social media platforms active is to offer valuable resources to your followers. What helpful information can you offer them that creates value? Here are a few ideas that are highly shareable on social media:
Infographics containing whitepaper data
Insightful whitepapers relevant to your industry
Free mini-courses and master classes
Vlogs, blog posts, and podcast episodes
Downloadable, free eBooks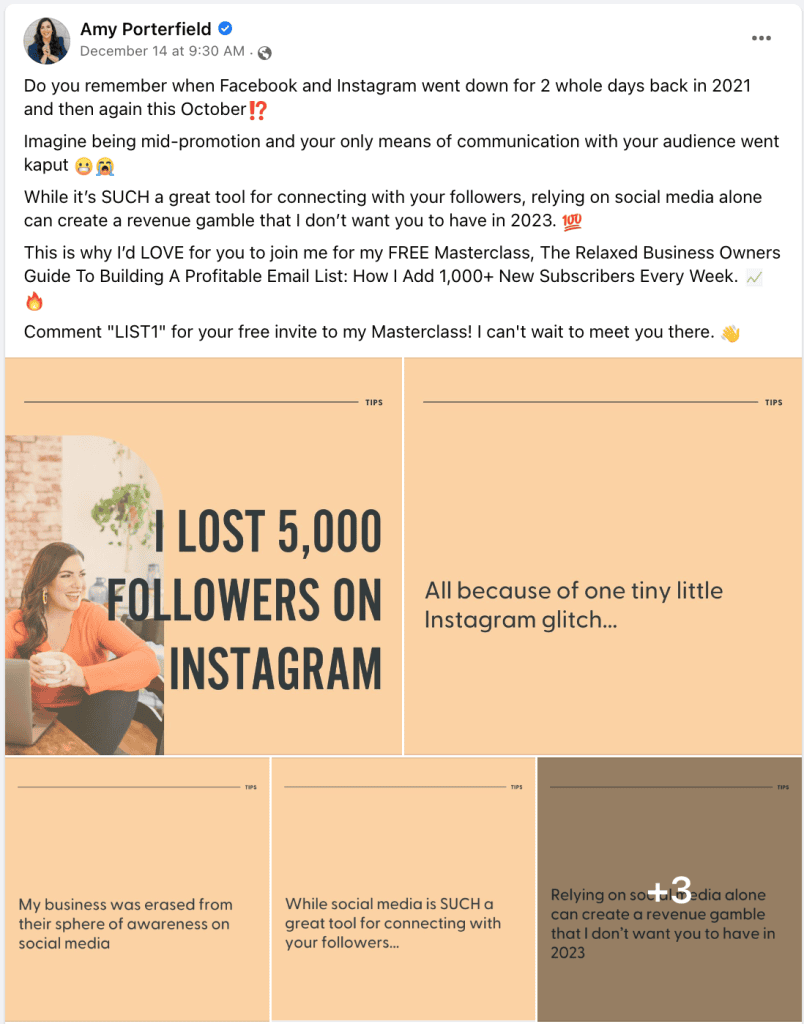 Conduct Keyword Research
Did you know that you can conduct keyword research on social media platforms? Just like in blog marketing, keyword combinations can give you great ideas for new posts and content.
You can plug search terms and hashtags into platforms such as Facebook, Twitter, Instagram, Pinterest, LinkedIn, YouTube, and TikTok to see what topics are trending around those words. This research can also give you insights into how to phrase your copy and headlines so people can find your posts easily.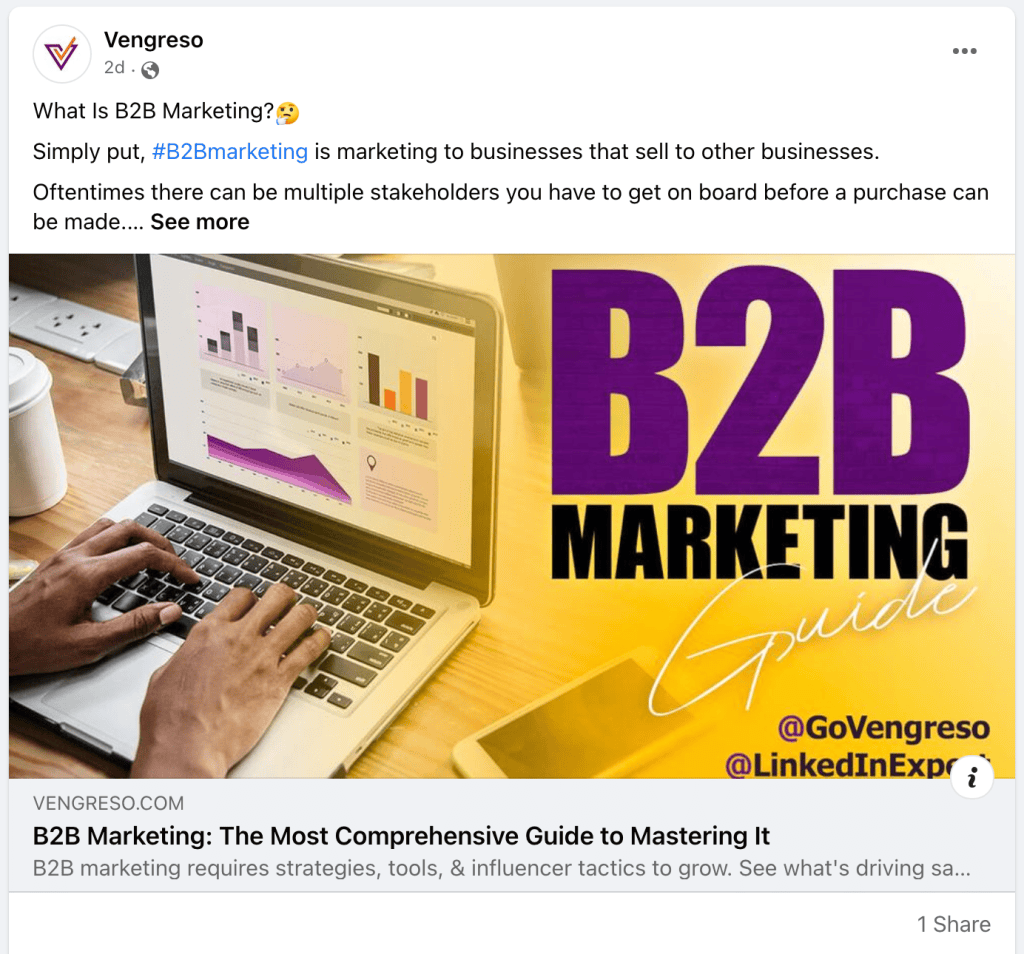 Cross-Post the Same Content in Different Formats
It can be overwhelming to keep up with posting to multiple platforms. But put it in perspective: you can cross-post the same content in multiple places using different formats.
Presenting your best content in different ways that are right-sized to each platform means you can reach a wider audience. Maybe Reels content works well for your Gen Z followers on Instagram. That same information, presented as a long-form text post, could resonate with a completely different demographic on LinkedIn.
Dr. Nicole LaPera (@the.holistic.psychologist on Instagram and @Theholisticpsyc on Twitter) uses this strategy well. On Instagram, she posts Reels and carousel posts that are straightforward and easy to understand.
(You can use a graphic design tool such as Snappa to easily convert Twitter threads or short-form content into your own Instagram carousel posts.)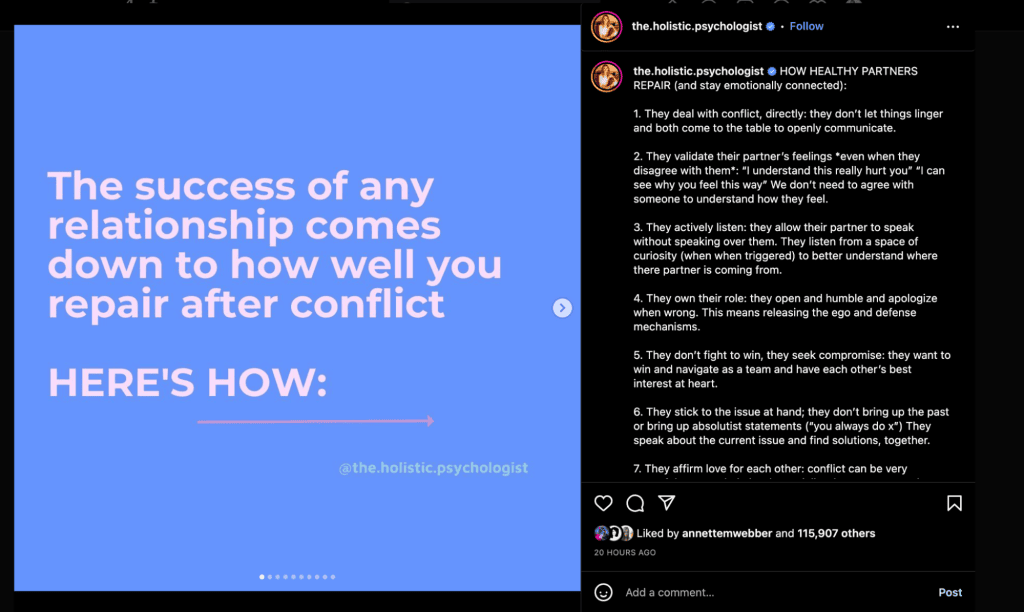 Over on Twitter, she posts this same content in text-based Threads. She also actively participates in the conversation with her followers.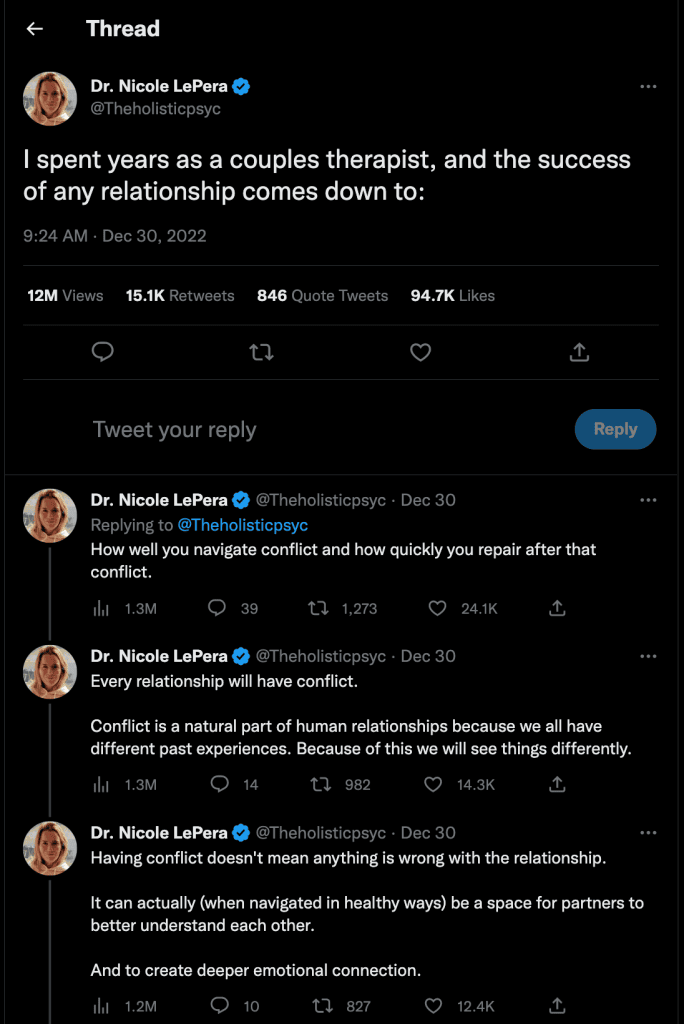 These are fantastic examples of how different presentations of the same information can gain traction in different places at the same time.
Leverage Survey Results
Numbers don't lie. That's why surveys can be so powerful, especially in marketing and education. Use data to reinforce what you're teaching your followers, and share this information in your social posts.
You can share survey data in many ways, such as through blog posts and infographics. You can also use the findings to create video content, like Reels or Stories your audience will love.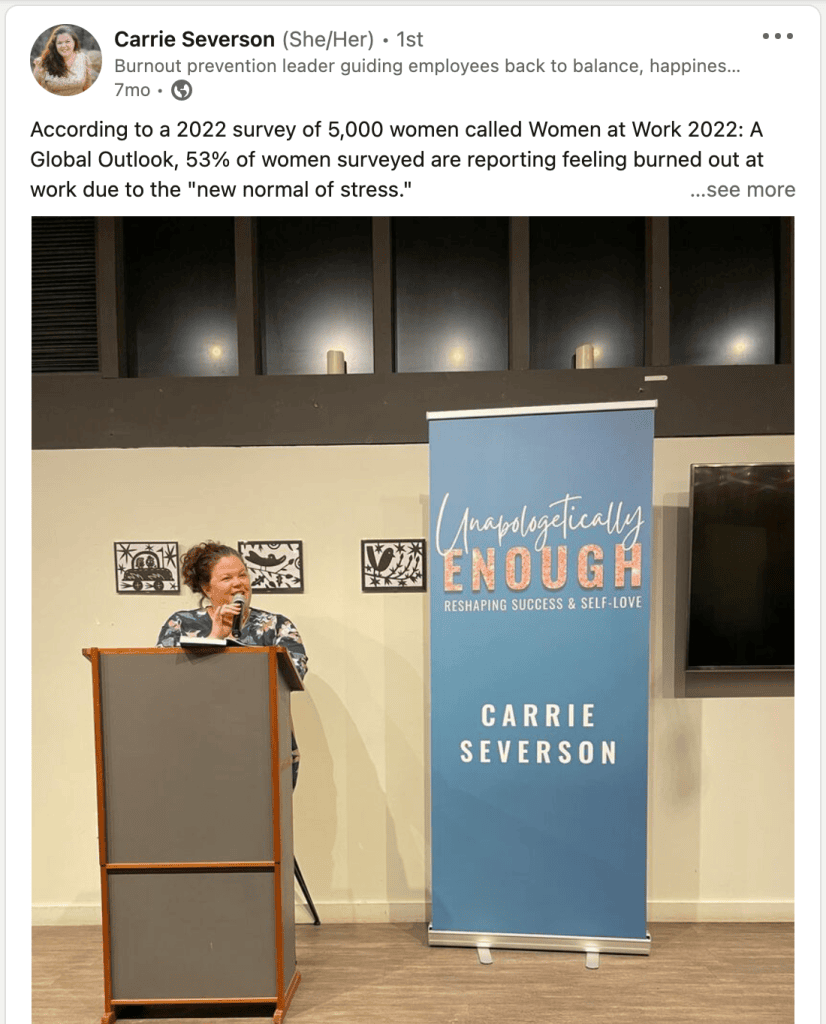 Draw Inspiration From Current Events and Pop Culture
Need some ideas for social? Look no further than the current events and pop culture phenomena everyone's talking about. When the conversation is trending in a certain direction, why fight against it?
Where appropriate, find ways to include hot topics in your social media posts. For example, ClickUp jumped on the World Cup bandwagon, creating a meme to promote their project management software.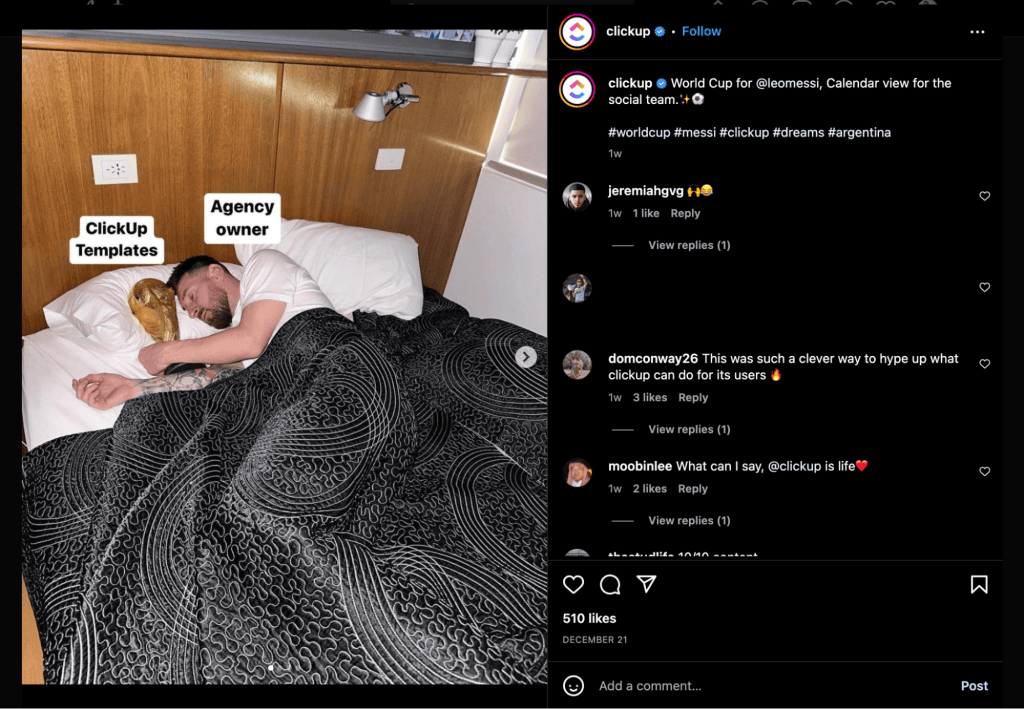 Poll Your Audience
Polls are an excellent way to create new social media posts. You can use surveys to:
Find out how professionals in your industry are approaching a certain topic or trend
Ask your audience what they want to hear, see, and learn from you
Prioritize content creation based on the subject matter they're most interested in
What's especially great about polls is that you can create new content around both the questions and the answers. On the front end, you can post the initial poll, asking your followers to vote on a topic of interest. Once you have your audience's answers, you can then create content based on their feedback.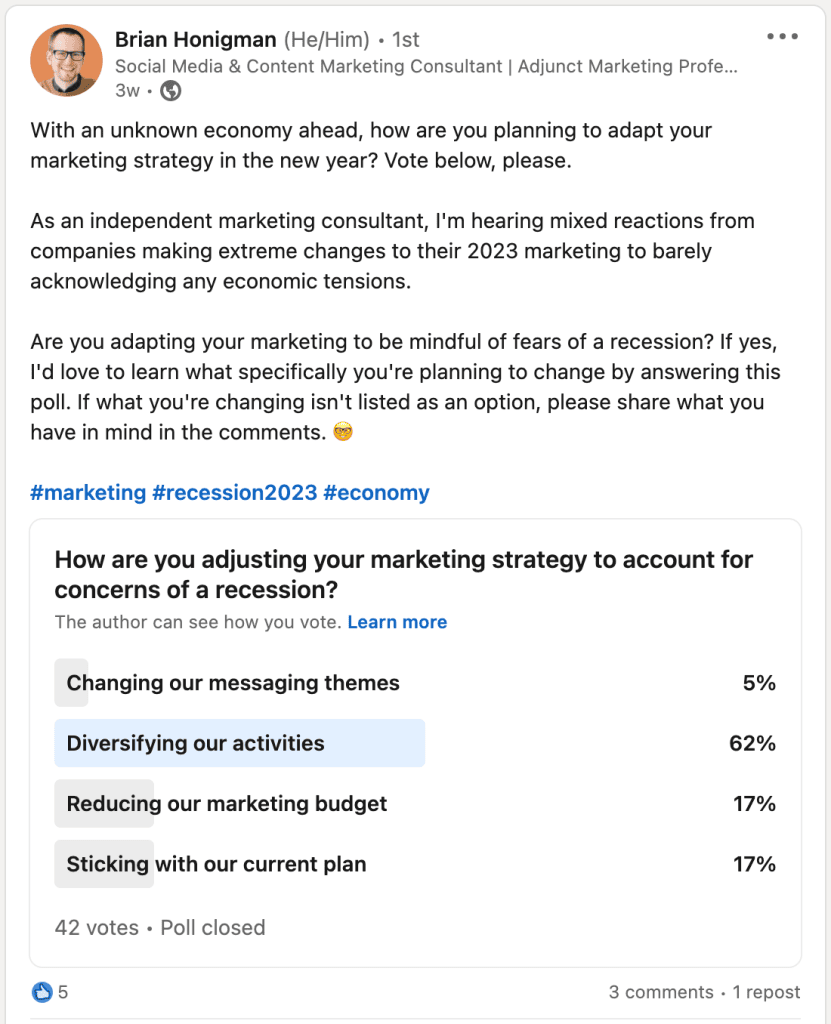 Conduct Expert Interviews
If you want to boost your social media content, you can conduct interviews with experts in your industry. This is a great way to share useful, actionable information from trusted sources. Interviews boost your brand's credibility while promoting your colleagues and fellow brands at the same time.
There are many ways to present expert interviews on your social media channels. On one hand, you can create roundup posts with tips from your experts. You can also invite them to appear on livestreams or pre-recorded interviews.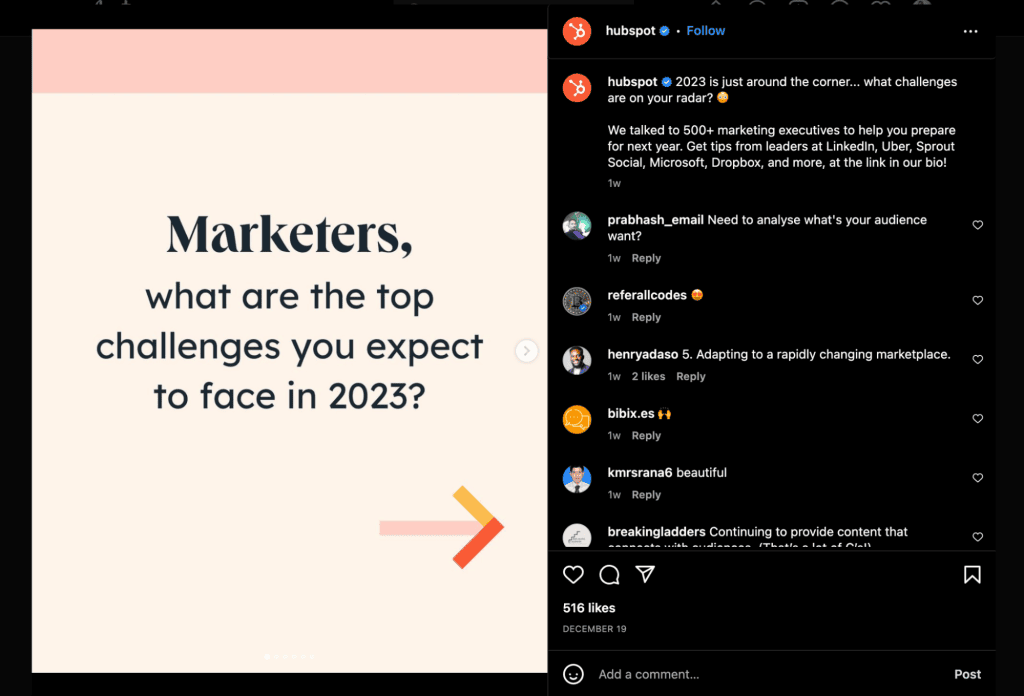 Recommend New Brands to Follow
When it comes to social media, there's plenty to go around. So if you're looking for new content ideas, consider recommending other brands and experts in your space.
Be sure to select other accounts your followers will love. You'll want them to be well aligned with your brand, your values, and your audience's expectations. Create posts that tell them why they'll love these accounts, and what they can expect from them. It's a win-win for everyone.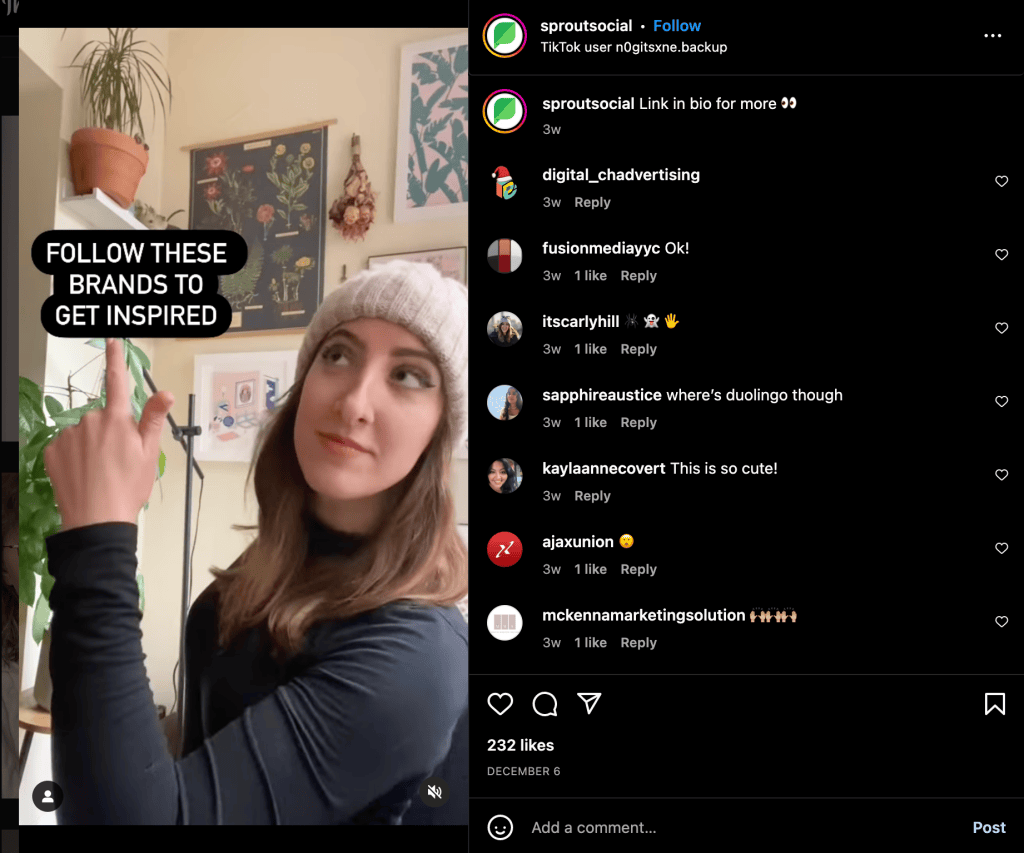 Final Thoughts
Fantastic idea-generation tips are just one piece of the social media content creation puzzle. You'll also need to create visuals, such as video thumbnails and graphics–which also takes time.
A tool like Snappa makes it easy to create great-looking, social-optimized graphics quickly. You don't have to be a graphic designer to use Snappa, so you can jump right into our template tools to make visuals that really pop. Get started here for free!