Instagram Story highlights are a fantastic way to showcase your top Stories on your Instagram profile page. Your Instagram Story highlights allow you to divide your archived Stories into labeled categories. At the same time, you can select which specific Stories you want your audience to see when they visit your profile.
What draws viewers to your Instagram Stories in the first place is their temporary nature. They disappear after 24 hours, creating a sense of scarcity and FOMO for followers who don't want to miss what's happening in the moment. However, you likely have important Stories you want to keep sharing after they've expired.
Instagram Story highlights give you the option of preserving and sharing certain stories indefinitely. Your Story highlights are a great way to add a little extra life to your Instagram marketing. They're also excellent for sharing critical information about your brand and what you stand for.
When you create highlights for your Instagram Stories, you have the option of making IG story highlight covers and icons for each. This keeps things looking uniform and organized on your Instagram profile. At the same time, it gives new and existing followers the chance to take a look at past Story content.
Want to know how to make and use your own Instagram Story highlights? Keep reading to learn how!
Instagram Highlight Cover Dimensions and Size
Your Instagram Story highlight cover should be 1080 x 1920 pixels with a 9:16 aspect ratio. Unlike standard Instagram square posts and profile pictures, these IG Story highlight covers are the same size as Stories.
You won't be able to include a Story in your highlights until after you've posted it. On the other hand, you can actually upload your highlight cover before you've shared a Story in that category. That means your custom highlight covers for your Stories don't need to be made on-platform.
With the ability to make custom Instagram IG Story highlight covers using a tool like Snappa, you'll have plenty of creative freedom. Let's take a look at how to make a custom IG Story cover.
How to Make Instagram Highlight Covers
An Instagram highlight cover is pretty simple to make. Even better, you don't need to be a professional graphic designer to create nice Instagram highlight covers for your profile.
You can use tools like Snappa to make an Instagram highlight cover with no fuss. Use our Instagram Story templates to make it super easy. Here's a quick tutorial to help you out!
Step 1: First, navigate to your Snappa dashboard and select the Instagram Story option.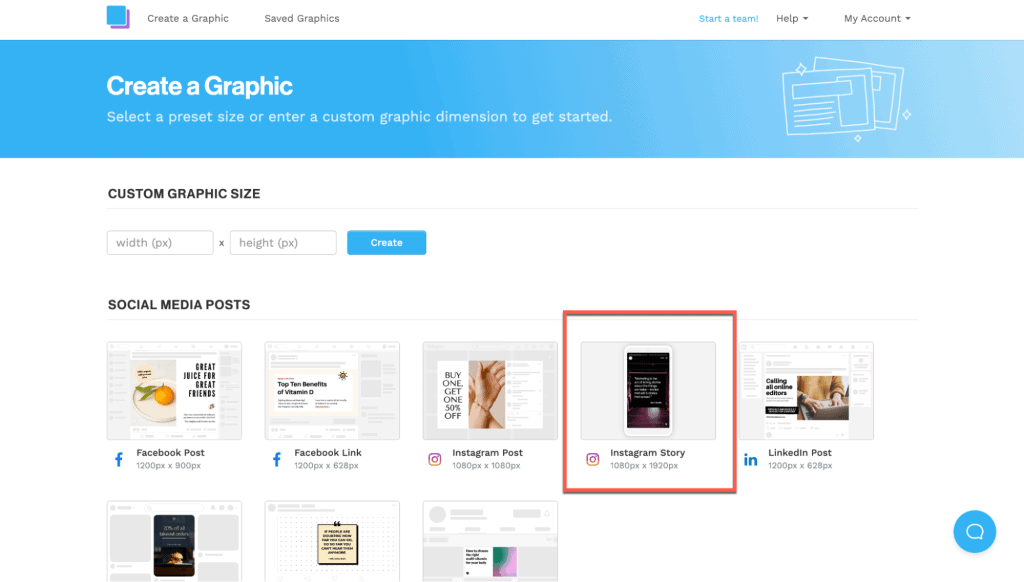 Then, you'll see the wide selection of pre-made Instagram Story templates. For your IG Story highlights, you'll want to choose a solid color with an icon, rather than an image with many design elements or a lot of text.
Step 2: Open a new graphic for your IG Story cover. You can either choose an existing graphic template or select Create From Scratch. In this case, I chose an existing template and deleted the text.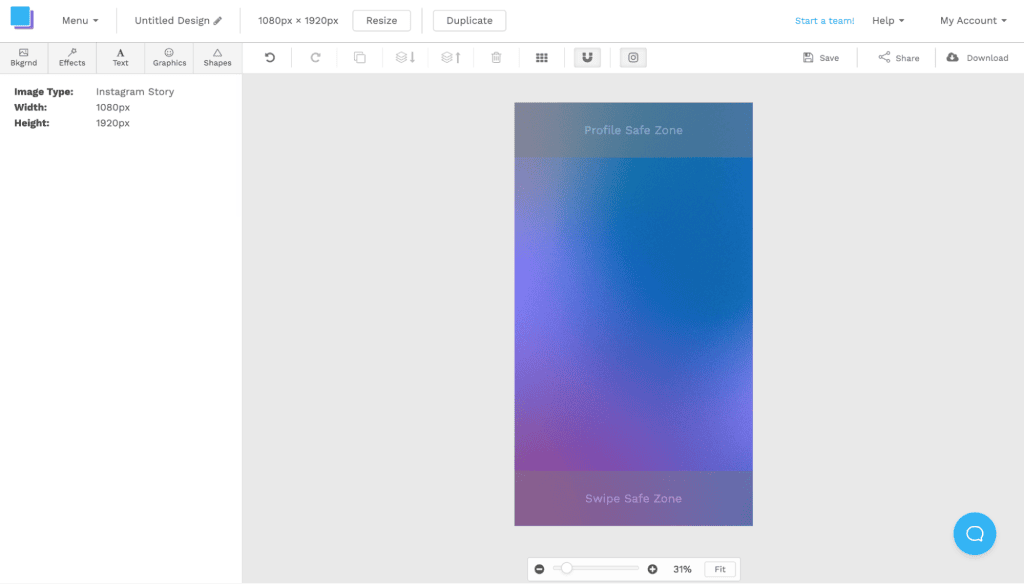 Step 3: Once you've figured out the background of your highlight cover, you can add an Instagram Story highlight icon. In Snappa, there's a massive library of royalty-free icons and free stock photos you can choose from, and these icons can all be used for your Instagram Story covers.
Step 4: Once you're done, you can go ahead and download your Instagram highlight cover for free. Just navigate to the download button located on the top right of the screen. You can choose which file format to download the highlight cover in. From there, you can upload it to Instagram.
Consider sticking to the same or similar background and the same style of icons for all your highlights. Most importantly, make sure they're on brand!
How to Edit Instagram Highlight Covers
Editing and adding an Instagram highlight cover is fairly easy. Instagram makes it simple to change your icon cover, too. In order to do this, you will want to navigate to your Instagram Story highlight and click on the bottom right of the Story.
You should have a few options related to your Instagram Story highlights, but you'll want to "Edit Highlight."
From here, you'll have the option to add or remove Stories from your Instagram highlights. But, you'll also have the opportunity to edit the cover of your Instagram highlight.
You will now be able to choose from your archived Instagram Stories to place as your cover. Alternatively, you can choose from your photo library. From your photo library, you can pick the Instagram cover highlight that you've created in Snappa.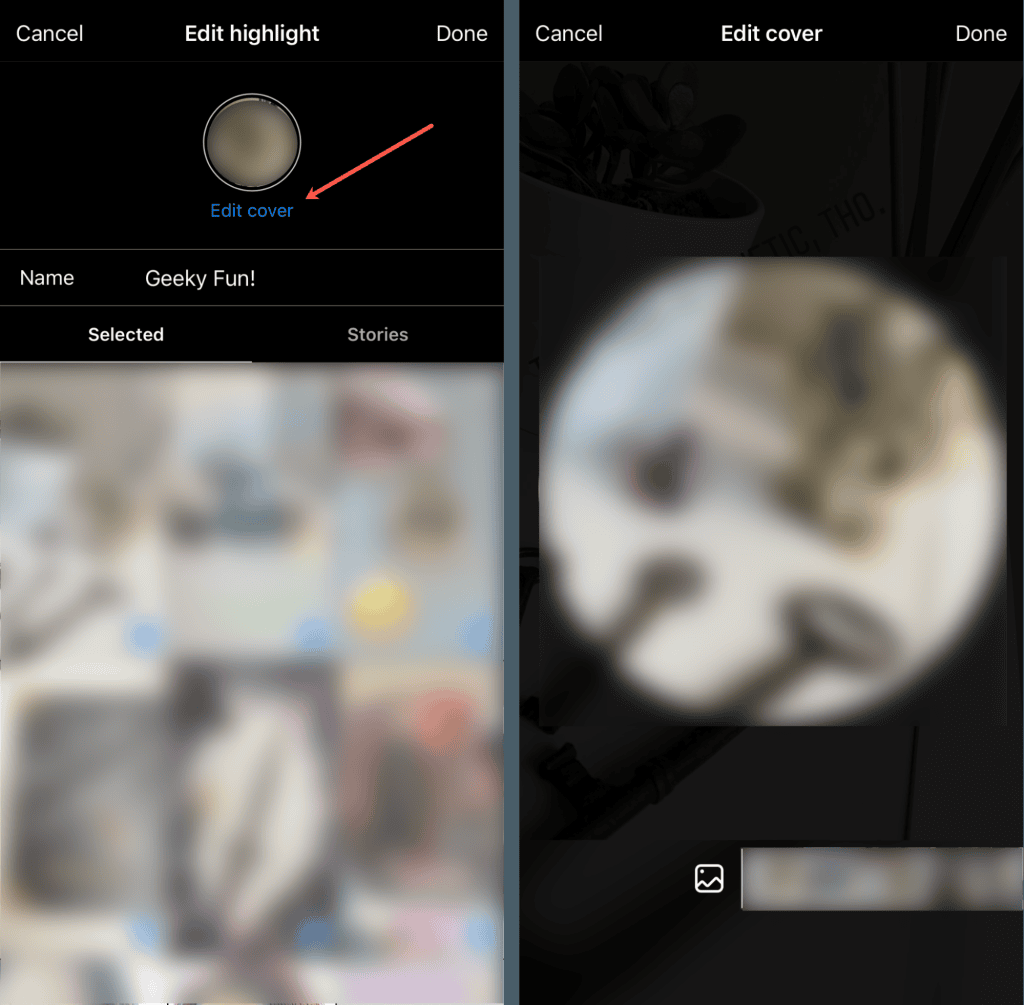 How to Add an Instagram Story Highlight
There are two simple ways to add an Instagram Story highlight to your profile. As a reminder, your Story highlights will be previous Instagram Stories you've posted on your account in the past. You won't be able to upload videos from your Camera Roll to the highlight.
One way to add a Story to your Instagram highlight is to click the "+" sign at the top of your profile page. After that, choose the IG Stories you want to include in your highlight. Think of highlights as categorized collections of your best Instagram Stories.
Once you've added the Stories you want to your highlight, you can select an IG Story highlight cover.
Your other option for adding an IG Story highlight is to view a Story you've posted. At the bottom of the screen, you'll see a Highlight button. Tap it to add your Story to the appropriate highlight category.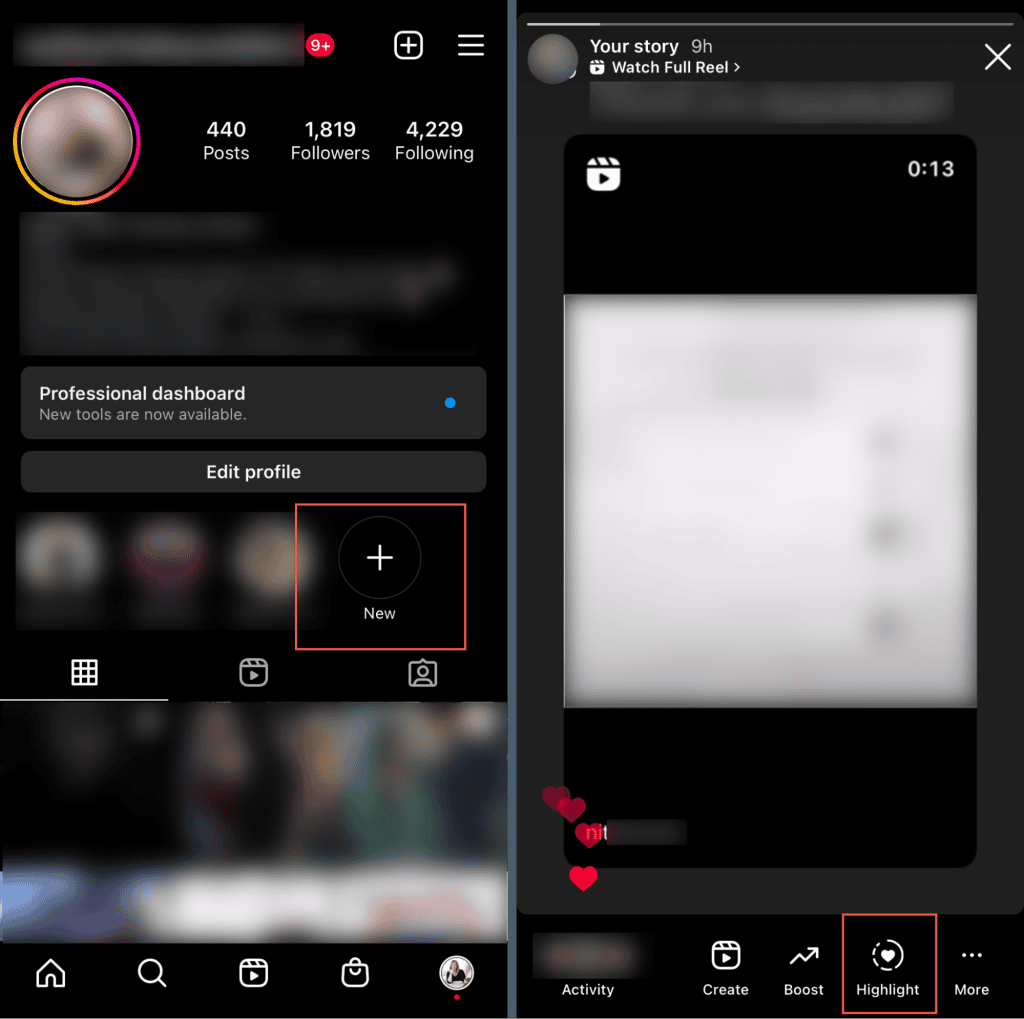 Best Instagram Story Highlight Icons & Covers
Multiple brands on Instagram have created fantastic custom IG Story highlights using a number of brand-aligned graphics and colors. It's fun and easy to get creative with your Story highlights, so check out what these other brands are doing for some inspiration.
Take a look at some of our favorite examples from across Instagram.
HubSpot
Hubspot's Instagram Story covers are brightly colored, simple, and eye-catching. Each IG Story highlight cover is part of the brand's overall palette.
The names of each highlight point the user to the specific information they'll learn about when they tap. For example, "Our Products" will tell users about the products available from Hubspot.
Drunk Elephant
For its IG Story highlights, Drunk Elephant skincare uses neon graphics that fit with its fun, energetic visual brand. Unlike Hubspot, Drunk Elephant doesn't stick to a solid-color background and a simplistic graphic. These highlights aren't overly complicated, but they do take more creative liberties.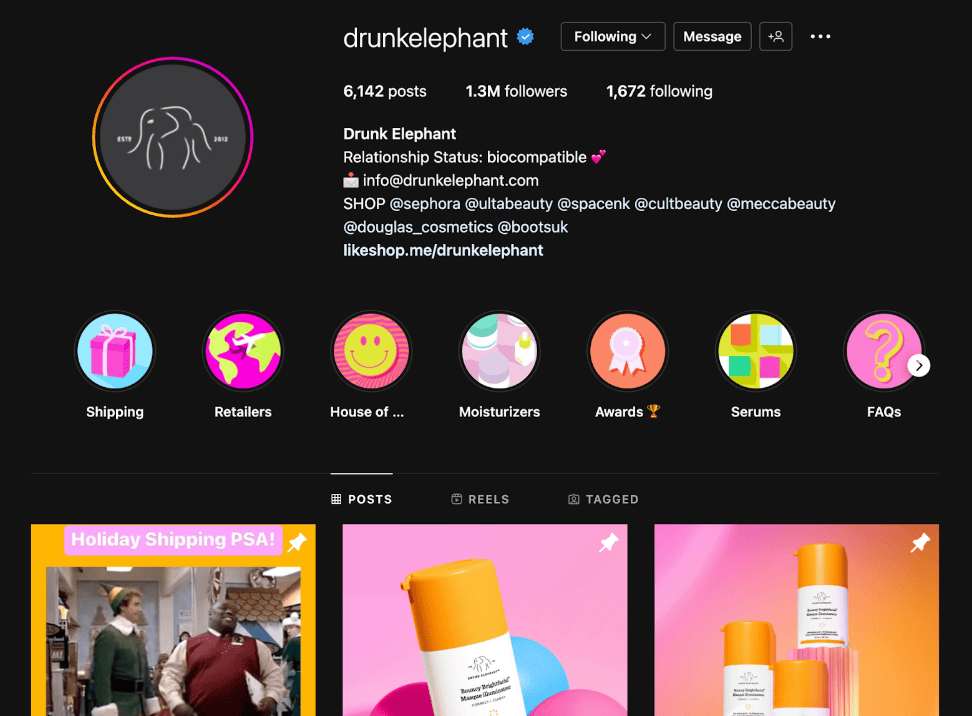 Foundr
Creating IG Story covers doesn't always have to involve graphic design. Some brands and IG users choose to use photographs or still video captures from their previous Stories. Take Foundr, for example. You'll notice that, while one of their graphics is a logo for Foundr+, the rest are screen grabs from their Stories.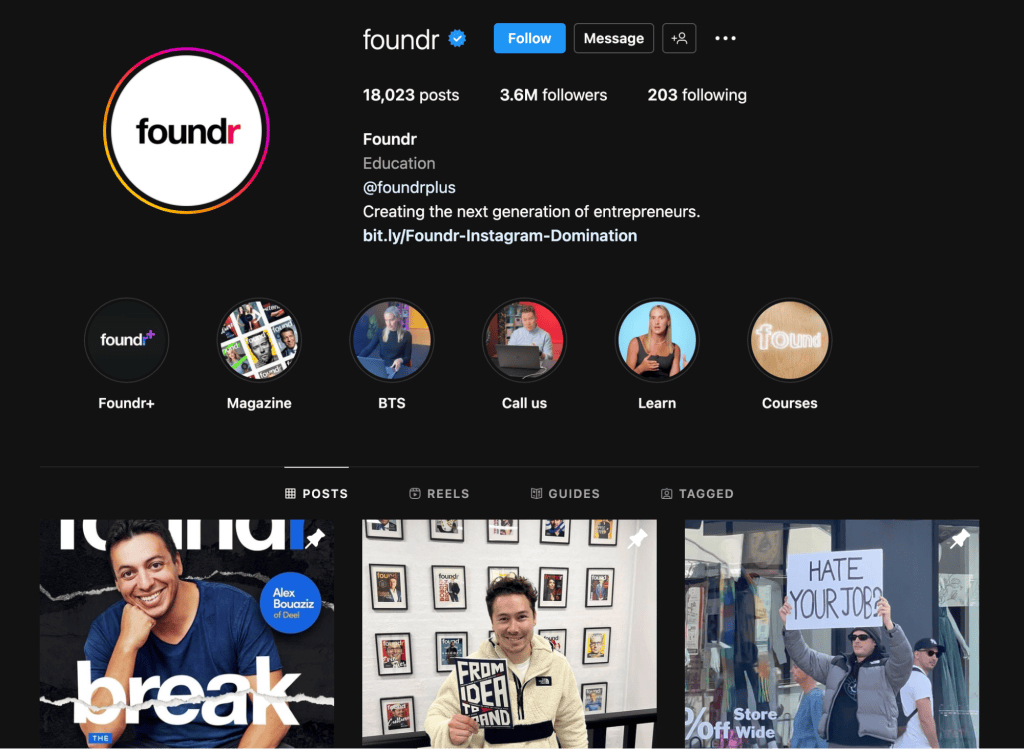 Instagram Story Highlight Best Practices
Now that you know how to make eye-catching IG Story highlights for your profile, there are some best practices to stick to. You want to get the best results possible to draw your viewers' attention. Let's take a look at how to maximize your highlights.
Center Your Highlight Icons
When you use a tool like Snappa to design your IG Story highlights, make sure your icon graphics are centered. If the graphic is meant to be the focal point of your highlights, such as Hubspot's, you'll want to make sure everything is aligned for maximum impact.
Avoid Busy Images and Backgrounds
A basic graphic design rule of thumb is to be cautious about choosing busy images. If there's too much going on in your images, your viewers may not know what they're looking at. Keep things as simple and clear as possible.
Use Images That Fit Your Visual Brand
Make sure your Instagram Story highlights fit your brand's visual design. Whether they're graphics, photos, or video stills, they'll need to fit in well with the other images you're posting across your online platform.
Final Thoughts
Instagram Story highlight covers are a nice touch that helps to add character to your profile. IG highlights give you an opportunity to share Stories that you wouldn't normally show on your feed. They can give you great insight into your audience, but more importantly, they help your audience stay engaged with your brand!
Creating new IG Story highlight covers takes only a few minutes with Snappa, so click here to get started today.
Do you have any tips for creating great Instagram highlight covers? What type of Instagram highlight icons do you use for your brand? Share them in the comments below!