Instagram Stories have become a high-engaging wildly successful social media tool over the past few years. Users love it, and Instagram and Facebook have invested a ton into it— more stickers, music, and the expansion of Stories to Facebook.
So every business knows that they need Instagram Stories for marketing. But with many brands posting over three times a day on Stories alone, that very idea becomes incredibly overwhelming.
You need to come up with a lot of ideas, and you need to create a lot of visual content to meet that number.
Planning ahead is the best thing you can do to stay on top of this, while using templates to speed up the creation process.
So, are you looking for high-performing and easy-to-execute Instagram Story ideas? Let's take a look at seven of our favorites and some free Instagram Story templates that can get you started.
1. Brand Announcements
When you're looking for more Instagram Story ideas, always start with brand announcements.
New products. New office opening. You're hiring. Big sale incoming. Anything that's new and relevant to any segment of your audience, share it here, even if you're sharing it in-feed as well; some users may be more likely to see it if you share in both places.
Brand announcements should be fun, visually interesting, and to the point. Our free Instagram Story template below (which automatically shows you the "profile safe zones" you need to keep empty from core design elements) is a great example of what this might look like:
2. Behind the Scenes Content
Behind the scenes Stories are another popular choice. It helps users get an idea of "who you are behind the brand," so to speak, giving a seemingly authentic look into the people running the business.
Feature your employees. Show the offices (making sure nothing proprietary is showing on computers in the background). Post a Story of the company party, or the time an employee brought their dog into work.
It doesn't really matter what it is, as long as it's aligning with the brand values you're portraying to your customers.
No template is needed for this Story idea; choose an image or short video clip that represents your brand well, add text to explain if necessary, and upload away!
3. Resource-Focused Stories
Creating Resources in Stories is another outstanding choice. Everyone loves content that offers value to their lives, and brief tips, insider news, or access to resources that help your audience with core pain points are a sure way to get people tuning into your Stories more often.
Another perk: Resources are a strong way to stretch a single idea a little bit further. Ten tips gets you ten Stories, and you can even share one tip a day and several Stories after that and elaborate more.
Need an idea of what this could look like? Check out our free template here:
4. Event Promotions
Do you have an event coming up for your business? It can be a pop-up shop, an online webinar, or a mega-conference– doesn't matter.
What does matter is that you promote it through Stories. Share event details, including the name of the event, a description of what's involved, and some sort of reason why users should sign up (in the example below, it's "curated by NYC's Top Chefs").
Include a "swipe up" link that takes users to event registration wherever possible, or direct them to the link in your profile's bio.
Want to create event promotion Stories fast? This template can get you started: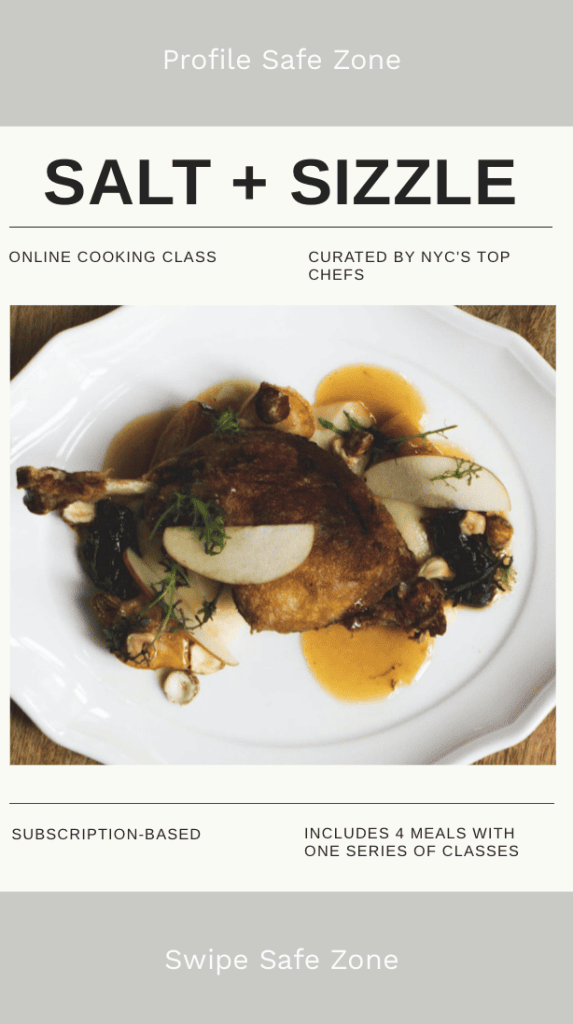 5. Engagement Generating Posts
Stories have rolled out a ton of interactive features in the last few years, most of which are centered around Stickers.
You can have users ask questions, which you can answer. There are sliding emoji bars, poll features, and more.
Use these to your advantage. Ask users questions and gauge their response. It's fun for users, and it can actually give you great social proof and feedback all at once.
This is another Story idea where you can use any template that you'd like, or start from scratch. The most important thing will be choosing the right interactive and engagement-driving elements to get the results you want.
6. Brand Shoutouts
If you're running low on Story ideas, think about how you can support other brands and accounts. It's a fantastic option when you want to earn good will with other businesses, open the door to partnerships, and highlight other brands that align with your own. This can actually reinforce how users see your own brand.
A sustainably focused cleaning company, for example, might list the names of five businesses they feel are also working to improve sustainability, including an eco-friendly fashion designer and a brand that advocates for cleaner water.
Want to make this look fantastic? This template would be perfect:
7. Quotes
You can't go wrong with quotes. Everyone loves a good quote now and then, and they're an easy way to contribute to your Stories when you're creating content at scale. Just make sure your text is legible and fits perfectly within your Instagram Story's size.
My go-to move as a social media manager was to spend twenty minutes finding a list of quotes relevant to my clients' business, and then creating quote images like the example we're about to look at. Whenever there was a gap in the schedule, we could drop one in.
We've got plenty of free Instagram Story templates with quotes, but this is a personal favorite:
Final Thoughts
Instagram Story ideas are always good to have on hand, especially considering the sheer amount of content needed to get the job done well.
These seven Instagram Story ideas will give you plenty to work with, and using Snappa's free templates can help you do so at scale.
Want to get started creating Instagram Stories? Sign up to access our free Instagram Story templates here.