Squarespace has exceptional ease of use and zero learning curve, which is a huge advantage for non-techy business owners who want an affordable but reliable site that will help them sell well and that's easy for them to use. It only makes sense that it would become so popular for eCommerce sites looking to quickly connect with their target audience.
Many of our clients use Squarespace for their sites, and they've recently been asking us about Squarespace image sizes and best practices to help them effectively sell their products and services.
You've asked, and we've answered! In this post, we're going to take a close look at the best Squarespace image size for different types of product photos, along with some design tips to ensure that you're maximizing the potential for conversions.
The Perfect Squarespace Image Size for Products
Squarespace has three primary types of images when it comes to product pictures. These are:
Primary Images. These are the images that are shown in search, in many cases, and they'll show up as the first picture for each product.

Additional images.  These will only appear on the product pages, though they can display when users hover over the thumbnail when using the Advanced Product Page option (we'll look at this in a minute).

Thumbnail images. These images display in product blocks, and on product pages in Advanced options.

There's good news though: You can use the same size images and aspect ratios for every type of image, simplifying the process significantly.
When you upload an image to Squarespace, they'll automatically create seven different versions of each image, with widths of 100, 300, 500, 750, 1000, 1500, and 2500 pixels, and it's up to you to choose which you'd like to go with.
The right choice for displaying will depend on the size of the image container, but they recommend uploading images that are at least 1500-2500 pixels long in width so that there's potential for it to resize correctly and have zoom capabilities.
What About Other Types of Squarespace Images?
While product pictures get most of the attention here, there are a few other types of images you may want to include on your Squarespace site. Here are the ones you need to know and their recommended image dimensions:
Favicons (or the tiny logos that appear in the URL address bar) should be between 100×100 and 300×300. They should be saved as a PNG or ING file.
Background images should be at least 2500 pixels wide, which is likely how wide Squarespace will stretch them to.
Banners should be at least 1500 pixels wide. If they're wider than that, they may not display on mobile correctly.
Other Image Technical Requirements on Squarespace
Squarespace has the following requirements for product images being used on their site:
You can use images in JPG, GIF, or PNG formats only.
Only include letters, numbers, underscores, and hyphens in file names; other characters may cause errors when the images are being displayed in product galleries.
Keep image resolution under 60 megapixels. (Note: To find megapixels, multiply the dimensions of your image and divide it by 1 million.)
Images should be using RGB color mode; print mode (CMYK) won't work in most browsers. For mobile, use the sRGB color profile, or your images may not display correctly.
Image file sizes can be as large as 20MB, but Squarespace encourages site owners to opt for closer to 500KB file sizes or less so that you don't impact size performance and loading speeds, which is a concern with larger images. Ideally, each page should have all content add up to less than 5MB for optimal performance.
3 Visual Tips to Increase Squarespace Conversions
If you want to go beyond the technical best practices for Squarespace images and ensure that your images are design-friendly for your customers, too, check out these 3 design tips.
Be Consistent With Aspect Ratios
Squarespace strongly recommends that when it comes to product images and other like-images on your site (including different supporting images on your home or "About Us" pages) that you choose the same aspect ratios.

This will look better overall than a bunch of mismatched image sizes, giving your site a much stronger look that is aesthetically right on point.
Choose the Advanced Product Page Style
You can choose from multiple different types of product page styles, which essentially determine how your product pages will appear.
When it comes to product page styles, you can choose from Classic, Advanced, or Unique. In a lot of cases, the Advanced Product Page Style is going to be the way to go, because it offers additional functionality that plenty of customers want.
This includes the ability to display an alternative image when users hover over your product page, zoom functions, and quick view features.
The Advanced Product Page Style option is available for all of the following templates: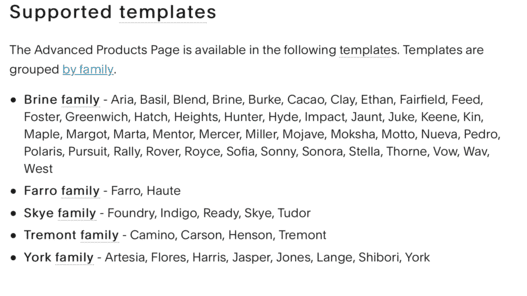 Prioritize Clean Images With Plenty of Whitespace
High-quality photographs that are centered in the middle of white background (or any negative space with the color of your choice) are going to look professional. They'll also look uniform, which is a great advantage when users want to scan through your options, see what you sell, and find what works best for them.

Having extra white space on the edges of your images also leaves room for cropping, which will be exceptionally useful when the Squarespace template of your choosing might require you to crop an image so that it fits the gallery of your choice.
Conclusion
Squarespace is a fantastic choice for businesses looking for a website builder that's easy to use, easy to customize, and easy to sell with. With the right images in place, the "easy to sell" benefit becomes heightened even more. Fortunately, choosing the right images and optimizing them well is pretty simple on Squarespace, so focusing on what you're featuring can take a bigger priority of how you're featuring your products.
Need help resizing your images or adding to them? Sign up with Snappa today for free! 
What do you think? What Squarespace image size and aspect ratios have worked best for you? How do you use your product images to sell more? Share your thoughts and questions in the comments below!