These days, your YouTube thumbnail is almost as important as the video content itself. As we've previously mentioned, a crisp, well-designed YouTube thumbnail can be the factor that determines whether your audience clicks on your video or not.
Have you ever noticed that a lot of big YouTube accounts switch up their thumbnails during special events or holidays, like the Superbowl or Christmas? Let's take a look at how to add a new thumbnail for an existing video, and why this is so important for your channel.
Let's jump right in!
How to Change Your YouTube Thumbnail
Swapping your thumbnail for a new one is actually pretty simple! Let's break it down step by step: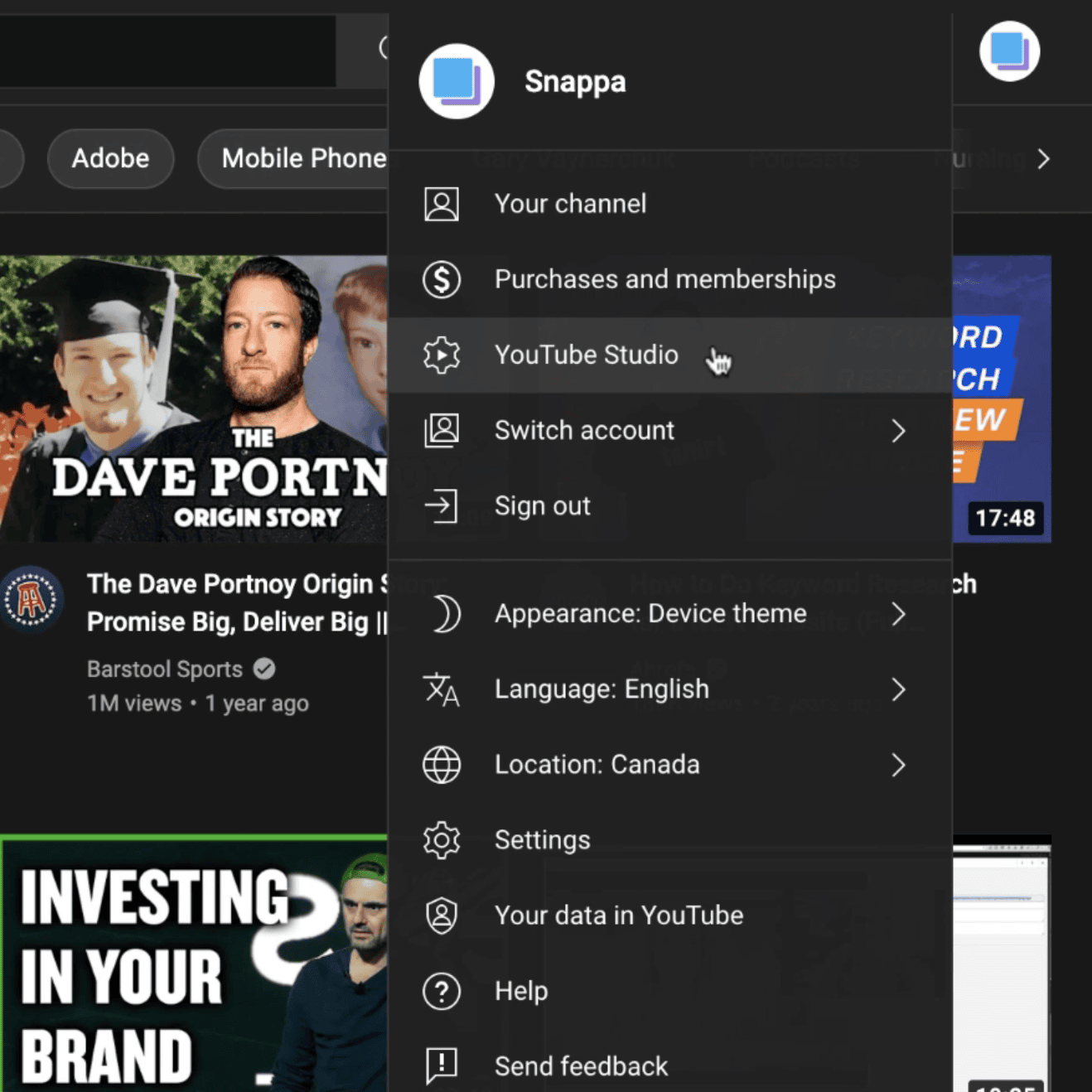 First, sign in to YouTube and open YouTube Studio.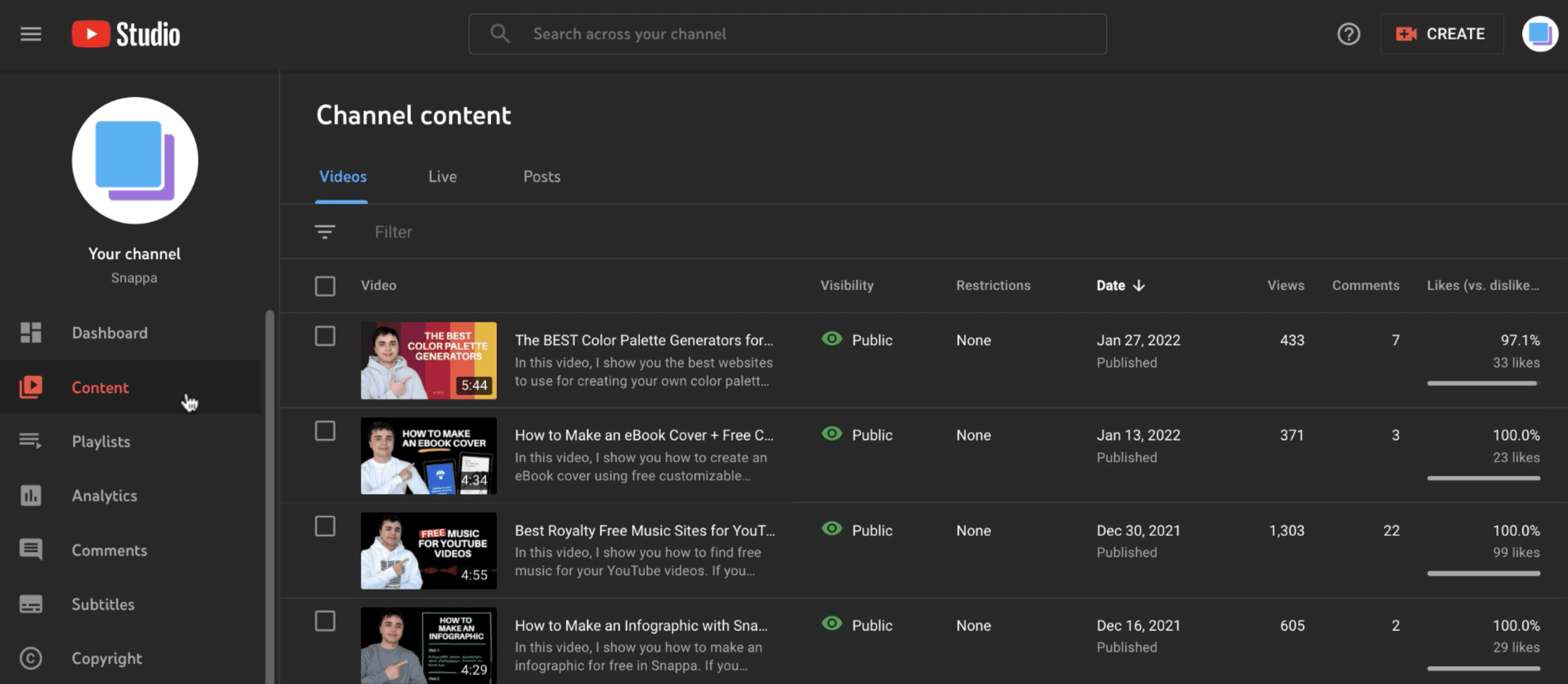 From here, in the left menu, you'll select Content.

Select the video you want to change by clicking its thumbnail.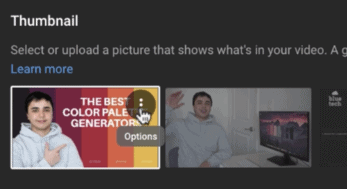 Under Thumbnail, click on the triple dots Options button and select Change.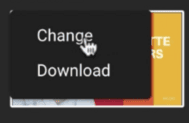 Here you can upload and select the file you'd like to use as your new custom thumbnail.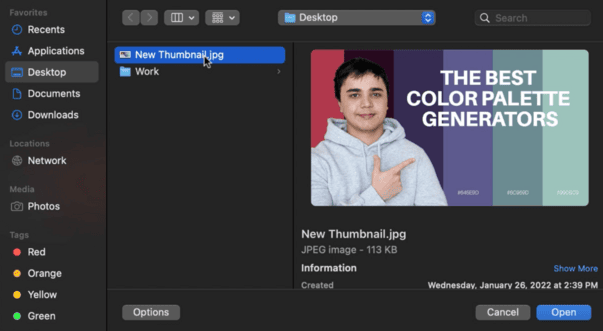 Click Save and you're good to go! It's as easy as that.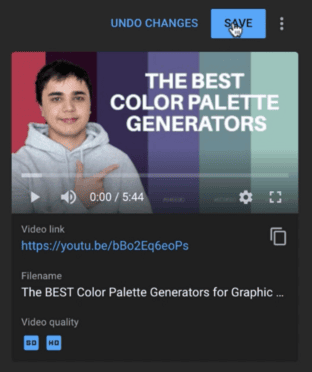 Here's a video we made to break it down:
Why You Should Change Your YouTube Thumbnail
Wondering why you should take the time to update your YouTube thumbnail? Let's break down why it's worth considering.
Give Your Content a Second Chance
The first reason it's a good idea to consider swapping out your thumbnail for a fresh one is that it gives your video a second chance to perform better. Maybe you want to try a new color palette, or swap the font itself? A new thumbnail might be just the thing you need to grab your audience's attention.
Make Your Visuals Match
Maybe your company has just undergone a full re-brand and your old visuals no longer represent your current approach.  Having visual consistency is important for brand trust and will ensure your brand is immediately recognizable.
Make Something Old New Again
If you have a special event or holiday coming up, you can update your thumbnail with this theme in mind. Whether it's throwing a Santa hat on your picture in the thumbnail, or having a mini balloon icon in the background to symbolize your company anniversary—adding this extra flair is bound to pique your viewer's curiosity.
Inject Some Personality
If your thumbnail consists of purely text, consider swapping the thumbnail for a new one with a picture of yourself in it. Seeing the creator of the video on the thumbnail makes it feel more personal and inviting.
12 Examples of YouTube Thumbnails from Snappa
Looking for some fresh YouTube thumbnail ideas? Snappa has a wide range of royalty-free images and templates you can use to create eye-catching designs that are both simple and professional. The templates below provide clean layouts consisting of font choices and pops of color that ensure your thumbnail makes the impact you desire.
Modern Beige YouTube Thumbnail Example
Gradient YouTube Thumbnail Example
Bright YouTube Thumbnail Example
Creator Tools YouTube Thumbnail Example
Colorful YouTube Thumbnail Example
Minimalist YouTube Thumbnail Example
Marketing YouTube Thumbnail Example
Clickbait YouTube Thumbnail Example
Realtor YouTube Thumbnail Example
Shapes YouTube Thumbnail Example
Headline YouTube Thumbnail Example
Superfoods YouTube Thumbnail Example
Final Thoughts
Creating a new YouTube thumbnail for a video is definitely something to consider if your video isn't getting as much traction as you'd like, want to give it a seasonal visual feel, or simply to freshen things up.
Taking the time necessary to add new thumbnails to your videos will ensure that your thumbnail really pops and grabs your viewer's attention. This is one simple yet powerful ingredient to your channel's visuals that will just give it that extra punch.
Ready to start creating engaging thumbnails for your YouTube channel?
You can start your free trial with Snappa here.