Podcasts are a great way to get exposure for both your product and your brand. I like them specifically because you're given the green light to be promotional and talk about yourself and your products.
Additionally, podcasts specifically don't require any writing – simply showing up and being yourself for 30-60 minutes, which anyone can do.
For example, I've been featured on Entrepreneur on Fire, Niche Hacks, & The Email Marketing Podcast.
And believe it or not, they convert relatively well.
I have people reach out to me all the time having heard me on a podcast. People really begin to relate to you when they spend 30 minutes listening to you talk – it builds trust.
[tweet_box design="box_01″]People really begin to relate to you when they spend 30 minutes listening to you talk.[/tweet_box]
Here's a few examples of what I mean: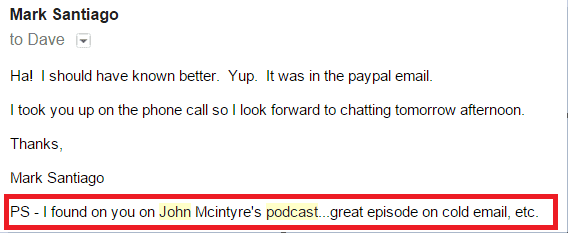 I get this sort of thing all the time, and you can too, if you follow this approach.
P.S. – stay tuned for the very end where I show you how to rock your first podcast episode and automate the entire outreach!
How To Find Podcasts
The great thing about podcasts is that they're extremely easy to find. This is because there are some standard conventions people use on their websites when referring to them.
Literally, it starts with going into Google and running a search for the following:
[Your-Topic] inurl:/podcast/
[Your-Topic] inurl:category/podcast/
[Your-Topic] inurl:/podcasts/
[Your-Topic] inurl:category/podcasts/
[Your-Topic] intitle:podcast
[Your-Topic] intitle:podcasts
The inurl and intitle are Google Advanced Search operators. What they do is require the result to have that text in the URL or in the Title (there are other operators, but these are all we need for now).
OK, let's put this into practice.
Assume I have a marketing startup or blog and am looking for marketing interviews – I could do something like this: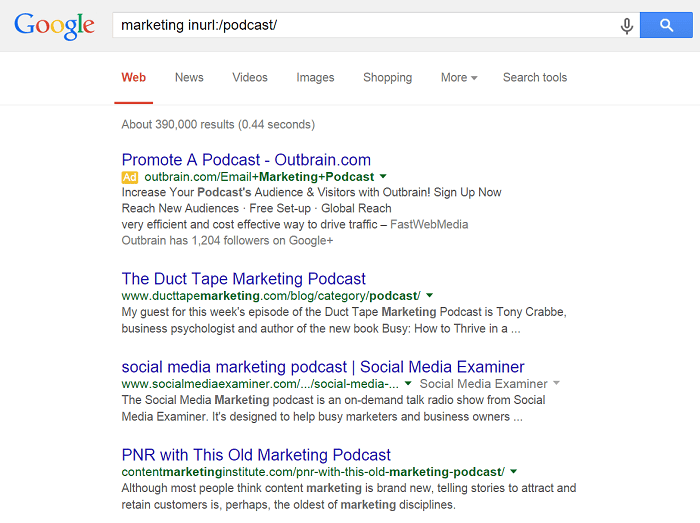 No shortage of examples there.
Let's try it again, in the nutrition niche, using one of the other searches (this time requiring there to be an entire category dedicated to podcasts)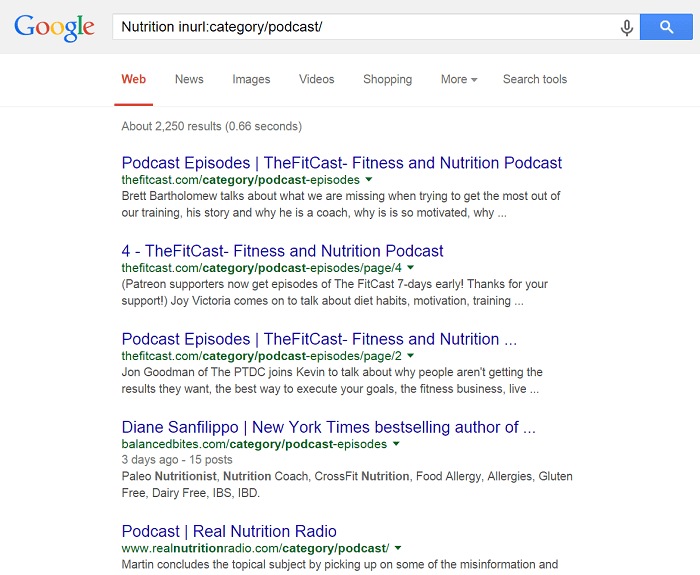 Again, thousands of results to choose from.
Of course, every niche is going to have a different amount of results, but chances are you can find some in yours.
And, if you're struggling, try to consider where the crossovers are. For example, maybe you are a dating startup. Naturally, you can look in the dating and relationship niches. You can also look in marketing and startups. You can also look in fashion (think, what to wear on your first date).
Pitching yourself is just about creating an angle that connects you to the intended audience.
How To Extract The Results From Google Quickly
So you have some results to pull from, 400k in fact if we use the above example.
Which means you're probably wondering, am I supposed to collect these one by one?
No, of course not!
While I don't know of any ways to simply export 390k results to a spreadsheet (and really, would you want to?), I do know of a supercharged way to get thousands, quickly.
First, click on settings in the bottom right of the Google homepage. When it opens, click Search Settings: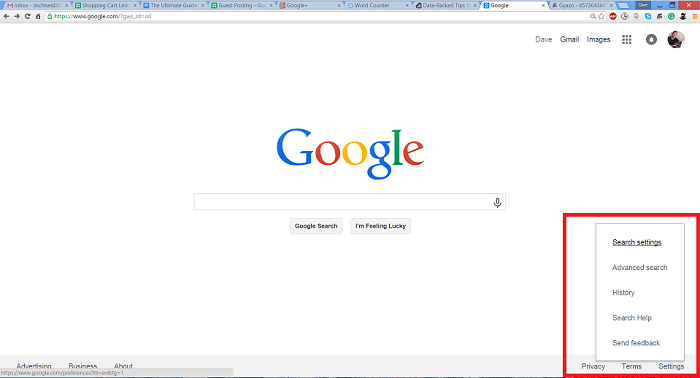 On the next page, change Google instant predictions to "Never show Instant results, and move the "Results per page" to 100.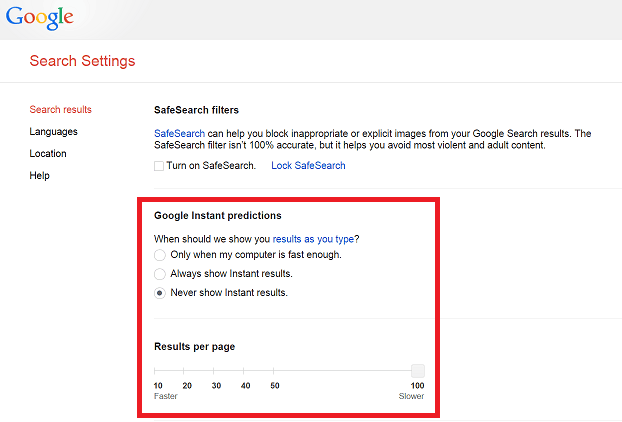 Now, when you run a Google search, you'll show 100 results per page.
Next, download this free tool from Moz to extract search results.
You can download it for Chrome or Firefox.

Following that, run a search for what you're looking for, just like we showed above:
Now, with the Moz toolbar, I can export these results to a CSV. This image is in Firefox. It looks different in Chrome, but the export is in the top right.
Firefox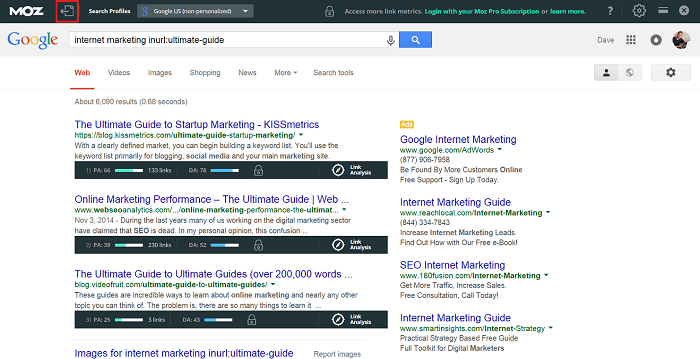 When I open up the CSV I just downloaded, it's going to have a ton of columns and the 100 results (10 pages condensed into 1 due to our tweak of the search settings):
This is an example from when I was searching for ultimate guides.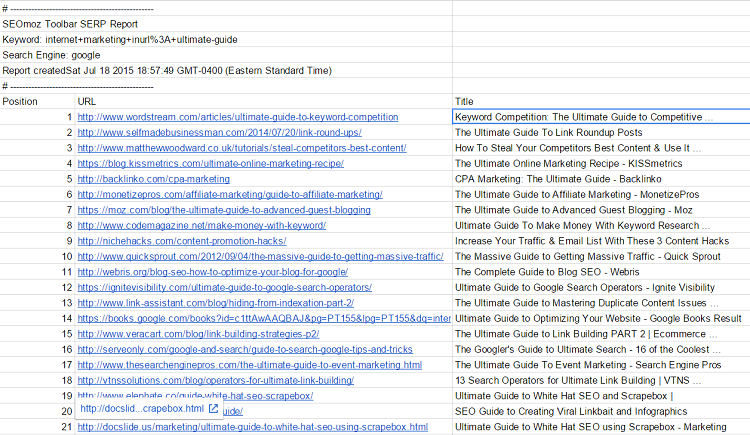 If you want to get more, simply head to page 2, press export again, and you'll get another 100 results.
Within minutes, you'll have thousands of podcasts in your niche.
Curating The Results To Ensure Quality
The good news is you've now got hundreds, if not thousands of podcasts at your disposal.
The bad news is if you want to do this outreach properly, you should still visit each site one by one.
I know and I'm sorry – there's only so much automation that can be done (though later on we will discuss potential paid tools that can help).
The reason to go to each site is to check on three key pieces of information:
Is the podcast still active?
Do they do interviews?
What is their contact information?
On the one hand, you could simply collect the contact information with no regards to activity or interview style, and send emails to everyone.
But you'd look very silly doing so, and could very well be damaging your brand in the process.
That said, there is nothing that stops you from outsourcing the following task to a capable virtual assistant at a very reasonable price (as low as $3 – $4 per hour is typical). You can find them on a site like Upwork.
And to be honest, it's not that difficult, and the easiest way is to check the iTunes page.
For example, let's say I came across the Empire Flippers Podcast and their website:

I could go to their website and look for the above info, but it might be quicker to start by looking at their iTunes page, here:

In doing so, I can see on their page the following information:
The name of the podcaster.
The most recent release date.
Descriptions of episodes, which usually give indicators into whether or not they take guests.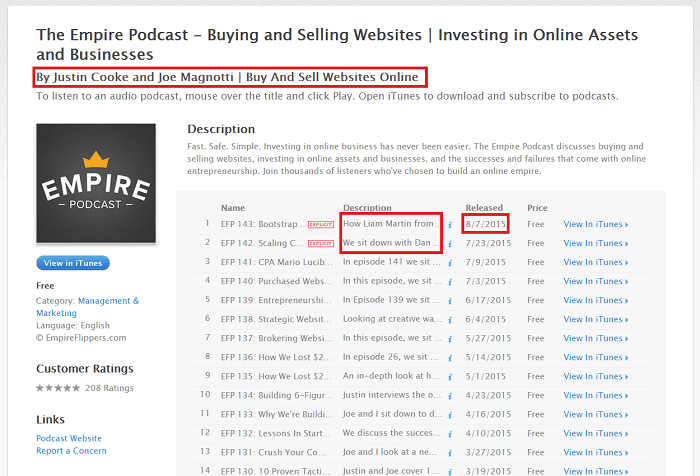 By checking these iTunes pages, I have all the information I need minus the contact information to know which podcasts are going to be worth reaching out to.
Collecting Contact Information
There's no magic way to get contact information from a website, however, I have written previously about over 30 ways to do so.
Following the steps in this article will yield contact information in 90%+ of the cases. Some methods are paid, and that's entirely up to you on whether or not you can afford it and you consider the time savings worth it.
Engaging Before Outreaching
There's a little thing known as relationship building and it goes a long way in successfully landing a slot on a podcast feature.
We could go into all the tactics but you're probably familiar with most of them. Things like:
Blog commenting
Subscribing to the newsletter
Following them on social media
Sharing their blog posts
But I want to call out one specific tactic that works well for podcasts – leaving a review on iTunes.
[tweet_box design="box_01″]If you want to start building a relationship with a podcast host, leave them an iTunes review. [/tweet_box]
Even many of the top influencers still have a paltry number of reviews on iTunes.
For example Rob Walling and Mike Taber have just over 250, and they run one of the most well known podcasts for startups (it's excellent btw). By comparison, they probably receive about that many emails in one day (or that many comments on one post).
In short, if you really want to stand out from the crowd, an itunes review is a fantastic way to do it.
Make sure to make your name something very recognizable. For example, I might write Dave from NinjaOutreach (Update – Dave is no longer apart of NinjaOutreach).
If you do this, try to do it well in advance, and then reference it as part of the outreach. That way, you'll come across as a genuine longtime listener.
If you forget to do this, definitely do it after the podcast to show your appreciation. Trust me, people notice these things (because so few people do them)!
Performing The Outreach And Landing Slots!
Alright, so now you want to actually get featured.
If you've never done cold outreach before, I admit it feels a bit strange.
But the truth is, within reason, there's nothing wrong with it. As it turns out, it's also a burden for podcasters to find guests. I have podcasters come to me all the time, asking if I know of ways for them to find guests for their podcast, so I know it's a pain point.
Side Note! – This is exactly why after the podcast you should offer to refer them to another potential guest. This is a great way to provide value to multiple people, easily and quickly.
Therefore, if you're proactive, and have an interesting story, you can definitely get featured.
I've got a script below that works for me, but before we get into it, let's highlight the key elements of a good pitch.
Personalize it – No one likes to receive a standard template. Use their name, and reference an episode that resonated with you. maybe even go so far as to talk about the value you got out of one of their earlier episodes.
Sell yourself – Talk about why you're a good fit for their audience and why it will be valuable for them to listen to you. A great angle is if you're an expert on a particular topic.
Build Credibility – If you've been featured anywhere else, it's good to mention it. This type of social proof helps people feel that they aren't taking a chance on having you on. Naturally, if you can reference other quality podcasts, this is ideal.
Here's what that looks like in practice.
Hey [First Name]

I came across your podcast the other day while looking for startup related shows to listen to while at the gym – nice!

I was wondering if you had any slots?

My name is Dave and I'm the founder of NinjaOutreach.com, a blogger outreach software which launched in January.

We're a bootstrapped, remote SaaS startup and I believe we have an interesting story and a disruptive product, and we'd love to connect with your audience.

Honestly, I don't much like talking about myself, but I feel compelled to get out there and I *think* I have an interesting story. In 2012 I quit my corporate job and backpacked around the world for two years, visiting over 40 countries, and starting a few niche, online businesses that grossed six figures in revenue.

Those businesses ended up fading out, and now I'm bootstrapping a SaaS against some large competitors in the space.

Here's a few references:
empireflippers.com/harvard/
www.tropicalentrepreneur.com/david-schneider/

Let me know if this interests you – cheers!
Can you see all the elements above in this pitch?
How To Rock Your First Podcast!
Alright, so you've landed some slots – now what?
You didn't think about what it would actually be like to be on a podcast, did you?
Well, I've been on dozens and I can tell you it's no sweat. But of course, there are best practices.
First and foremost – find out from the host what they want.
Many podcasts send you a checklist so to speak. Here's an example: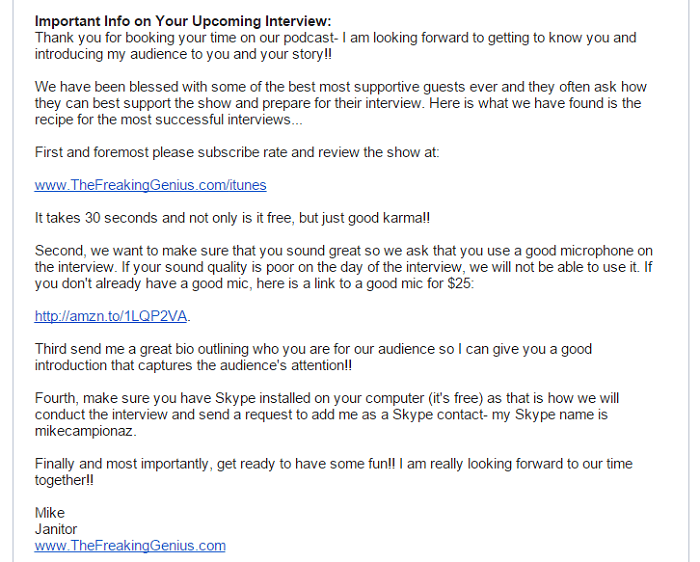 As you can see, the most important things are usually just having a clear way of communicating, usually a headset and a microphone.
Additionally, always listen to a few episodes of the podcast before appearing on it. For starters, sometimes hosts have specific questions they like to ask. They may send these ahead of time, but you still don't want to be caught off guard, especially if it's a favorite quote, book, or story.
Also, it just helps to get a feel for the flow and how the host runs the show.
Outside of that, being a great guest on a podcast is simply a game of being interesting, entertaining, and dropping value bombs whenever you can.
[tweet_box design="box_01″]Being a great guest on a podcast is simply a game of being interesting, entertaining, and dropping value bombs.[/tweet_box]
You'll do fine – I promise.
Creating A Special Offer
If you have the time and buy-in from the host, I recommend creating some sort of special offer for the influencer's audience.
This can be your product or service at a discount, for example.
Afterall, these opportunities are difficult to get and they are limited, so you want to make them count!
Here's a great example from Noah Kagan who, when featured on the Smart Passive Income Podcast offered a free trip to Austin to hangout with the AppSumo team to one, lucky commenter.
Now I get this is above and beyond what most people are capable of doing – but it gets your head in the right place!
Conclusion And Next Steps
You now have everything it takes to make interviews and podcasts a part of your strategy.
In general, these are common enough that most of the popular niches will have podcasts at your disposal.
Set a goal to reach out to 10 podcasts a week. You'll likely get accepted to 2-3 of them and you'll have a nice, steady stream of exposure to complement the other traffic generation methods you're implementing.
Bonus – Using Additional Tools To Accelerate The Process
In the event that you're looking to speed things up even further, there are some paid tools that you can use to look for interviews and collect contact information.
This is why I built NinjaOutreach, a blogger outreach software.
(Update – Dave no longer runs NinjaOutreach, but can be found at lesschurn.io and daveschneider.me)
We have our own tutorial specific to the tool on how you can execute this process.
A snippet of it looks like the following:
In the content prospecting tab (which is the main search tab in the tool), run a search for your topic, and then select interview (or podcast) from the filter drop down menu.
I recommend setting the search to 5k, because this filter will drastically reduce the results. This is because these data points are relatively new to the software, and the data is still being built up.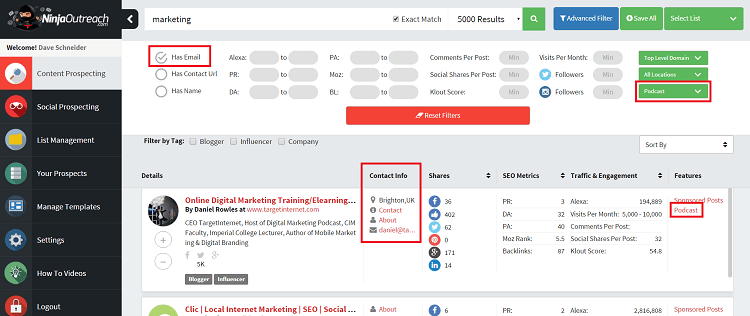 This is going to be quicker than the Google method I showed earlier, because the database has already organized the results and made them searchable via keyword and filterable by type.
Plus, you can use the tool to collect contact information in bulk and manage your outreach.