You need the perfect Instagram Reels size to make the best Reels video for your brand.
Using mobile video to its full potential means knowing what size your videos should be. This is true for platforms like TikTok, YouTube, Facebook, and Instagram. Optimizing your mobile video size means you'll show up looking your best wherever viewers find your content.
When you use the perfect Instagram Reels size, your video content will be formatted correctly and will be more likely to grab and keep your followers' attention.
Why You Should Be Making Instagram Reels
If you're wondering whether you need to be making Instagram Reels for your brand, the answer is definitely.
Reels are at the forefront of Instagram's video-centric strategy. The platform is aiming to compete with TikTok's short-form vertical videos, as well as YouTube Shorts. It took this strategy a step further in summer 2022, moving all forms of video into Reels.
Mobile video has skyrocketed over the past several years, especially with the rise of mobile video apps such as TikTok. According to HubSpot, 67% of marketing professionals said that social media video gets the best ROI.
Reels get more likes and a broader reach than other forms of content posted to Instagram. According to research by Statista, Reels account for 33.8% of reach and 35.4% of likes on Instagram, respectively. So if you want to expand your reach on the platform, you want to get on board with video content.
Not only are Reels short, snappy, and entertaining; they're also a way to show multiple facets of your brand personality. You can use Reels to show off your products, services, team, and a peek at what goes on behind the scenes at your business. If you're a personal brand, you can use Reels to speak directly to your audience.
The Exact Dimensions of Instagram Reels
To make your Reels the perfect size for Instagram, they should be 1080px x 1920px with a 9:16 aspect ratio. This is the best size for your user's mobile phone and means your content will utilize the entire screen.
Reels can be up to 60 seconds long, with a 2,200-character maximum on the caption. Just like Instagram photo posts, you should use relevant hashtags in your caption to broaden your reach. Instagram allows up to 30 hashtags per caption, so take advantage of that leverage.
When you create a Reel in Instagram, you can use one 60-second clip or record multiple clips that equal 60 seconds combined.
How to Make an Instagram Reel
Now that you know what Instagram Reels size you should be using, let's quickly walk through how to make a Reel for your Instagram account.
From your feed, click the plus button in the top right-hand corner or swipe right on your screen.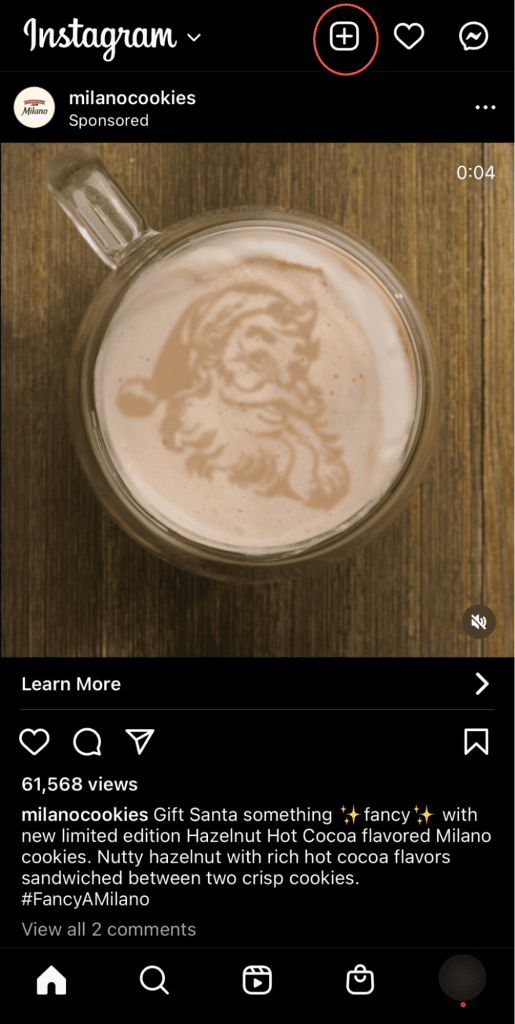 At the bottom of your screen, select Reel.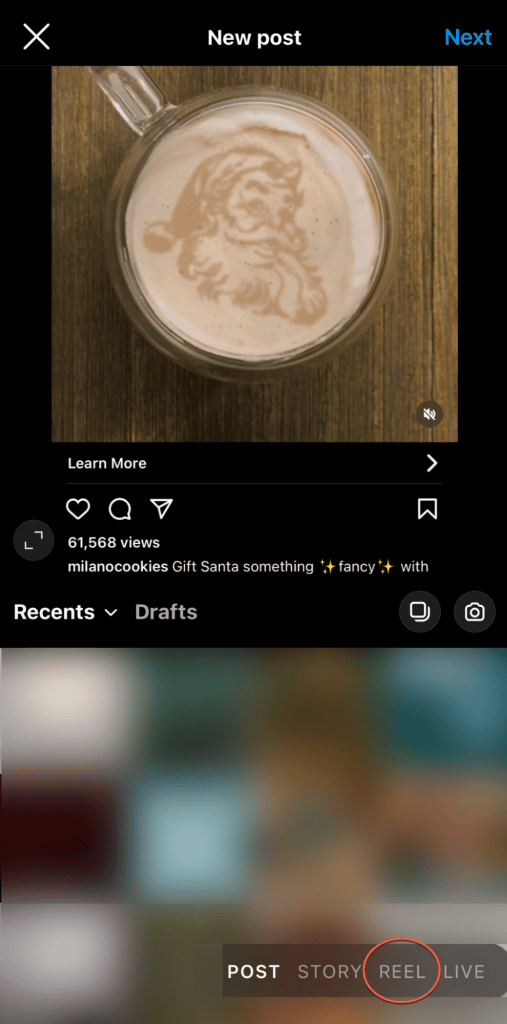 From there, you can record video by tapping and holding the center button. Film a standard video clip via your camera using the white button, or scroll left or right to select a video filter before you begin.
When you're ready to stop filming, just release the button. You can press, hold, and release the button to film sections of your Reel until you've used your allotted amount of time.
Once you've filmed your clip, tap the Next button on the bottom right.
Now, you have the option to edit the video you just shot using the Edit Clips button on the bottom left. You can either watch what you just recorded, or you can trim, reorder, or delete each section of your video.
Tap the buttons along the top of your Reel to add music, effects, stickers, text, drawings, and more. You can also opt to download the video to your smartphone or tablet.
If you add text to your video, you can tap the corresponding buttons at the bottom of the screen to edit the duration of each clip.
Once you're happy with your Reel, tap the Next button at the bottom right of the screen.
Now, you can opt to select a frame from your Reel or upload a custom thumbnail. Tap Edit Cover to choose which image you want. You can also add a caption from this screen.
Fill in any other details on your Reel before posting. You can tag people, choose whether to share to your Feed, add products or your location, and more.
If you're not ready to post your Reel, tap Save Draft on the bottom left. When you get ready to post, it will be waiting in your drafts folder.
Ready to post? Tap the Share button on the bottom right of your screen.
That's it! Don't be afraid to experiment with different Reels filters, features, and trends to get the maximum impact out of every video.
6 Instagram Reels Best Practices
Now that you know how to make Reels (and what size you should be making them), let's go over a few best practices you should always stick to.
Create branded thumbnails for your Reels for a consistent look on your feed. At 1080px x 1920px, Snappa's customizable Instagram Story templates are the perfect size and aspect ratio for your Instagram Reels.
Keep your Reels short and snappy. You don't always have to use the full 60 seconds allotted, and sometimes shorter is actually better.
Make it your goal to hook your viewer within the first few seconds so they don't scroll away.
You'll want your lighting to be good and your sound clear. While you don't necessarily need studio-quality lighting, you do want to make sure your videos are well-lit and people can understand what you're saying.
Choose music from the Facebook Sound Collection for your branded videos. This music library for Facebook and Instagram contains royalty-free music businesses can use for Reels to avoid potential copyright issues.
Use the right video format for Instagram. If you upload video clips to Reels rather than recording them directly to the app, make sure you're using MP4 files.
Final Thoughts
You now know how to make Reels, what size they should be, and some best practices to get started. If you need a design tool to quickly and easily create Reels thumbnails for your content, Snappa can help. You can find customizable designs in our graphics library or make your own using our design elements. Get started free to give it a try.
What are some of your favorite Instagram accounts for funny or entertaining Reels? Let us know in the comments below!