Social media never stops changing. Platforms are constantly adding new features, updating usability and user experience, and tweaking the appearance of their apps and websites. Sometimes, change means a new algorithm or adjusted organic reach. Other times, it means giving the platform a whole new look
YouTube is the latest social media platform to get a drastic makeover. The new layout for YouTube rolled out in June 2020. While it has been met with mixed reactions, it's clear the new layout has some advantages for the creators and businesses using the platform for marketing. 
In this post, we'll take a look at YouTube's new layout. We'll take a brief tour at what's new, then explore what these transformations mean for your brand. Finally, we'll talk about how you can optimize your YouTube content to take advantage of these changes.
Let's jump right in!
What Exactly Is the New YouTube Layout 
While it has undergone some changes, the new YouTube layout is aesthetically similar and familiar for long-term users. It features several adjustments to the number of videos displayed, thumbnail sizes, and channel analytics. In addition, the platform features an all-new Dark Mode for users who prefer a dark background over white.
Larger Thumbnails & Fewer Videos Featured  
One of the most noticeable differences between the old YouTube layout and the new is the size of the video thumbnails displayed on the home page. Thumbnails are larger now, and channel icons have also increased in size.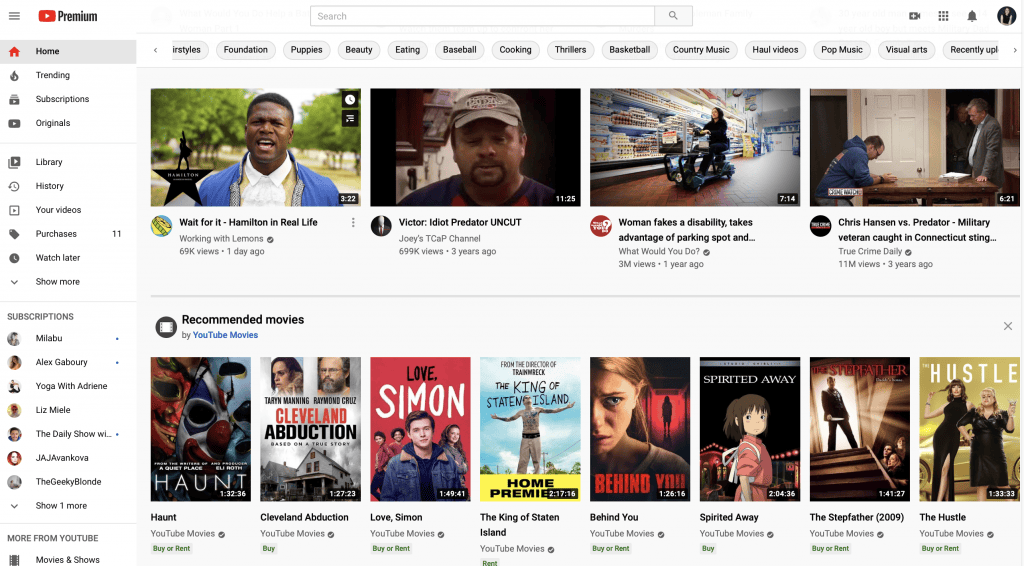 The fewer, larger-sized thumbnails serve to decrease clutter on the homepage. This decreases overwhelm for the user and displays only the most relevant videos to your subscriptions and recent views. 
New Analytics
The new YouTube layout brings with it a brand-new look for the analytics section. YouTube analytics are now more organized, like other native analytics dashboards for social media. That means it will now be much easier to find the exact information you're looking for, more quickly than before.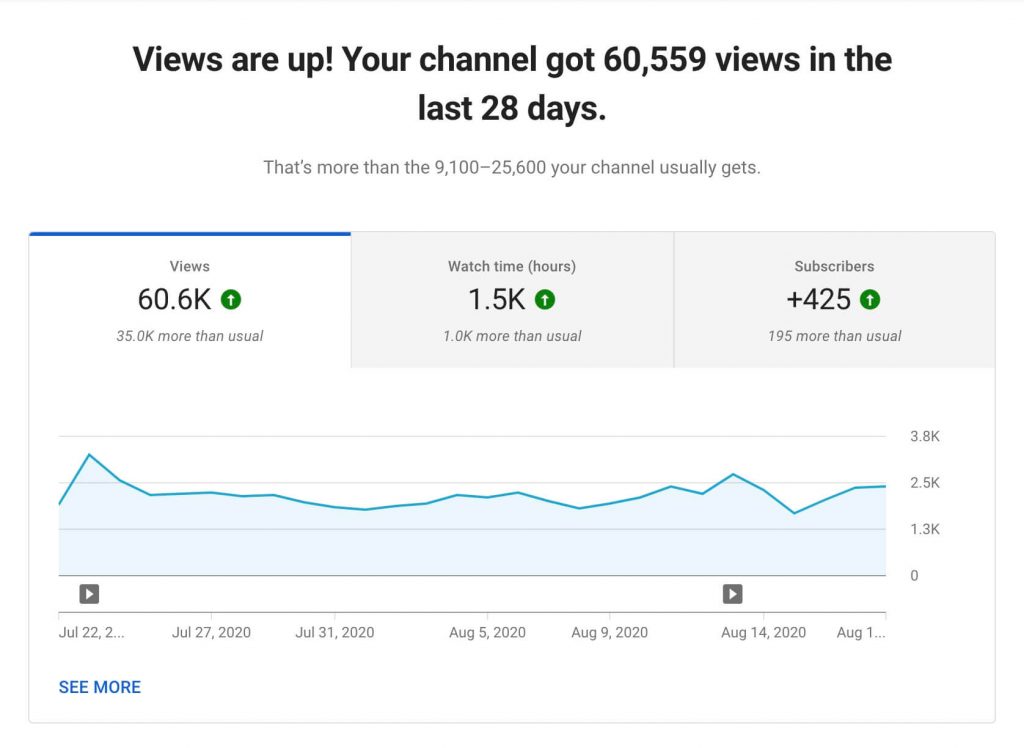 YouTube has added additional analytics for creators. The new information includes click-through rate (CTR) and in-depth data about where and how users are finding your videos online. You can also check out impressions and unique views to your videos. 
The platform has also added a date range called "Since published," which creators can toggle to check their latest video's performance in comparison to previous ones. The dashboard also features a Snapshot card view. 
Additionally, the new analytics dashboard lets you watch your video's stats in real-time using the Realtime Activity feature. If you want to dig deeper into your data, you can also click to reveal more information about your video's performance.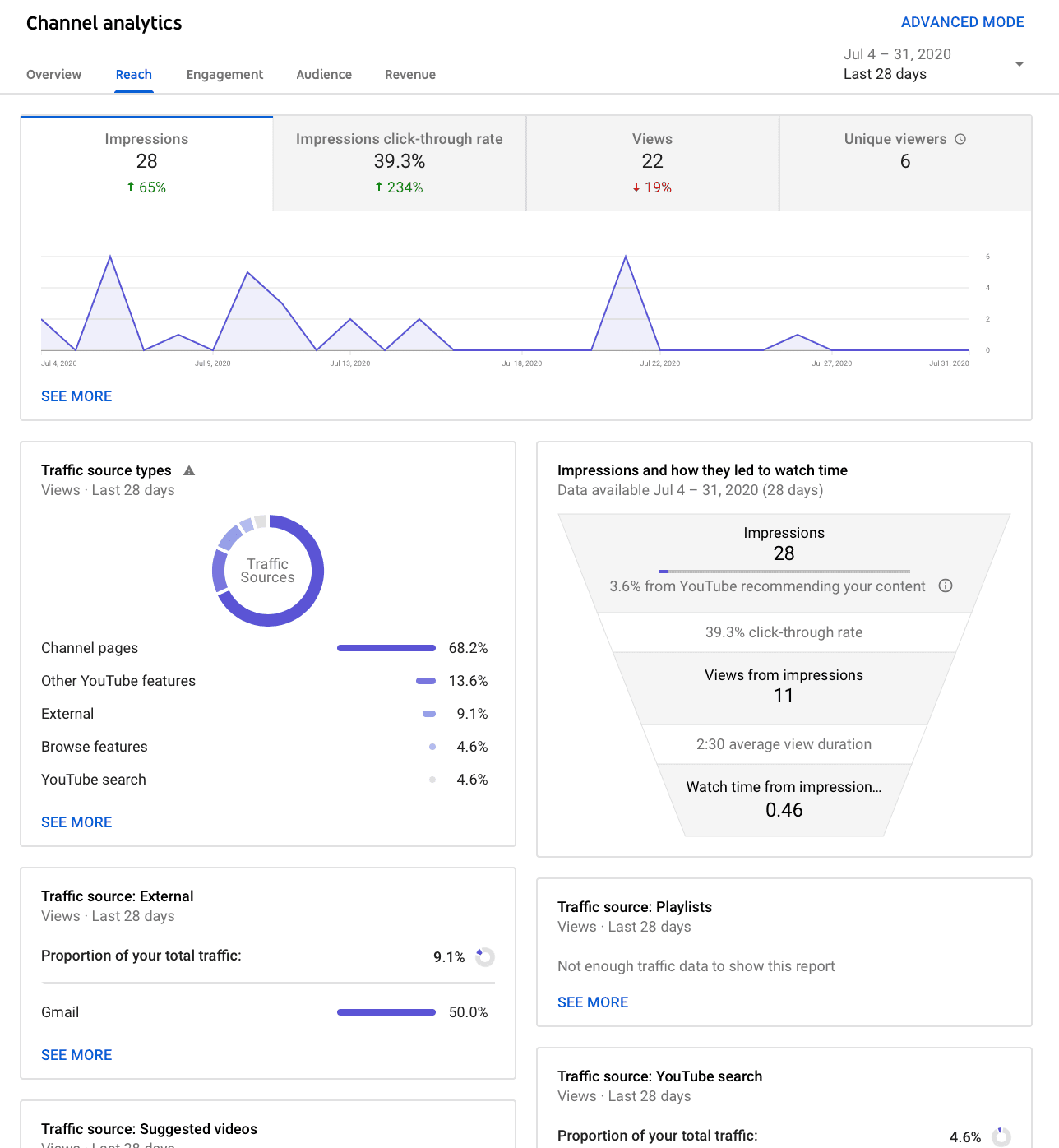 If you're looking for deeper data on your YouTube channel and how it's performing, the new analytics dashboard displays a wealth of important information. Users can still access the classic analytics dashboard if they prefer to use the previous layout. 
Dark Mode
In addition to the new layout and analytics features, YouTube now offers Dark Mode for an enhanced viewing experience. You can enable Dark Mode on both the desktop and mobile app versions of the platform (both iOS and Android). 
Dark Mode is easier on the eyes and helps to reduce eye strain. Additionally, it makes the video thumbnails in the feed stand out. 
You'll need to enable Dark Mode separately on your desktop account and on mobile. Here's how to turn on YouTube's Dark Mode on desktop: 
Click the three dots in the upper right corner of the screen. If you're logged in, click your user icon. Look for the menu item titled "Dark theme."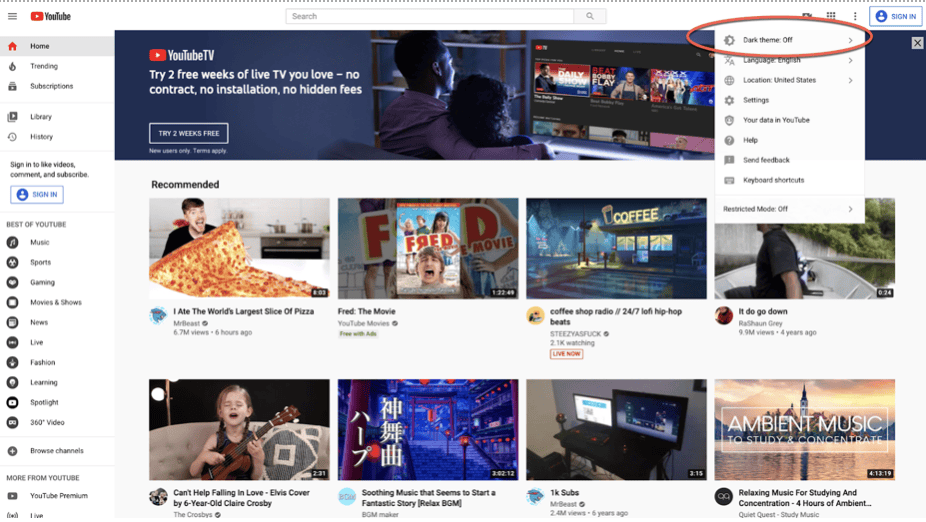 Click the arrow beside "Dark theme" to expand the menu item.

Turn Dark Mode on or off by clicking the switch.
That's it! The YouTube desktop site should now be in Dark Mode.
If you want to turn on Dark Mode for your mobile app, here's how you do it: 
Open your Account Settings.
Next, go to Appearance and select click the theme that's currently selected (in this case, "Dark theme").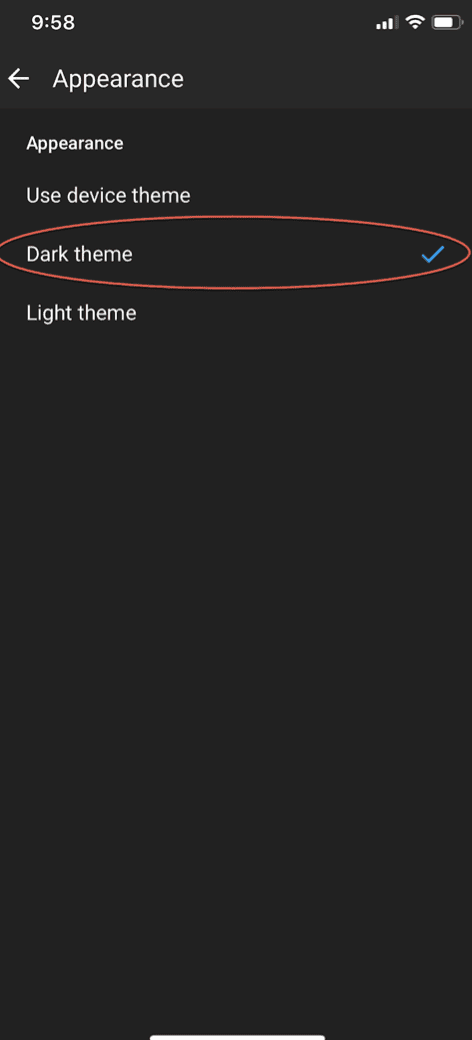 Select "Dark theme."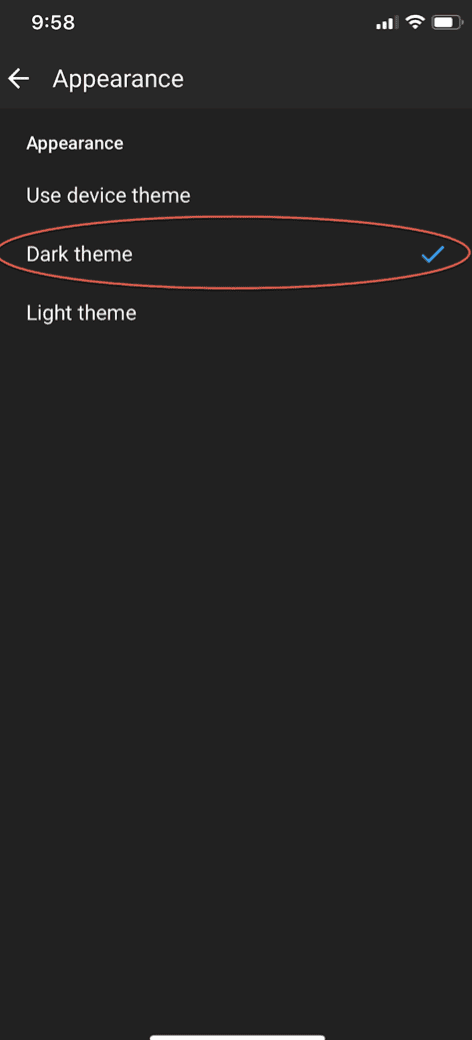 On some devices such as iOS, you can allow your YouTube mobile app to adopt the device's theme. So if your device itself is on Dark Mode, the app would follow. Otherwise, you can select the mode separately from this menu.
What These Changes Mean for Businesses & How You Can Optimize Your Content Accordingly 
Now that we're familiar with the changes to the new YouTube layout, let's see what these changes actually mean for your channel.
1. Fewer Featured Videos Means More Spotlight When You Are Featured 
When your videos are featured on the YouTube homepage, it's now a lot easier to stand out. If you're one video in ten rather than one in twenty, you're more likely to get noticed, and more likely to rack up more views. 
How to Optimize For This 
To optimize your videos for the homepage, try to increase the likelihood of being featured by sending a lot of traffic to your YouTube channel in every way possible. Once users find your content once, they're more likely to see it again.
Use relevant categories to show up for the right audience, and create interesting, clickbait-worthy video titles. Leverage keyword optimization wherever you can, too. 
2. There's a Bigger Emphasis on Thumbnails 
In the new YouTube layout, thumbnails and icons are bigger than ever. That means they need to be high quality and great-looking. If you can create strong thumbnails for your videos, you're more likely to stand out and get clicks. 
How to Optimize for Better YouTube Thumbnails 
To optimize your thumbnails for clicks, follow these best practices for YouTube thumbnail images: 
Choose clear images that are easy to make out, with plenty of white space and an engaging image

Your image should be 1280 x 720 pixels (minimum width of 640px) with a 16:9 aspect ratio

Make sure the image is in PNG, JPG, or GIF 

The file size must be under 2MB
Try using a design tool such as Snappa to create your YouTube thumbnails for maximum optimization. Inside the Snappa dashboard, you can choose from pre-made YouTube thumbnail templates. That makes it easy to get the sizing just right.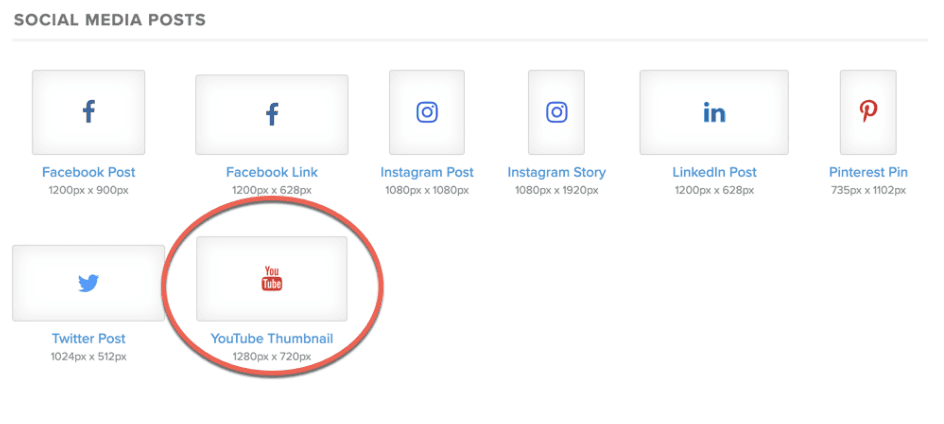 When you click on the YouTube Thumbnail template, you'll see a list of pre-made designs you can choose from and tweak to suit your brand.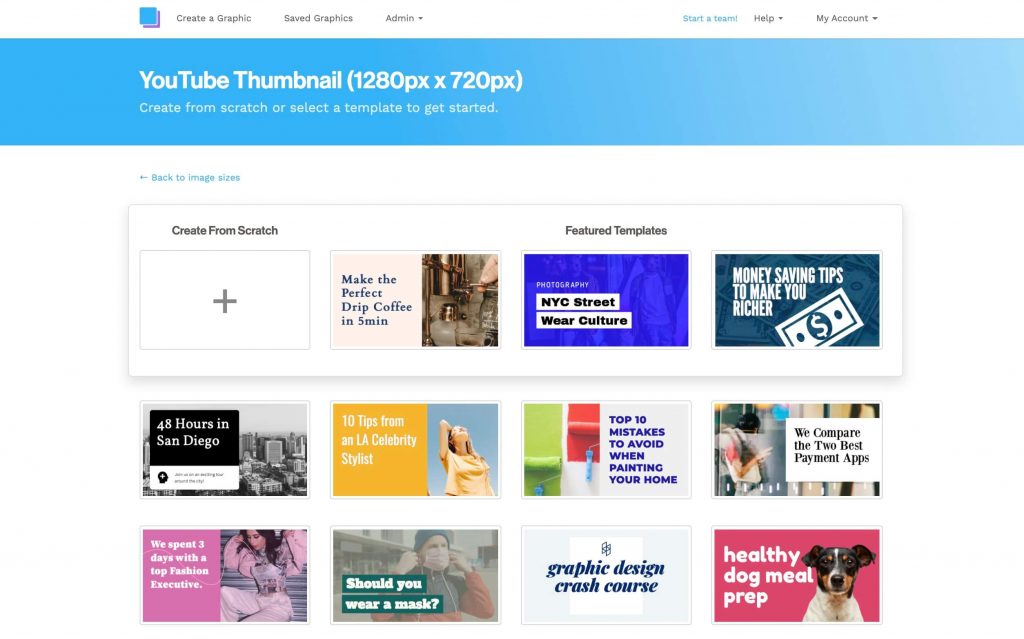 Finally, edit your chosen image in the editor. You can change your thumbnail font and background image. Alternatively, you can upload an image of your own.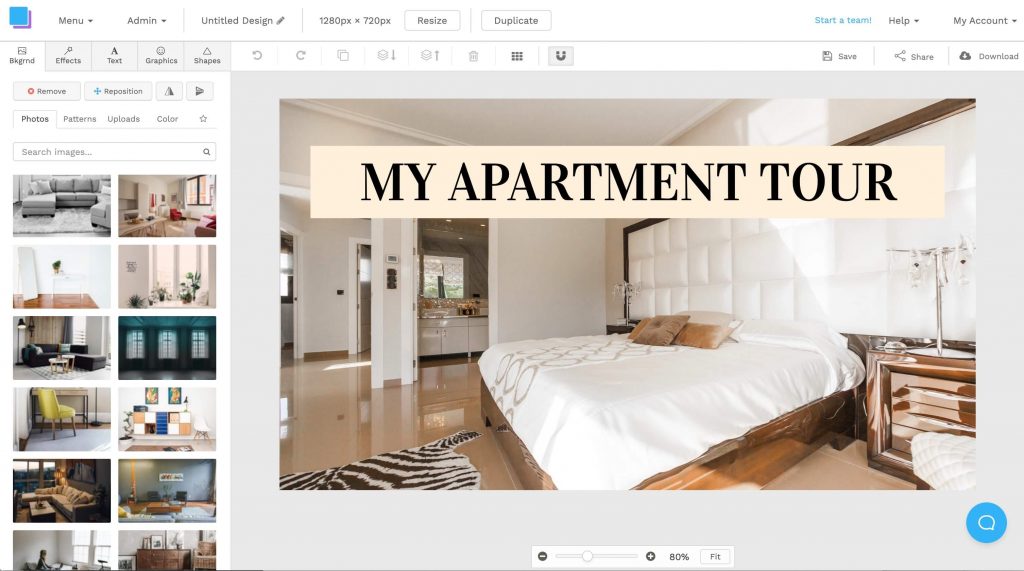 3. Analytics Are More Useful Than Ever
The organization of the new YouTube analytics is exceptional. But, you're now getting an even better look at funnels, audience behavior, and more. Get a solid understanding of impressions, plus views and watch times from those impressions to make better decisions for your channel.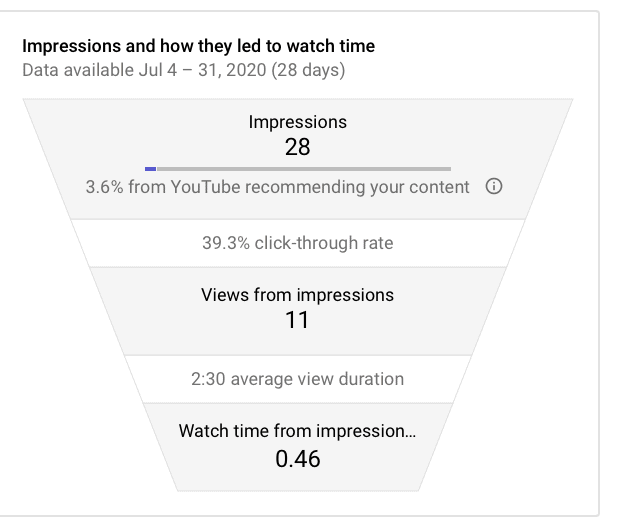 How to Optimize For This 
Take some time to get acquainted with the new analytics so you can understand what information is there. Review your analytics regularly. They can offer exceptional insights to help you determine how to increase traffic, clicks, and relevance. 
Conclusion 
Although the new YouTube layout brings many improvements for creators, there are still a lot of users who aren't fans of it. Still, no one likes changes when they first roll out on social media platforms. 
The bottom line is, the new YouTube could be great news for businesses and content creators as long as you're working to optimize your content (thumbnails included!) to engage users and really stand out.
If you need help optimizing your thumbnails for YouTube, give Snappa a try. Our easy-to-use tool will help you create attention-grabbing images that get more eyes on your channel. Click here to start your free trial. 
What do you think? How do you feel about the new YouTube layout? Are you excited as a business, and a user? Share your thoughts and questions in the comments below!