With more than 2.68 billion active users (as of 2023), YouTube is a great way to market your brand or simply connect with others. As you upload videos and wait for your channel to take off, though, it's important that you set things up to turn one-time visitors into subscribers. The key is to convince viewers to hit that "Subscribe" button.
One of the best ways to turn curious onlookers into fans is through branding your YouTube Channel. When customers go to the main page for your channel, what do they see? If it's the gray banner that comes standard on every channel, you're missing a very valuable opportunity. By taking a look at some YouTubers who are doing branding well, you can get some YouTube banner ideas of your own. Here are some of our favorites.
Best YouTube Banner Ideas
Whether you're a gaming channel or a makeup artist looking to step up your visuals, we've provided some YT banner ideas for you to get started!
Lifestyle Vlogs
Fashion Channel Header Art
Family Channel Art
Fitness & Nutrition Banner Art
Technology Review Channel
Gaming Videos & Gameplay Channel
Music Banner Art
Food Vlog & Review Channel
Travel Vlogs
Popular YouTube Channel Art Examples
If you're looking for a source of design inspiration to help you create your YouTube channel art, look no further! I've put together some of the best YouTube banner examples from some of the most popular YouTube channels.
1. Michelle Choi
Michelle Choi is a beauty and lifestyle vlogger based in NYC and her aesthetically pleasing channel design throughout her page is very appealing to the eye. Her YouTube banner is very minimal and just includes her name in a playful font across a simple colored background.

2. Jack Septic Eye
If you're a gaming channel, Jack Septic Eye is a great example to be inspired from. His use of colors, font, and interesting overall design makes up his awesome looking channel banner. jack keeps it fairly simple by using his iconic graphics as just text with his profile name.
3. Marques Brownlee – MKBHD
"Quality tech videos" is an understatement for MKBHD who has dominated the tech review scene on YouTube for years now. His channel art is another one of my favorites once again because his clean and decluttered the design is. You want your videos to speak for you and Marques chooses some basic text along with some graphics to create his banner – effective and concise.

4. David Dobrik
Arguably the king of YouTube at the moment, David Dobrik has grown to be one of the most subscribed and talked about channels in the past couple of years. Including the days you post in your channel art design is a great way to have viewers revisiting. David always includes his face in YouTube thumbnails, so it makes sense for him to include his face in his YT banner as well!

5. Mango Street
If you're into photography, Mango Street might be the best photo channel out there on YouTube at the moment. They give great advice for beginners and even advanced camera users. Mango Street can be described as, "photography tutorials that don't waste your time" and that's all that is written on their banner placed perfectly in a photo of the duo.
6. Monica Church
Monica started as a beauty channel and she slowly moved towards doing more lifestyle videos. Her channel art uses text wrapped around a portrait of herself holding a camera. This is another minimal banner, but communicates everything you need to know. Less is more and Monica achieves that with her design!

7. MrBeast
If you're an avid YouTube watcher, you have probably heard of YouTuber MrBeast who is known for doing the most insane giveaways and social experiments on his channel. I chose this banner art as an example because of how simple and playful it is. MrBeast typically ends his videos off with a call-to-action similar to the text on his channel art, so I thought it was interesting for him to have that added.

8. Adelaine Morin
Adelaine Morin does everything from beauty, makeup, and vlogs on her YouTube channel. For her channel art, she takes a humorous approach by using her face as a patterned background and she overlays text over top in the center to remind her viewers that she posts every Sunday.

9. 88rising
88rising is a music label with some of the most up-and-coming artists under their belt. Their YouTube channel continues to thrive with their different approach to artist content and their banner is always changing to promote new albums or singles.

10. Julia Trotti Photography
Julia Trotti does photography tutorials and she has one of my favorite banners. It's simple, but very relevant to her channel. She uses a professional portrait that she took from one of her clients and overlays a bold, yet simple font that says her channel name. Her font choice looks like a YouTube thumbnail font and it captures your attention right away!

11. Steve Booker Vlogs
Steve Booker creates travel vlogs along with more minimal style videos about his everyday life. His banner represents his channel well and includes an overall minimal design. Like the other examples provided, he overlays his channel name over a clean wide-angle portrait of himself.

12. Fenty Beauty by Rihanna
Many brands are moving towards YouTube as a way to build their audience and Fenty by Rihanna is no different. Their channel art is very simple and similar to Michelle's banner with clean text in the center and a simple background in the back.
YouTube Banner Tips for Success
Now that we've gone through some of the best YouTube banner examples, we've outlined the best ways to optimize your channel art designs in 5 actionable steps.
1. Add Social Media Links
As you get started on your banner design, make sure you leave a little extra room for social media links. YouTube lets you add up to five links within your banner, displayed as the well-known icons of each platform. In the example below, the YouTube Channel links out to their stores where they sell merchandise, as well as their profiles on Instagram, DLive, and Twitter.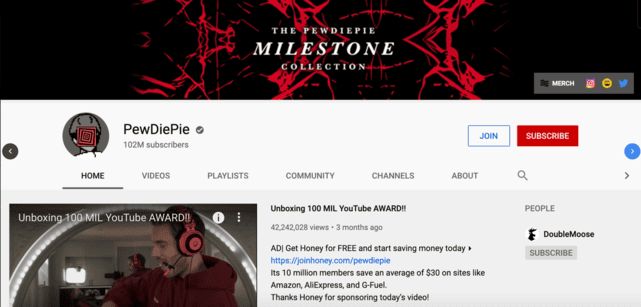 If you already have a logo, you can center it in a wider, solid banner that provides plenty of extra space for those icons. If you aren't selling merchandise, you could use that space to direct visitors to make an appointment, sign up for your email newsletter, or learn more about your offerings.
2. Use a YouTube Banner Template
Stressed about creating a YouTube banner that looks great, and struggling to come up with ideas? If you don't have a lot of (or any!) design experience, don't sweat; we've got you covered.
Instead of spending time looking for background art and fonts, why not use a template to shortcut the process? Snappa has a seemingly endless array of channel art templates to get you started. Simply choose the professional design that comes closest to your needs, then customize it with the colors, fonts, photos, and graphic elements you want to include.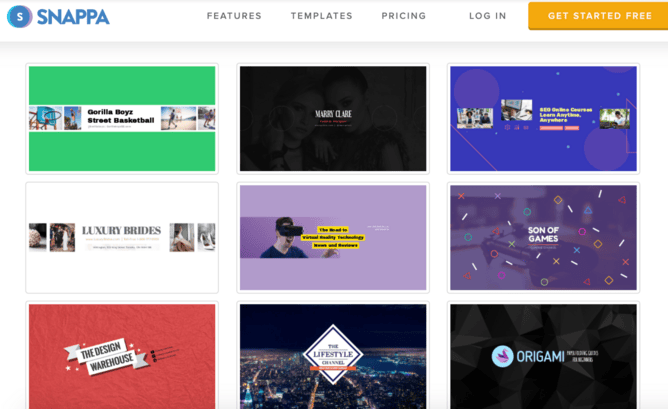 Each Snappa template (which is fully customizable) is optimized for use across every type of screen from mobile to desktop, so you'll save additional time by not having to check dimensions. A free plan gets you access to templates, more than a million photos and graphics, and three downloads a month. 
3. Make Your Banner Look Like a Page Header 
When looking around for YouTube banner ideas, pay attention to some unique ways YouTubers have used banners to create a channel design. By using a white or transparent background, you can make your banner look more like a page header, giving your channel a professional look. Yoga with Adrienne's channel page has a simple, sleek look that draws attention to her content.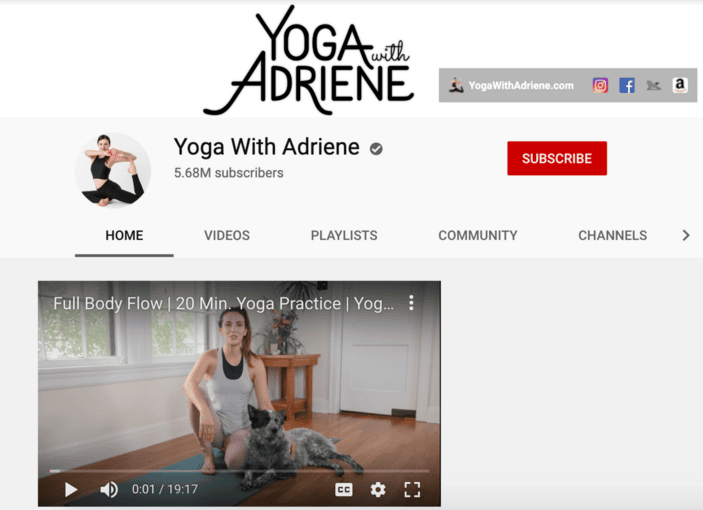 You can use your existing logo with a white or transparent background or create your own text for the banner. Whichever option you choose, though, make sure it fully establishes your branding. If you're posting videos to establish thought leadership in the legal field, for example, you'll choose a more conservative font than if you have a fun, whimsical YouTube presence.
Snappa gives you access to more than 200 fonts to help you choose the perfect look for your channel art. You can also upload your own custom fonts to ensure your channel matches the branding on your website and other social media platforms.
4. Update It With the Latest & Greatest
Although many YouTubers use channel art in the place of a page header, your banner can change. Some big brands use that space to advertise their latest product or service. If you have something new you want to promote, what better way than to prominently feature it at the top of your YouTube page?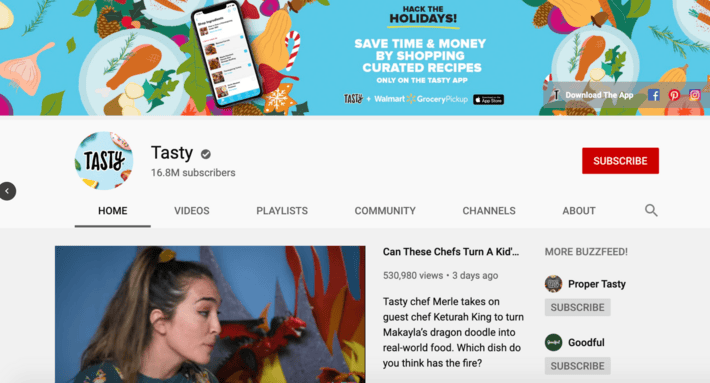 If you go this route, make sure you keep it updated. Nothing screams, "This page is inactive" like a banner with a date or season that passed months ago, and you definitely don't want to make customers frustrated by promoting a sale or event that's long gone. You can also use this space to promote your latest video or a bigger series that visitors should check out below, which works especially well when tied in with a featured video that's relevant to the banner. 
5. Use Relevant Photos
Many YouTube banner ideas have one thing in common: They include photos. This can be tricky, as you'll need to make sure you have the rights to use the photos as part of your channel branding. Photos you've taken yourself are always a safe bet, as are photos of you or your team, provided you have the photographer's permission to use them (double check that you have commercial rights if you're unsure). You can use your YouTube channel description to sneak in a photo credit if you need to do so.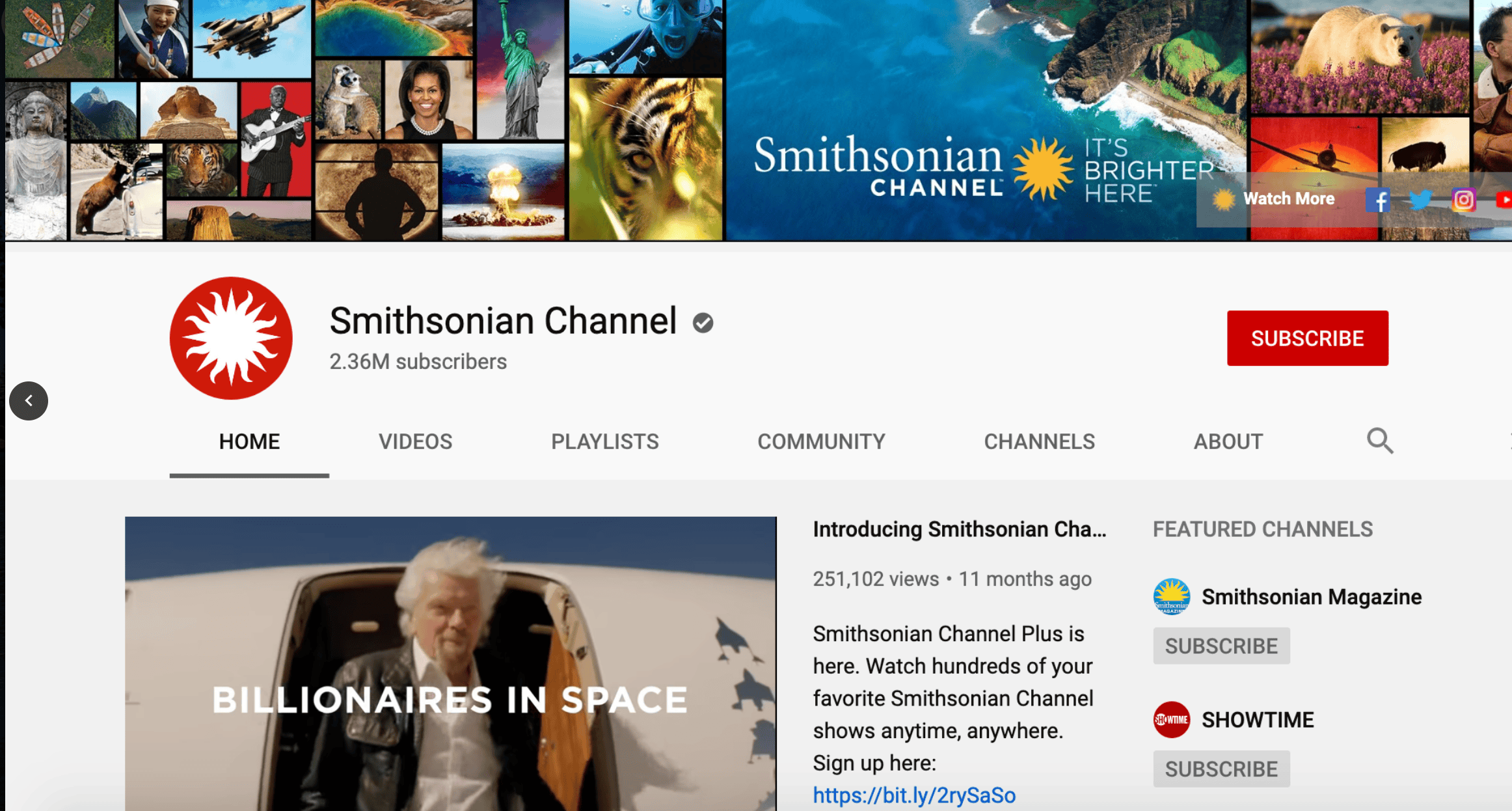 Another option is to use a stock photo for your banner. Snappa can connect you with more than a million premium stock photos as you're designing your channel art. If you go with a stock photo from an online library, make sure you have permission to use it for commercial purposes without paying royalties. Stock photo sites include this information in the fine print when you purchase, so check carefully to make sure you can use them on social media.
Bonus: Remember Mobile
As with many sites, mobile optimization is essential on YouTube. For the best sizing, check out our detailed post about YouTube channel art dimensions. Fall outside of that safe area and your image may be cropped on certain devices. Worse, Google's mobile-first indexing means your YouTube channel may not rank well in search rankings for your topic area if your oversized banner is throwing things off.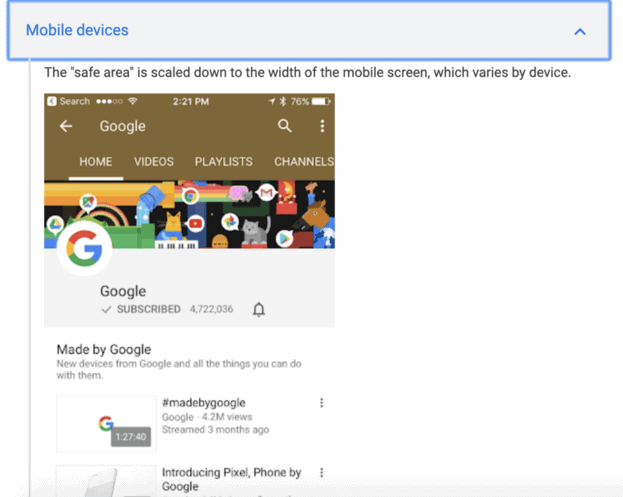 Luckily, YouTube is all too willing to help you out here. Once you've designed your banner, download the site's Channel Art Templates and make sure your banner doesn't exceed the safe zone. You can save even more time by using Snappa's drag-and-drop YouTube channel art designers to ensure your design is to guidelines. Keep in mind that even a properly-sized banner will be scaled down for mobile, so if you have fine detail in your banner, it may be lost on smaller smartphone screens.
Conclusion
As you build a following on YouTube, you'll find that having a branded channel instills confidence in your visitors. Your interesting, engaging videos will prompt guests to click the "Subscribe" button, but a professional page tells those visitors that you're a serious business. With free templates from Snappa and tools that make your banners easy to customize, you can beat the competition with channel art that gets results.
Ready to revamp your YouTube banner, or at least test out one new creative ideas? Start your free trial with Snappa here!
What do you think? Which of these creative design tips and YouTube banner ideas appeals most to you? Which of the examples was your favorite? Share your thoughts and questions in the comments below!