Have you ever noticed that a lot of professional designs use simple backgrounds?
Simple backgrounds are a great direction for your social media and site images because they provide a clean slate to showcase your message to your followers.
Need some background inspiration for your next visual design? Let's take a look at 6 examples of simple background designs you can use on your website or in your marketing campaign.
Why You Should Choose a Simple Background Design
Wondering how a simple background design can be such a game-changer for branded marketing materials? Let's break down why simple backgrounds are so important.
Professional and Clean
Professional designs tend to be clean and straightforward. Conversely, busy, cluttered backgrounds can make your images look disorganized—possibly causing potential customers to walk away from your brand because they can't make sense of your message.
Your brand's content should represent you well, whether you're an established corporation or a small business in the early stages of building your audience. A simple, professional-looking background design could help you make more of an impact on those who cross paths with your brand.
Helps Users Focus on Core Design Elements
A simple background design helps users focus on the core design elements of your image, like a graphic, logo, or text. After all, you want the focus to be on your call to action so they can act on it.
One of the worst mistakes you can make in marketing is distracting users from the next step you want them to take next, and that's exactly what poorly designed images do. With all the competition out there, you want your visuals to create a sense of urgency and make your viewers say "I need this in my life."
If users can't focus on what you want them to do, like purchasing a product or clicking on a blog post link, they'll be more likely to keep scrolling.
Easier to Coordinate With
When you use a simple design for your background, it's easier to coordinate your text and graphic elements. In other words, the elements of your design won't be clashing or competing with the background.
There are so many different components to the images we use in our marketing. It's much easier to keep things simple so that users will have a greater chance of pausing mid-scroll to take a look at your image.
Easier Viewing on Small Screens or At A Glance
These days, 54.8% of the people browsing the web are using mobile devices. On Facebook alone, 98.5% of its user base—a staggering 2.8 billion users—are accessing the app via mobile. And 81.8% of those users (2.33 billion) are only accessing the app through a mobile device.
When you select a simple background design for your marketing materials, users will have an easier time viewing your designs on small screens. They'll be more likely to recognize what they're seeing at a glance, which will encourage them to take action on your posts.
Not Too Overwhelming for Users
Internet users are already taking in a tremendous amount of information simply by scrolling the feed on any given platform. Sticking to a simple background design will get your images in front of them without overwhelming their senses.
Versatile
Choosing a background that's simple and clean makes it easier to create a wide range of graphics. That's because a clean background design is more versatile than a busy one.
For example, you might be able to easily pair a simple background design with graphic elements. On the other hand, this background style allows you to add standalone text if you'd like. The right background can lend quite a bit of flexibility to your design process.
6 Examples of Simple Background Designs to Use & How to Use Them
Looking for some excellent simple background designs? Snappa has a wide range of royalty-free images and templates you can use to create eye-catching designs that are both simple and professional.
Here are six examples of some attractive, yet simple, designs you can use in your marketing–and some tips for how to use them, too.
Abstract Art
Abstract backgrounds are a fantastic option if you're looking for a simple background design that is colorful and artistic. Even better, abstract art varies widely, so there are many options available–meaning you're more likely to find something that works well with your brand's color palette.
If you're going for a creative or artistic vibe, then abstract background images could be a good choice for you. The above YouTube end screen, for example, uses a dark abstract background that adds creative flair, yet doesn't distract from the fonts or other graphic elements.
Need a little extra help choosing the colors for your design? Adobe Color is a great free tool that provides strong color combination options for your brand.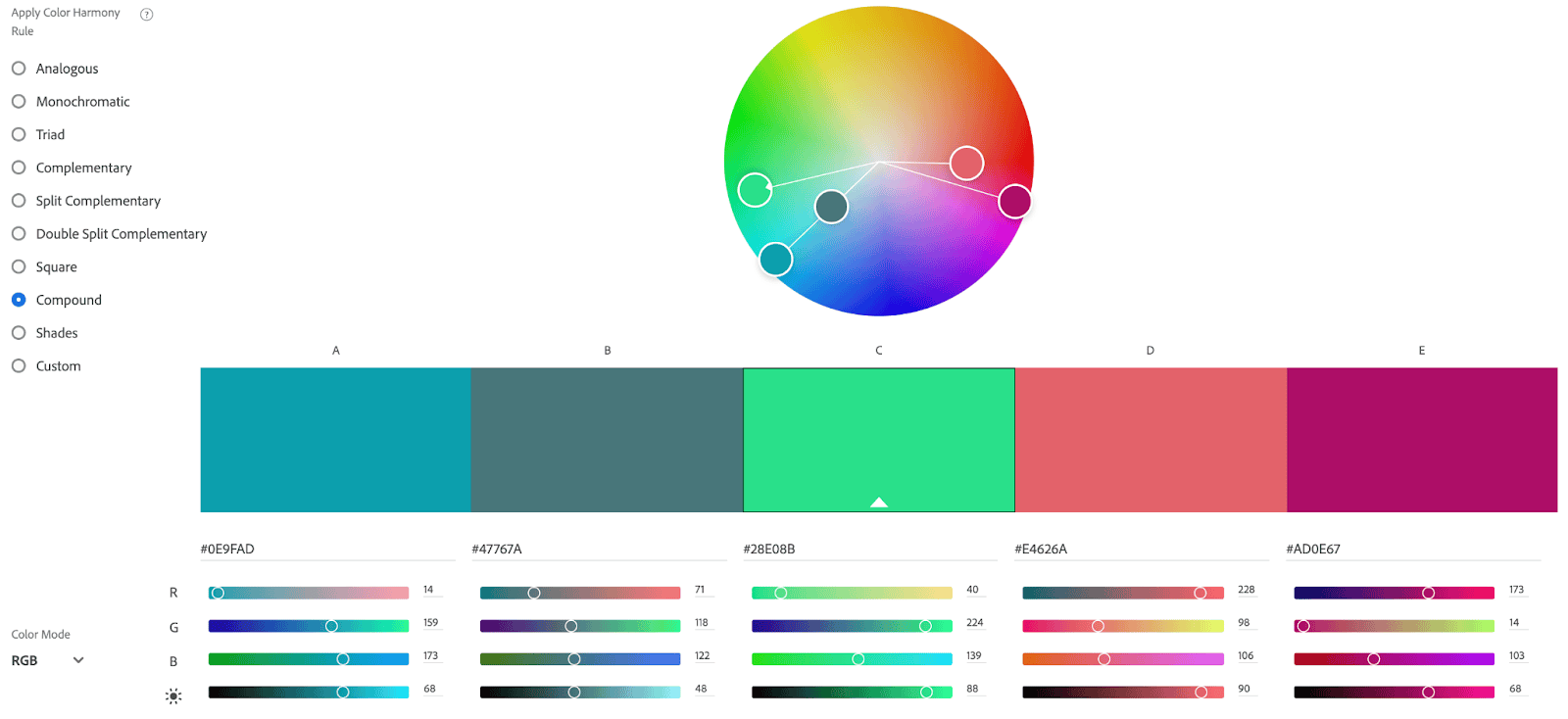 Starscapes
The night sky has been a source of inspiration for millennia. When it comes to your marketing images, starscapes can provide a simple background design that conveys discovery, adventure, and innovation.
In this example, notice the clean, clean and tall, all-caps font that's paired with the image of the night sky. There's plenty of room in the design for the message to breathe, and the dark background creates excellent contrast for the bold, white text.
Bokeh Photography
Bokeh photography feels whimsical and can serve as a simple yet artistic background design. Paired with soft colors and geometric shapes, bokeh art can really help your content stand out without taking anything away from the message.
You can search Snappa's library for bokeh art to find a wide variety of beautiful images. Consider incorporating translucent shapes with rounded edges and bold, basic text overlays for eye-catching quote images or special offers.
Minimalist Backgrounds
Minimalist principles can help you create a simple background design your followers will love. When it comes to creating minimal images, less is more.
Consider using earth tones or neutral colors, and pairing them with clean fonts and graphic elements. The composition of the graphic below, for example, conveys a feeling of calm focus with its soothing green tones and simple design.
You might associate an earthy, minimalist graphic like this one with a wellness brand or a content creator that promotes growth and self-care. It's easy to tweak minimalist designs to mirror your brand's color palette and what it stands for.
Simple, Natural Elements
An image from nature can serve as a wonderful simple background for your design. In some cases, nature photography can even add an element of minimalism while maintaining a broader, more versatile color palette.
Nature photography can complement your brand's message, particularly if you do business in the travel industry or offer content, products, or services focused on building and maintaining good health. Pair your background image with solid or translucent shapes and eye-catching fonts for a complete design.
Clean Graphic Patterns
Sometimes, the best background is actually a clean pattern design. Patterns featuring geometric shapes and vivid or high-contrast colors can be a great choice for content creators. 
This pattern has a fun, yet minimal, look and feel. It would work well on a gamer's social media profile, such as their Twitch banner. Notice how white cubes contrast nicely against the dark background for a sleek, sharp look.
Final Thoughts
Selecting a simple background design for your website, video thumbnails, social media graphics, or blog featured image can help you move the needle in your business.
Spending time thoughtfully selecting clean backgrounds will ensure that your products or calls to action stand out. By creating this type of structure in your visuals, you will be able to take your content to the next level. As an added bonus, it's far simpler and less time-consuming to create simple visual designs.
Ready to start creating professional-looking visuals with simple background designs for your business? You can start your free trial with Snappa here.