Do you have a Twitch profile? Want to make it more attention-grabbing and informative to your audience? Consider writing a Twitch bio for your streaming profile to bring more viewers to your channel, and (hopefully) make more money in the process.
Twitch is a live streaming platform focused on gaming. Users can watch channel owners play video games in real time. They may also send donations to Twitch gamers. If you want to accept your donations, your bio can prompt your viewers to donate. 
As a platform, Twitch seeks to build out more unity and interaction among enthusiastic online gamers. It takes the idea of engaging in multiplayer games to the next level, giving outside users a chance to observe their live streams in real time. Gamers play while commenting live, and viewers can drop comments in the chat box while they watch.
What Your Twitch Bio Should Accomplish 
Your Twitch bio should explain who you are, what you're about, and why users should follow you–even pay you. Through your bio, users should be able to learn a bit about you and the content you create before they dive into your channel headfirst. Use your bio to give them a glimpse into your world.
The Ultimate Template for Twitch Bios 
Want a quick and easy way to create your Twitch bio? We've created a template to help you build a bio for your Twitch profile. It starts out as a formula, which you can then fill in. Let's take a look: 
(Adjective / Descriptor) (Noun) (Games) (USP)
You'll want to start with a descriptive word or phrase (Adjective / Descriptor), tell viewers who/what you are (Noun), describe the games you stream about (Games), and include your unique selling proposition (USP). (Yes–just like brands have a USP, Twitch streamers should consider developing one for themselves. Here's some info on how to do that yourself.) 
Wondering how you can use this very basic template to set yourself apart? Check these out: 
I'm an ex-military combat soldier who plays first-person shooter games on Xbox while highlighting real life combat strategies. 

4x champion gamer in PUB G tournaments streaming daily. Watch me blow up stuff and crash motorcycles into trees for fun.

Grouchy retail worker who takes out aggression in Kingdom Hearts on all the classic Disney Villains since I need to be nice to customers. 

Full time office fan and part-time streamer who dives deep into story-based gaming with Michael Scott references added in. Come along for a ride you won't forget.

That's what she said.
Include a CTA to follow you, a donation panel, or any other relevant information that you want to mention in your bio. This a great opportunity to go into more details about the person behind the account. The main thing to keep in mind is that you want to give your potential streamers a reason to stay on your channel.
Overall, the bio should be brief, contain enough information that your viewers know what they're getting, and should reflect your brand.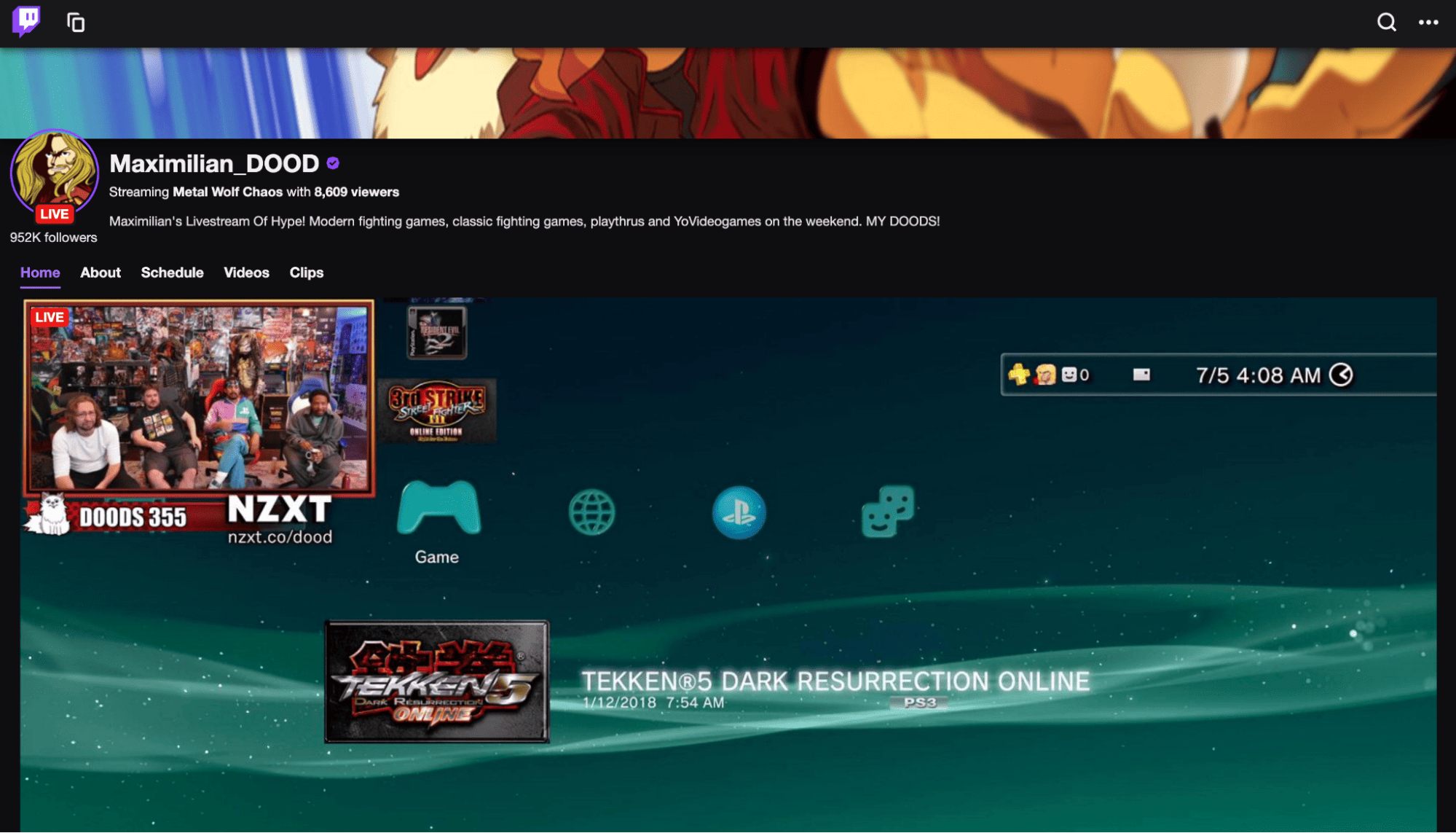 Other Things to Include
Once you've nailed down the main part of your bio, you might want to consider adding some more details to really round out your profile. These are all helpful things for your followers to know, and provide great talking points for your streaming community:
Personal hobbies
Stream schedule
Donations
Gear list
Subscriber benefits
Adding these details will not only be helpful to your visitors, but will also give them some interesting background about you as a person. Let's go through them one by one:
Personal Hobbies
Your Twitch bio should be personal, but not too personal that it gives away confidential information. Here are some personal details that you could include:
Your favorite color
Pet names (you could even add a photo of your pet, or better yet: introduce them in your stream)
What you do when you're not streaming (think hobbies or career)
Your favorite music (why not include a link to a YouTube playlist you made?)
Where you like to vacation
Things not to include are: personal details such as your birthdate or home address. You can still be personable in a way that protects your privacy. The below Twitch bio of user BriannahGrace does this really well. You can see she mentions lots of personal history about her life and music, but still maintains a level of privacy: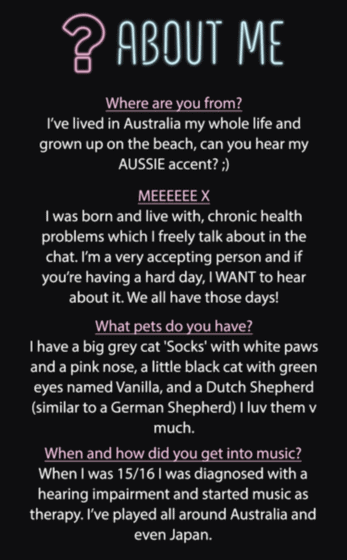 Your Twitch Streaming Schedule
Your streaming schedule is exactly what it sounds like. Quite simply, it's a place to display your dedicated streaming times and dates. Don't forget to state your time zone–your viewers from different locations will thank you.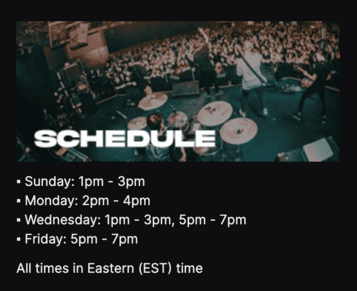 Donations
Some users will clearly state how they'll use their donations, whereas others will simply add a "Donate now" button on their page. This is entirely up to you. If you are going to add this section, remember to be as clear as possible. Are you saving for a new recording setup? Do these donations go directly to your next month's rent? Let your followers know! It's also a perfect place to clarify that all donations are non-refundable, like this example below:
Subscriber Benefits

If you're trying to grow your channel with more subscribers, it's important to clearly explain the perks of being one. Do your subscribers get ad-free streaming? Free custom emotes? Shout-outs in the chat? Let them know, and give them a reason to subscribe. The user pokimane does this really well on the bottom left Subscribe section of her page: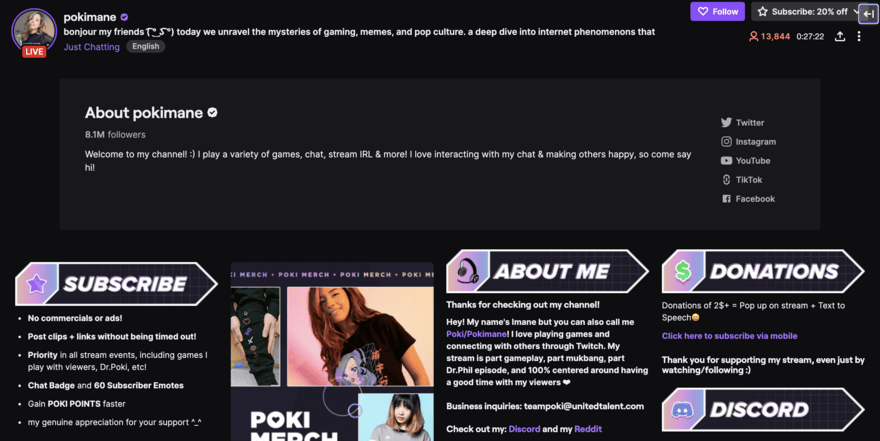 Gear
Often streamers will want to know what gear you use and recommend. That's why we suggest listing it in a gear section, where you name all of the equipment you use to create your streams (whether microphones, lighting rigs or which webcam you're using). Beginner Twitch streamers will find this especially helpful, as they will be able to purchase the same gear and mimic your setup.
Don't Forget Your Twitch Panels 
If you aren't wanting such a text-heavy bio, putting this specified information on separate dedicated Twitch panels is a great alternative. Twitch panels are images you can include in your Twitch profile to brand your account and tell your users more about yourself, in addition to your bio. For gamers on Twitch, Twitch panels are an important part of your bio. Users utilize panels as a call to action (CTA) or informational banner that appears beneath their live stream on their profile. 
You can use your Twitch panels to give your audience additional information about yourself or your livestream. Additionally, you can use them to send viewers off-platform to engage with your brand elsewhere. 
Twitch panels should be 320 x 160 pixels with a 2:1 aspect ratio. They should display clean, eye-catching designs that clearly communicate the purpose of each image. You'll want your viewers to know, without a doubt, exactly what a panel's CTA is and where its corresponding information will lead them. 
Snappa has a library of ready-made Twitch panel templates for ease of use. It's simple to edit these templates to fit your own channel. Take a look at some of the available options, which are brightly colored, well designed, and easy to read: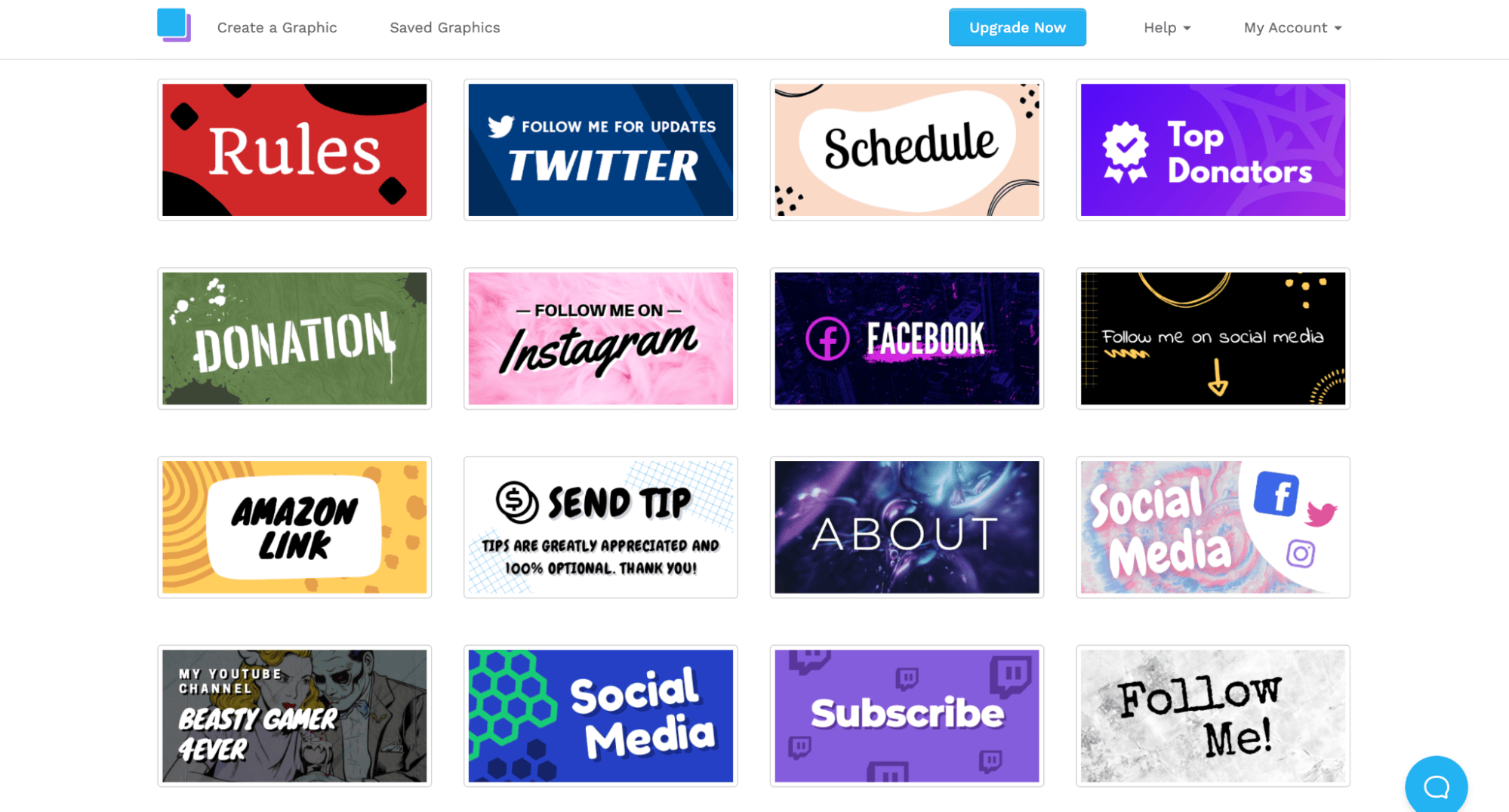 In Snappa, you can choose your own icons for each panel image. Select a font that aligns with your brand's design guidelines, making sure it's easy to read and clearly communicates what you want your viewers to do next.
Throw in a Twitch Cover Image and Offline Banner 
In addition to Twitch panels, Snappa offers templates for creating your own well-designed cover image and offline banner. Your cover image gives your followers more visual context into your personal brand on Twitch. And, your offline banner lets them know when you are not currently streaming a game.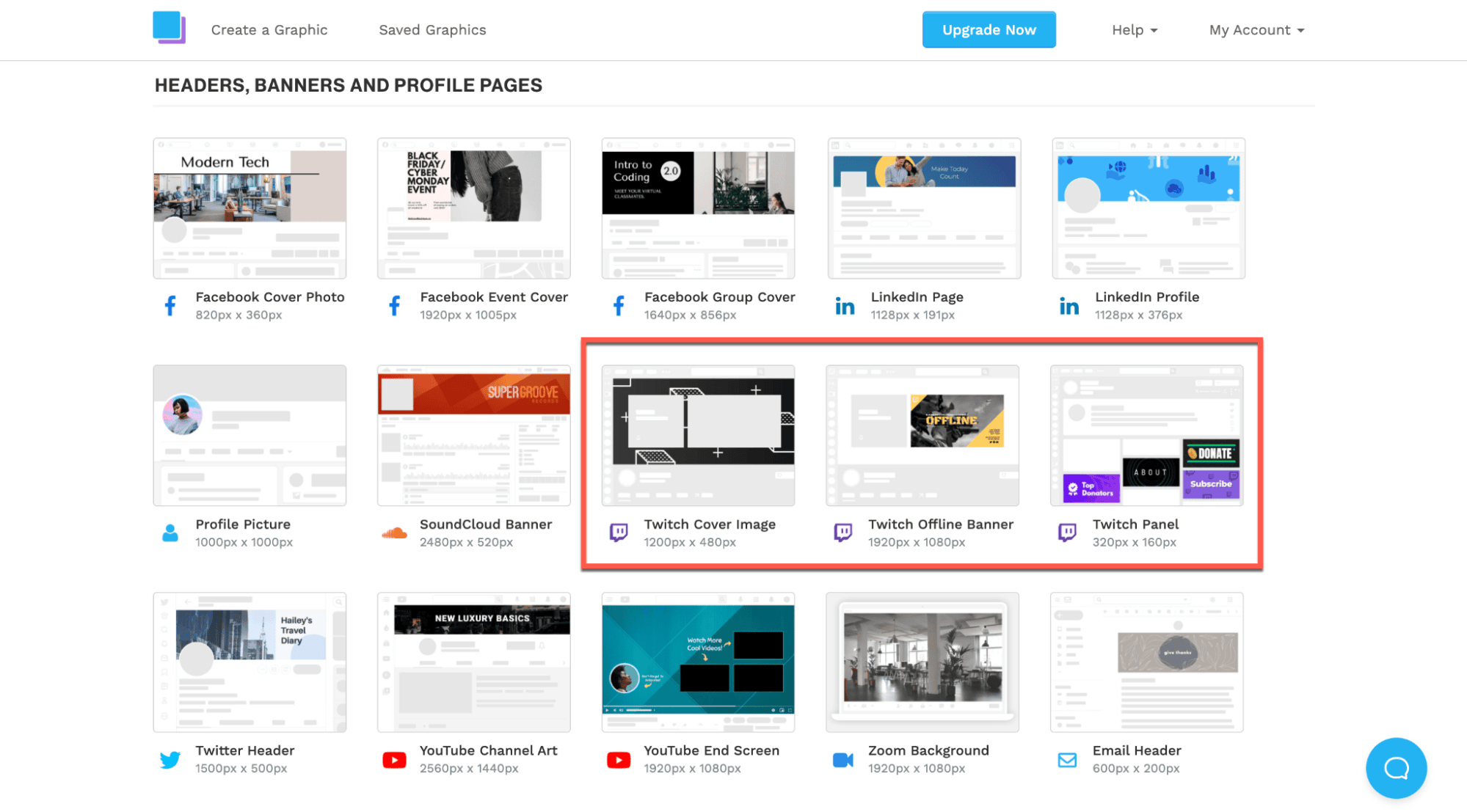 Your Twitch cover image should be 1200 x 480 pixels. This banner appears at the top of your profile and adds additional context and visual description to your presence on the platform. The image can be image-or text-heavy, but be sure to keep overlapping elements in mind, such as a profile image. 
Like Twitch panels, Snappa offers a library of pre-designed cover images to choose from. You can opt to use one that's already made for you, or tweak it to make it your own. We make it easy to edit our templates to suit each individual brand, offering a wide array of fonts, colors, icons, and even background images so you can truly help your image stand out while accurately representing your brand.
Wondering what some of your options are, when it comes to a Twitch cover image? Take a peek at some of the options we offer in Snappa: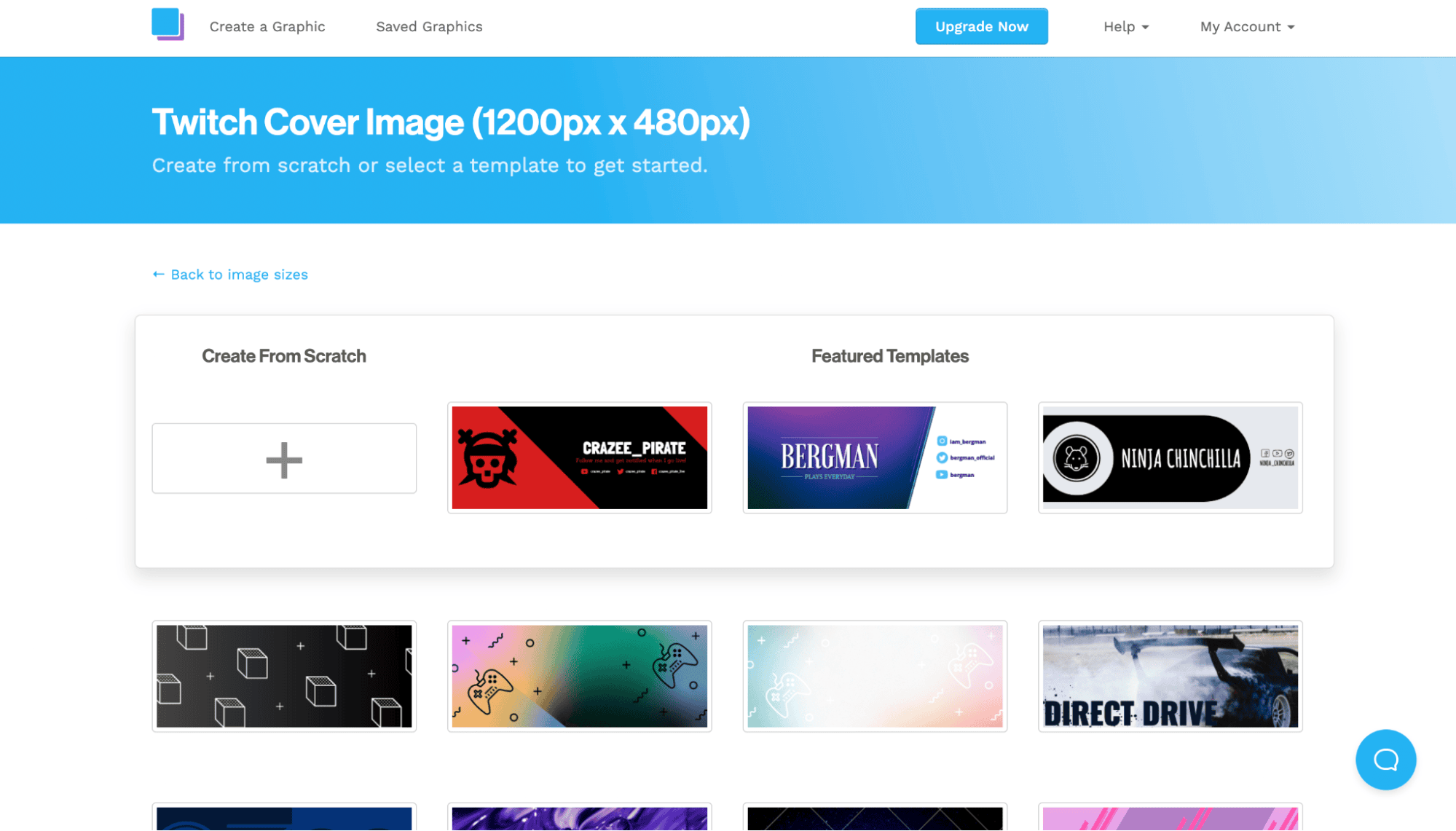 Finally, if you want a beautifully designed offline banner that alerts your viewers when you're not gaming, then you can create one or use a premade template from Snappa. Twitch offline banners should be 1920 x 1080 pixels in size and should clearly indicate to your viewers when you are offline.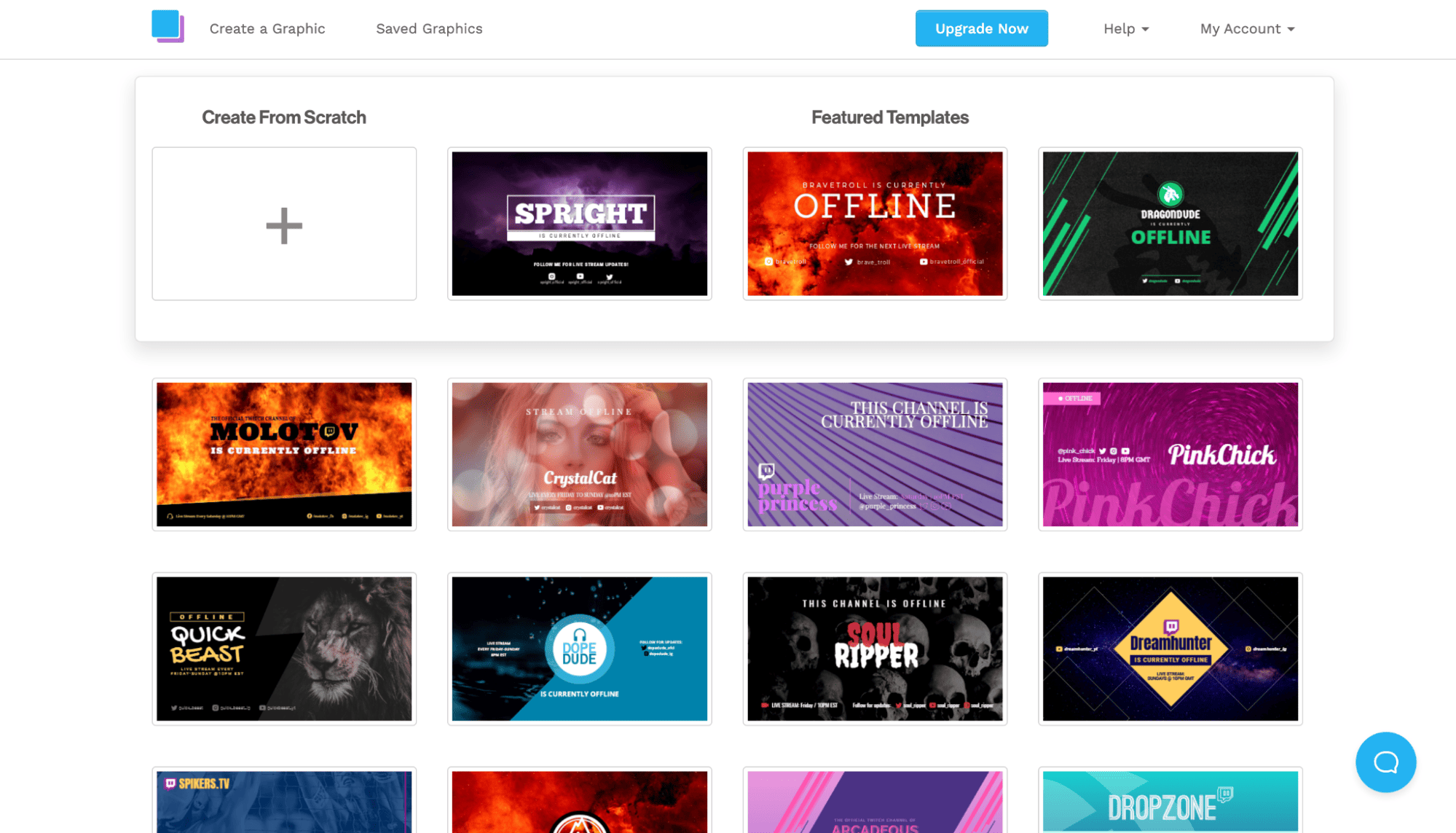 Depending on your brand's design, there are many options for communicating with your viewers in a visual way. 
Final Thoughts
Your Twitch bio is a rapid-fire way to tell viewers on the platform what they need to know about you, your brand, the games you live stream, and what you have to offer them.
 It's important to support your bio with eye-popping imagery, including Twitch panels, a cover image, and an offline banner. When you tie all the text and visual elements together, it's possible to create a truly engaging Twitch profile your users will want to come back to again and again.
Need help designing your profile images for Twitch? Snappa can help. We provide an easy-to-use design tool, along with a large library of images and graphic design elements to help you create graphics that draw the eye and clearly communicate your brand to your viewers. Click here to get started for free.
Have you seen any eye-catching Twitch bios recently? Let us know in the comments below!