Reddit is one of the most interesting places on the internet. I fully believe that, and you'll be hard-pressed to change my mind.
It can provide an exceptional source of community. No matter what you're interested in, you can find a group of people who share those interests and want to discuss them.
When I was going off to college, I joined subreddits for recent high school grads and for my specific future college. I've followed subreddits for favorite TV shows, for dog owners (and for specific dog breeds). I planned my wedding and would pop into related subreddits, and even learned how to better care for my curly hair.
The sky is the limit here, which means there are plenty of opportunities for those who want to start their own community for whatever reason. And the good news is that community building opportunities are exceptional… if you know what to do.
One crucial part of starting a thriving subreddit is to absolutely nail your Reddit banner. And in this post, we're going to go over everything you need to know about the ideal Reddit banner size and five best practices to help.
What is a Reddit Banner?
Reddit banners are the images that span the top of a subreddit's page. (subreddits are small communities within Reddit, which act as niche forums.) You can see the banner image for the community Vegan Recipes below, which contains healthy produce and spices:
A good Reddit banner grabs a reader's attention. A great one immediately conveys the tone of the community conversation, the specific topics, and how being part of that community will make a reader feel. It can set the stage for the community itself, so you want it to be great.
The Ideal Reddit Banner Size
The ideal Reddit banner size depends on the size of the banner you want to create, and includes the following:
Small banners: 1920×128 pixels, aspect ratio of 15:1
Medium banners: 1920×256 pixels, aspect ration or 7.5:1
Large banners: 1920×384 pixels, aspect ratio of 5:1

You also want to stick to PNG, APNG, or JPEG file types, and keep the image at 5MB or less.
How to Create a Reddit Banner with Snappa
Want to create a Reddit banner quickly? We'll show you how to do it with Snappa.
Start by creating a new design with any of the dimensions listed above. You can then add in background images from our extensive free library, from some awesome stock photo sites, or decide to upload your own.

You can also add graphic elements, shapes, effects, and text to create a truly one-of-a-kind banner that will help your community stand out. Then all you need to do is save it and download it!

Reddit Banner Best Practices
You've got the name for your subreddit, and now you're ready to create your first Reddit banner! Congratulations!
While you're creating your banner, remember to keep these five best practices in mind to end up with gorgeous, engaging images that will represent your community well (and help it grow!).
1. Choose Graphic Elements Relevant to the Subreddit
There's a good chance that you have a solid idea of the "feel" or "mood" that you want your subreddit to have. Use graphic elements and colors that align with what you want the community to be.
You can, for example, opt for soft pastel colors for more feminine subreddit themes, or use dark, haunting color schemes for mystical or fantasy-based subreddits.
You can see a great example of what this looks like in the Fantasy subreddit, which has a mythical, ethereal illustration as the banner.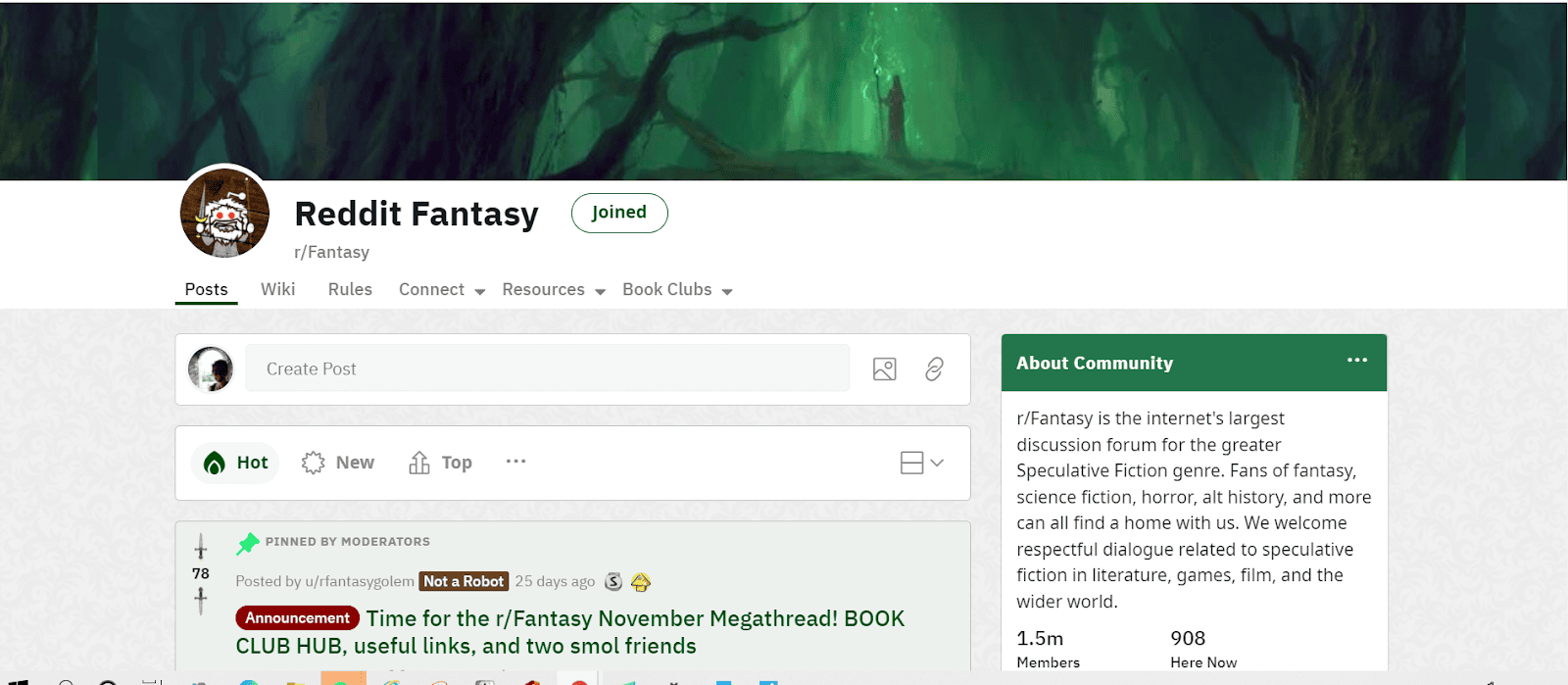 And don't forget to add graphic elements to make your image truly stand out. Some communities may actually have banners entirely made up of different graphic elements on a neutral background— you can try that out, too!
2. Use Branded Imagery As Appropriate
While Reddit users absolutely despise brands and marketers in disguise, they're okay with brands that are upfront about what they're doing. If you want to create an official community for your brand, go ahead! Let users know that you'll pop in from time to time to answer questions and see their feedback.
When you're going this route, you should definitely create a strong Reddit banner that highlights your specific brand. You don't want users to have any doubt that this isn't an official forum, and it's a good place to promote brand recognition.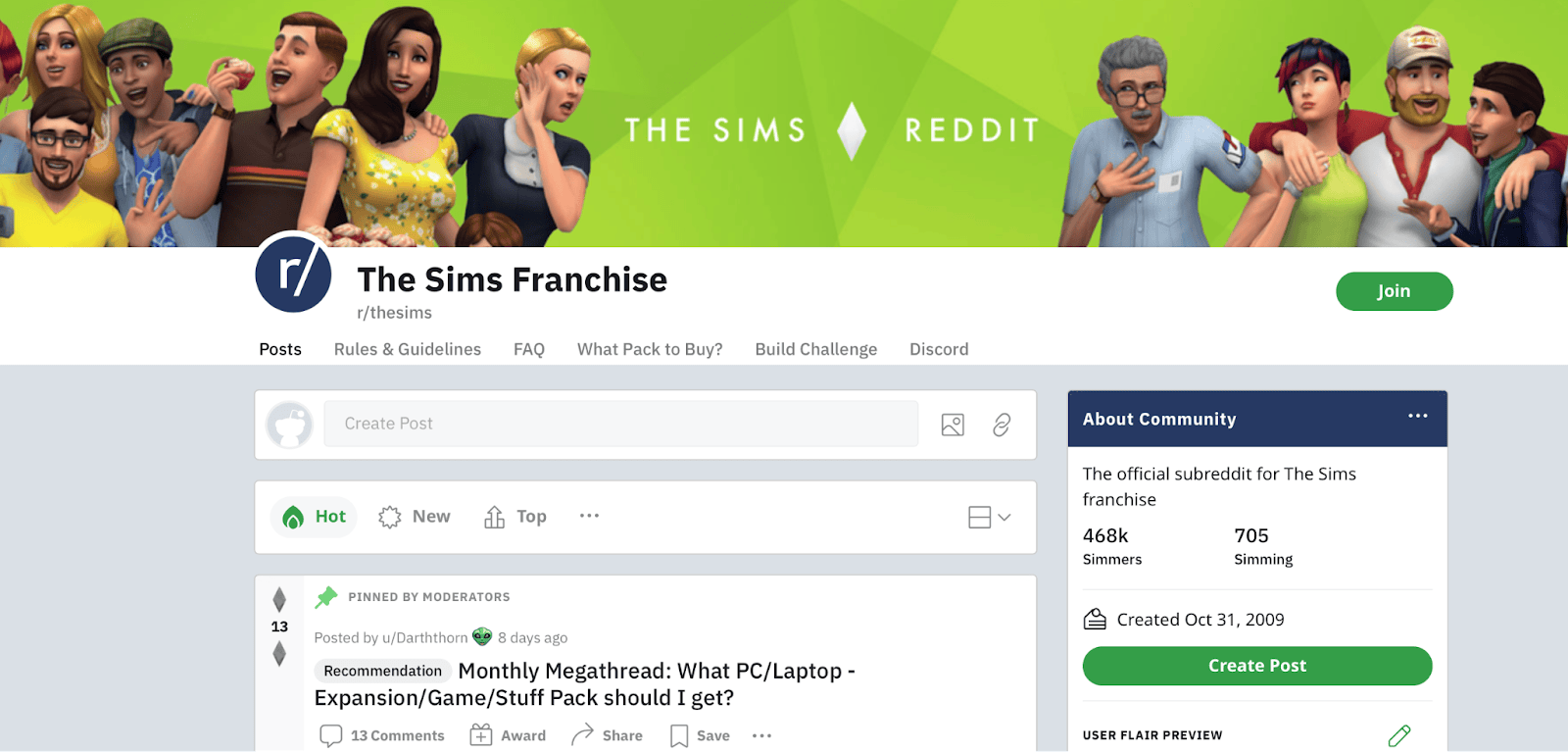 The Sims has an official subreddit, for example, that shows different characters interacting dynamically, with the plain white text reading "The Sims Reddit" with the game's iconic logo in the center.
3. Keep Your Designs Simple
Remember that while interesting Reddit banners are great, the reality is that you never want to overthink the banner.
In many cases, simpler can easily be better.
Choose basic patterns and easy-to-recognize graphics so as not to clutter up the really meaningful content that your community offers.
You also want to use plenty of negative space so that it will be easy to take in the whole image at a glance. Be sure to avoid graphics that won't immediately jump out at users.
A solid example of this is from the Literary Contests Reddit. They added text to a bright red banner that shared the name of the subreddit, along with a black and white logo. It's got great color contrast, and it's clean and simple.
If you're looking for more great color combos, we did a blog post featuring some really fresh color palettes.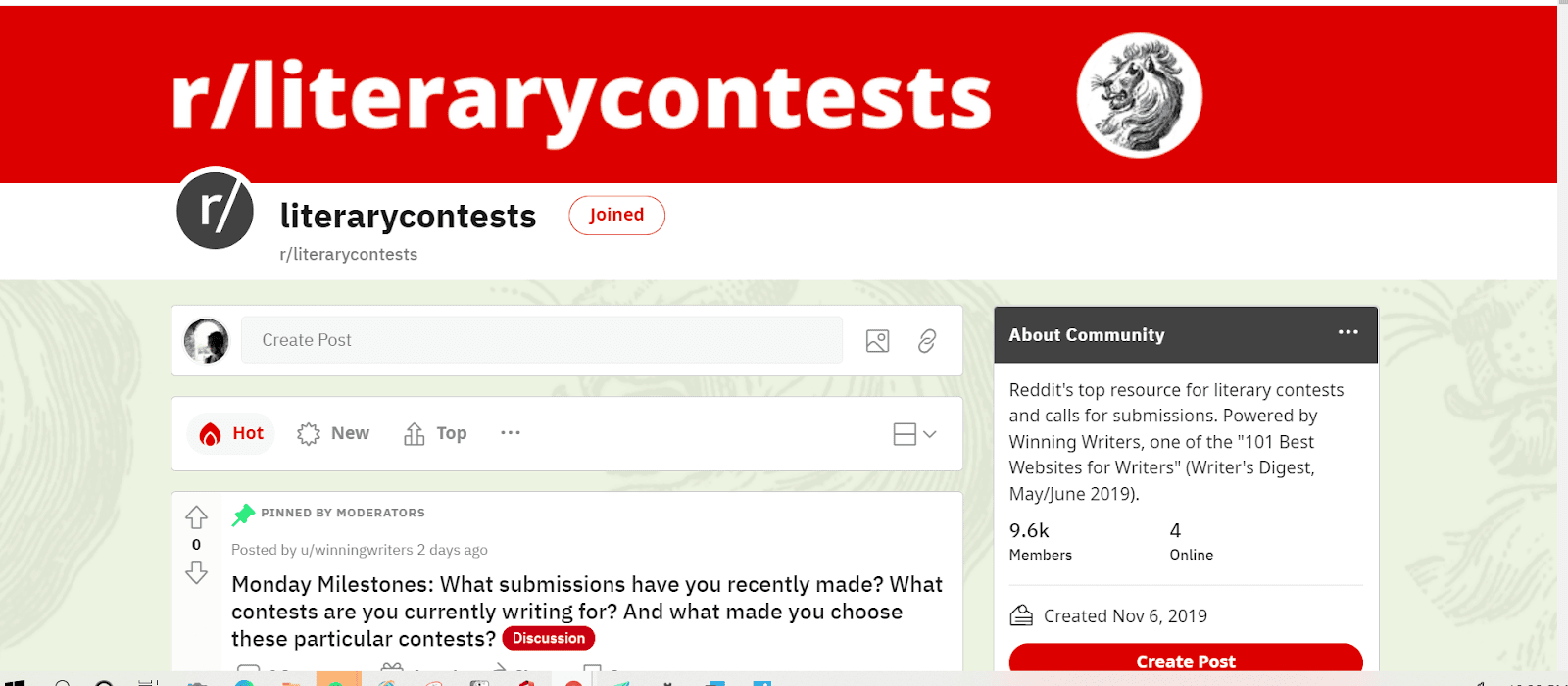 4. Choose Width-Friendly Designs
Many graphics, especially banner images, tend to focus on the center of the image.
The odd shape of the Reddit banner allows your design to draw the eye from left to right instead of having a single design in the center. This takes a little creativity and some getting used to, but when you're focused on a width-heavy image, you can come up with something spectacular.
Keep an eye on where your profile image falls on the left side so it doesn't get in the banner's way, and better yet, integrate that as part of your design (assuming you can make it work for desktop and mobile).
Check out this outstanding example from the Worldbuilding subreddit: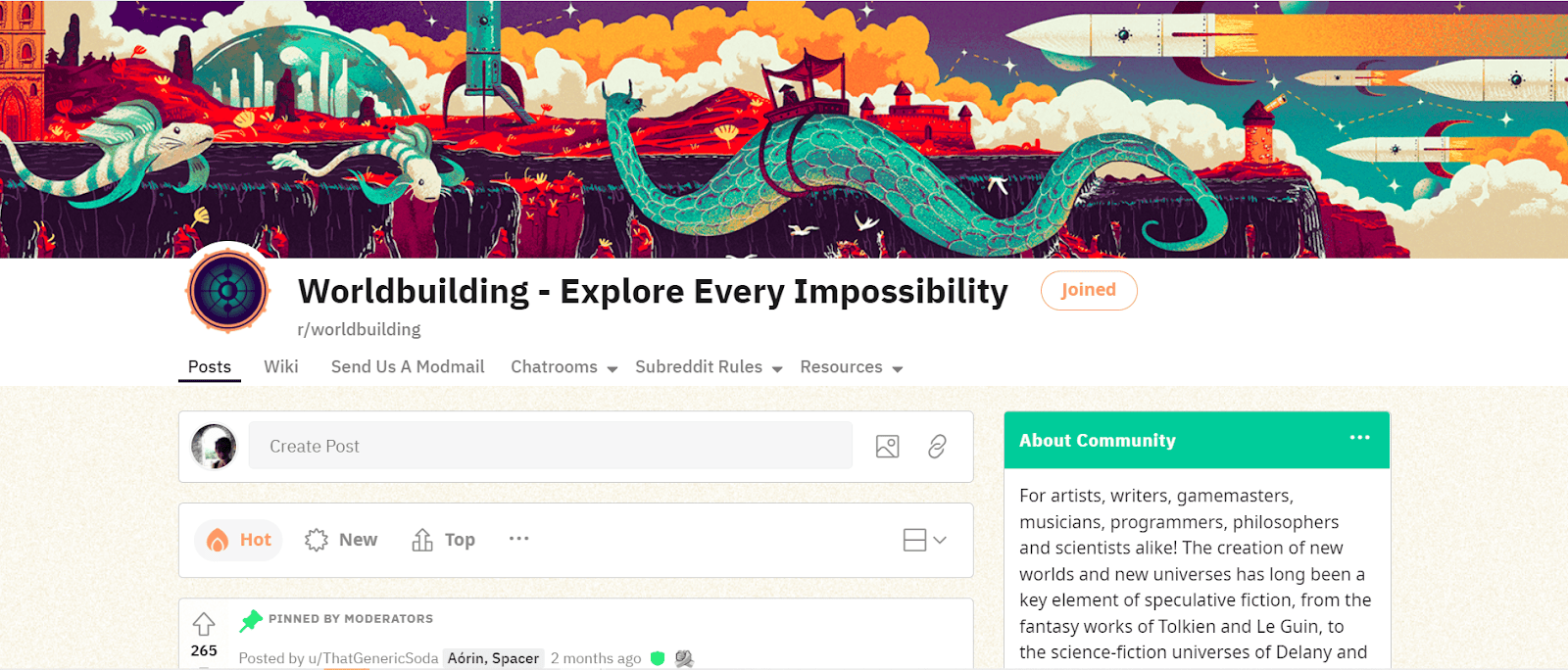 5. Take Advantage of Contrasting Colors
The beauty of using contrasting colors to draw focus and simultaneously help your design pop can't be denied. You can use simple or solid backgrounds and a contrasting color or two for the core design, which may include your logo, brand name, or other graphic elements.

Final Thoughts
Reddit isn't often considered a major social media platform, but it consistently attracts users who are checking in to their favorite subreddits. Take advantage of that, and make sure that any Reddit banner you create is worthy of the subreddit you're building!
Remember that Snappa has a free plan, and it's easy to use. We can help you create multiple different banner images in just a few clicks. Get started for free here!
What do you think? Which of our best practices did you use for your own Reddit banner? Share your tips and experience in the comments below!