Whether you're running your own business, or purely interested in the world around you, business newsletters are a great way to catch up on the business world.
Let's face it, nobody has time to read the news 24/7, nor do you want to read a million different blogs during your workday. That's why we love business newsletters! They offer a perfect way to stay informed about all things business, tech, and marketing.
So we curated some of our favorite newsletters that will keep you informed in the business world. Without further ado, here are our favorite 7 business newsletters for you to check out!
The hustle is a free, daily newsletter for all things business. They refer to themselves as a 5-minute newsletter, and that's exactly what you get. It's a low-commitment read, jam-packed with interesting stories from around the web. They promise it's delivered daily by 9am Pacific Time.
On Sundays, you'll see their "Sunday Story" which is a bit of a deeper dive, where they cover businesses, founders, as well as different types of case studies.
What to expect?
It covers the latest in startups, business news, and technology. Each day you'll get a roundup of news and trends, from Monday to Friday. You'll see a mix of facts and interesting bits of news, with well over 50 links to stories from around the globe.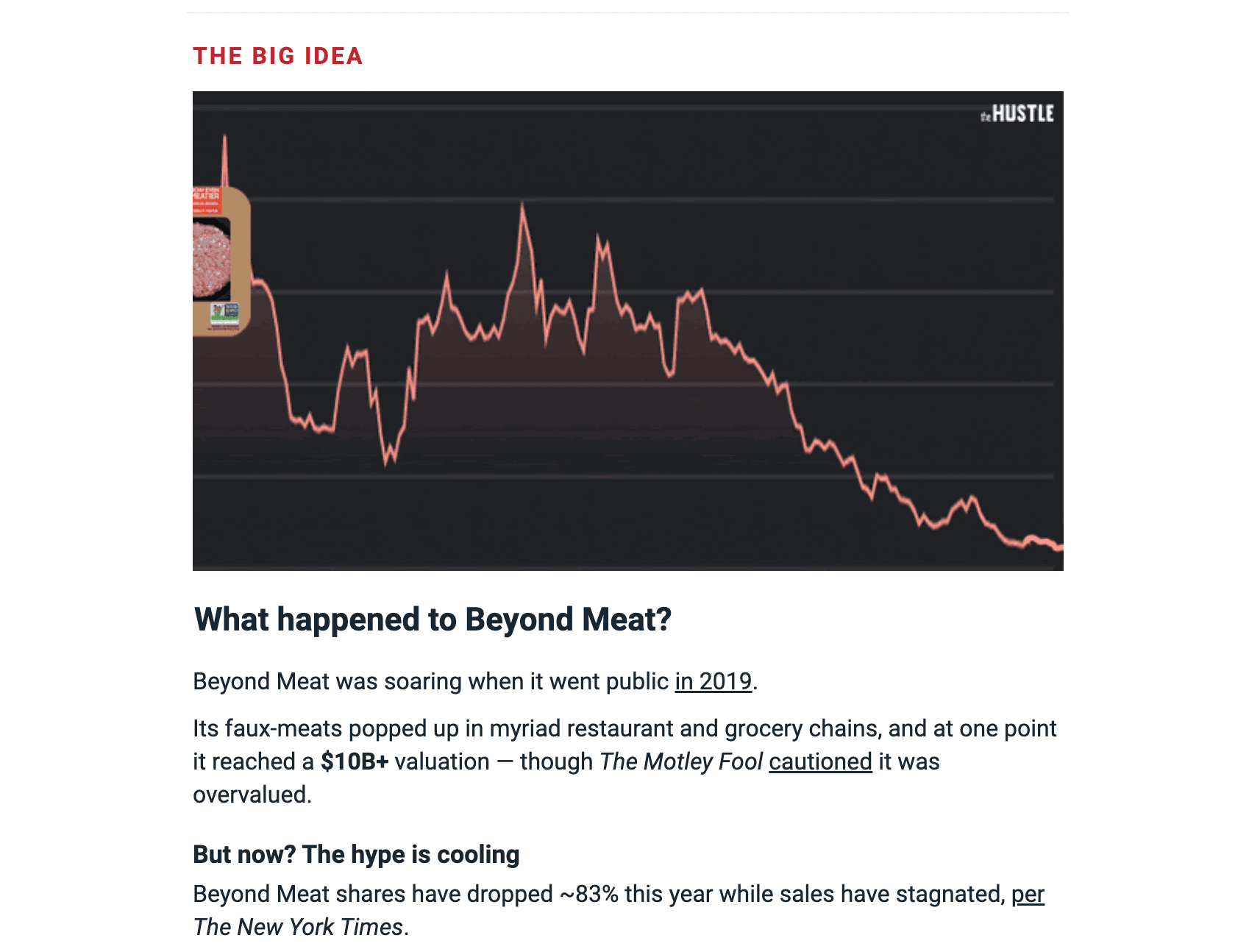 Next up is Jason Fried's newsletter. If his name sounds familiar to you, it's because of his past successes. Jason is the founder & CEO at Basecamp, creator of 37signals, as well as his latest email software HEY.
He's also written many successful books on business such as Rework, Shape Up, and Remote.
What to expect?
You can expect tips on personal habits, copywriting, business insights, as well as insights directed to founders.
Jason's perspective on business is very inviting, which is very helpful for those just starting out. Here's an example of a past newsletter, that'll be sure to get you out of bed with a spring in your step:
The cleverly named TLDR (too long didn't read) is a daily newsletter with links and summaries of the most interesting stories in startups, tech, and programming!
It boasts of being the largest daily developer-focused newsletter in the world, with over 600 000 readers worldwide.
What to expect?
A text-only roundup of tech news from all over the world. Something to note: each link lets you know how many minutes the article will take to read: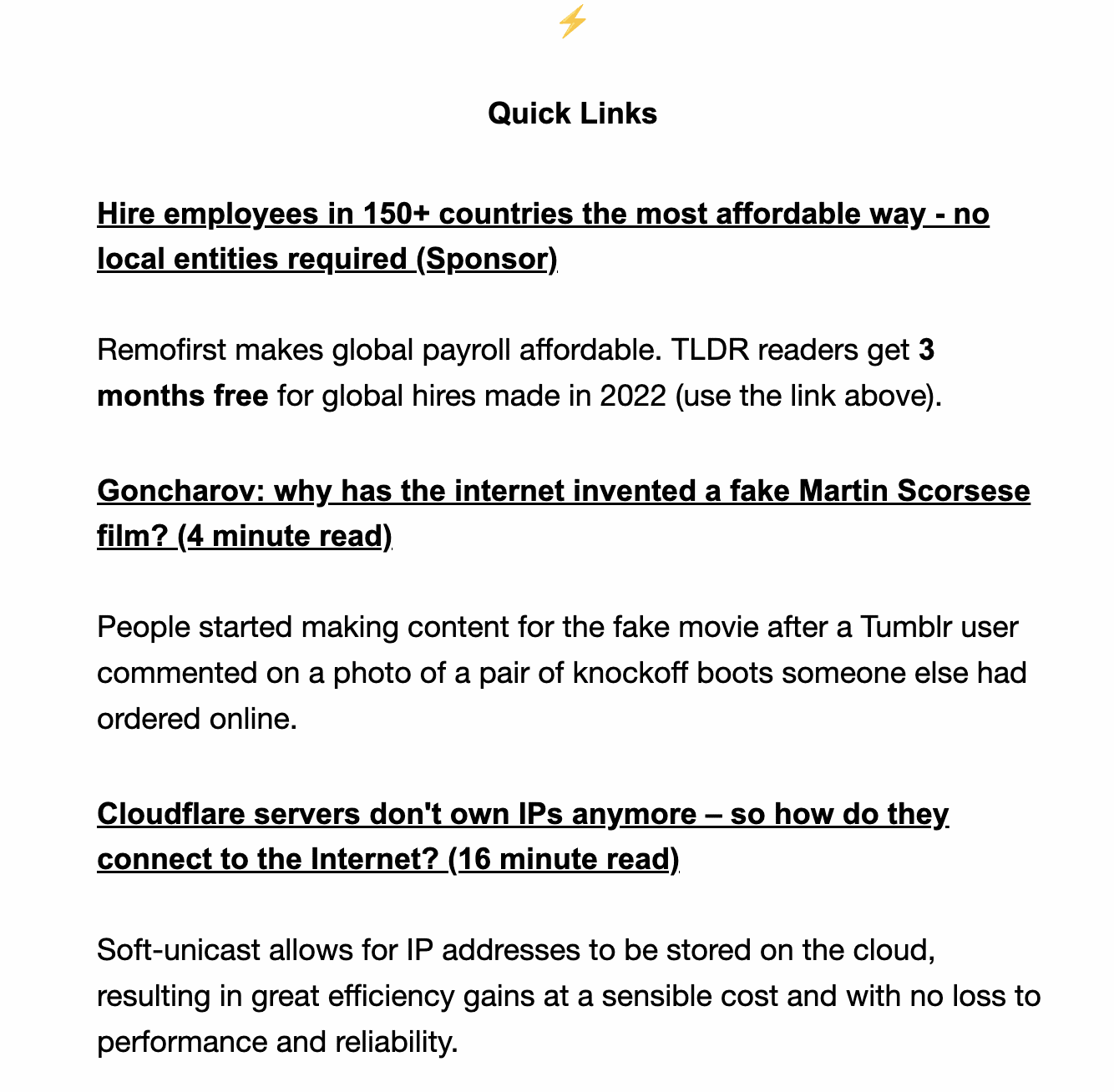 Morning brew is a personal favorite. It centers on business news, but it also offers a wider scope of general news.
What to expect?
Expect entertainment, business, and tech news, with no shortage of jokes! Their copy is easy to read with a funny and light-hearted tone.
They get bonus points for having a very funny Twitter account!
James is a successful author, entrepreneur, and photographer, most popularly known for his best-selling book Atomic Habits. His personal newsletter is one of the most popular newsletters in the world which boasts over 2 million subscribers.
What to expect?
Each issue includes 3 quick thoughts from James himself, 2 quotes from others, and 1 question for you the reader. You can expect thoughtful and deeply motivating thoughts for any business owner: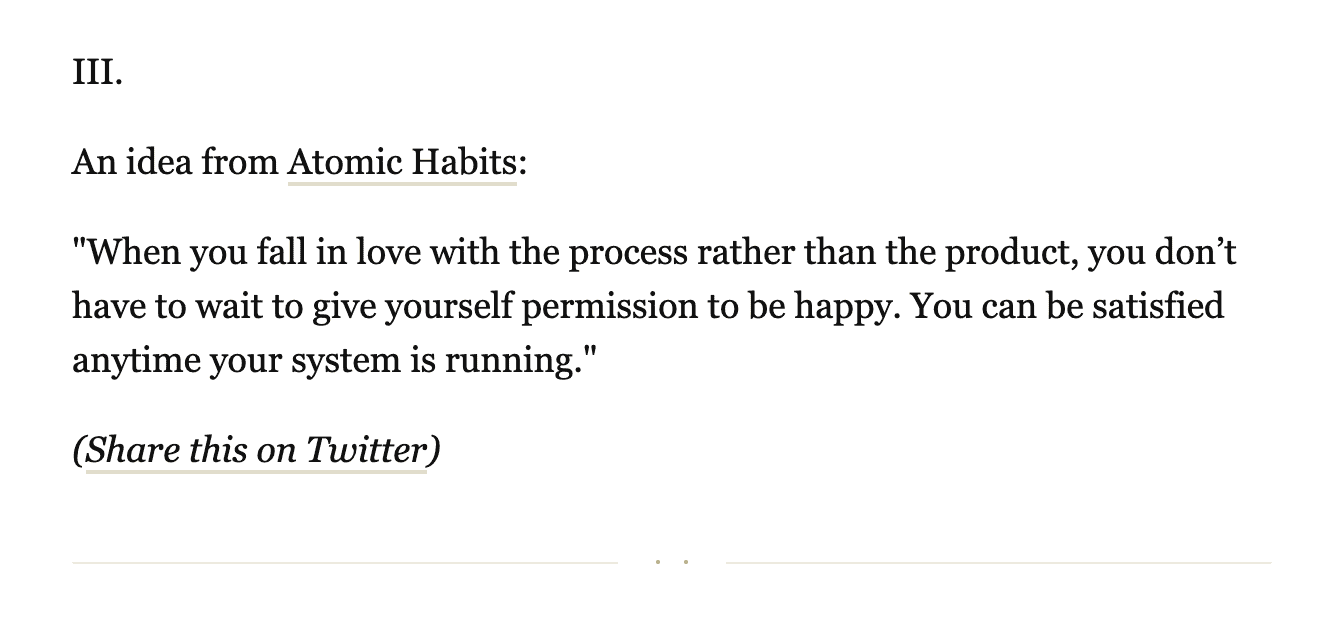 The last one on our list is Andrew Chen's personal newsletter. It features essays on startups, and various types of metrics, all taken from his 650+ essays. His iconic essays have been featured and quoted in many magazines, including The New York Times, Fortune, and Wired.
What to expect?
Expect a lot of wisdom and insights into startup marketing, and building your business. The emails will often offer a roundup of some of his best essays.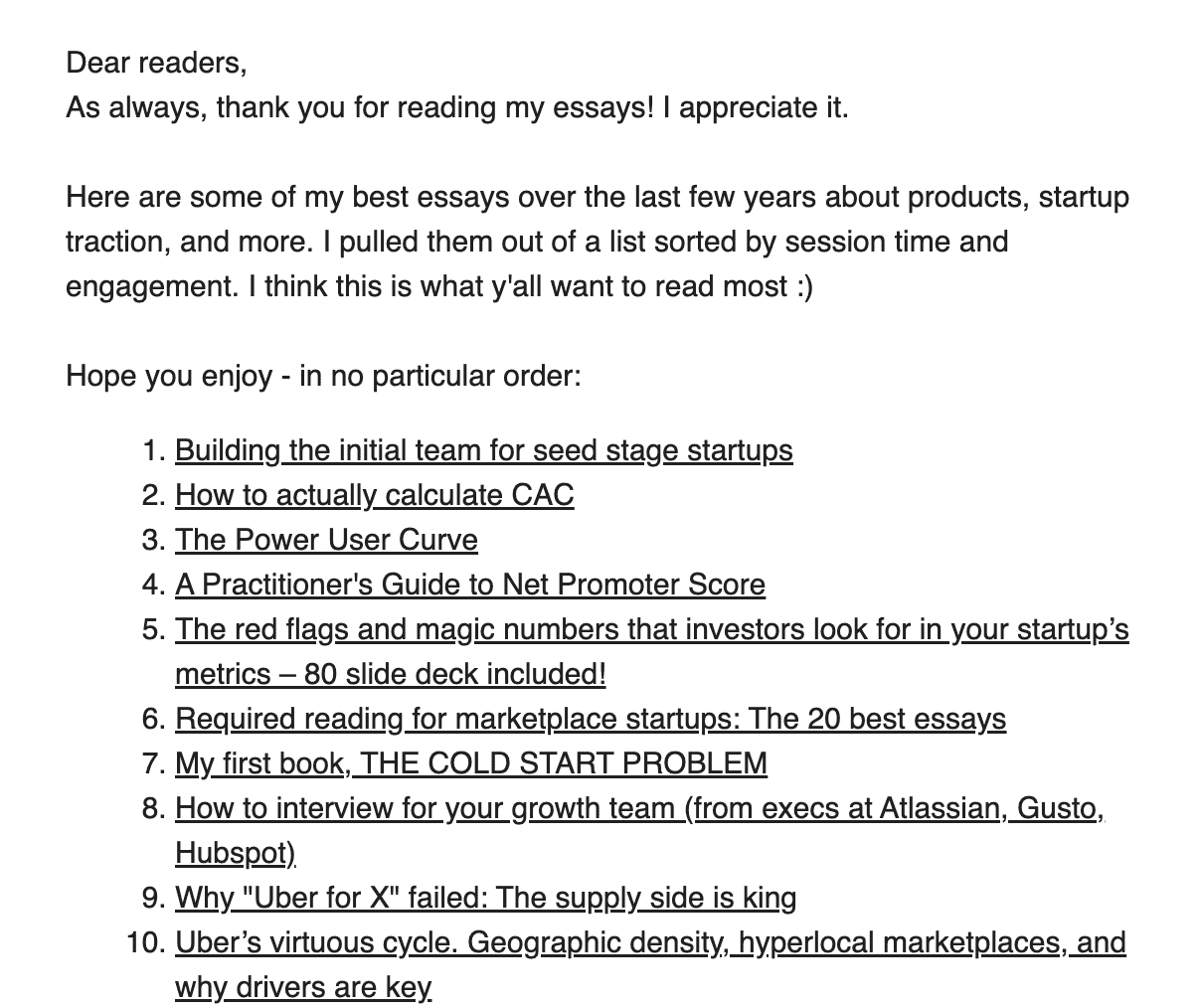 Final Thoughts
At this point, I hope you feel well-equipped to keep up with everything in the business world. Whether you're looking for marketing tips, want to grow your customer base, or just seeking wisdom from one of these industry veterans, we're confident that one or more of these listed will give you what you need!
Got any other business newsletters we didn't include that you can't live without? Let us know in the comments and we'll check them out.