Fully branding your YouTube content is essential to making your videos stand out from the crowd. Whether you plan to start a YouTube channel or already have one, using end screens levels up your videos' overall look and feel.
It's simple to create eye-catching videos that keep your viewers' attention–and keep them moving from one video to the next. Let's look at what end screens are and why they're important. Then, we'll share a few examples of great designs to get you started.
What Are YouTube End Screens?
A YouTube end screen appears at the end of a video to tell your viewers about related content, plus where they can find you.
Often, end screens contain clickable links and elements to draw users deeper into your brand. They can be an overlay to your video footage or an entirely new screen.
Why Are YouTube End Screens Important?
Just like YouTube banners, end screens help to encourage brand recognition and set up your viewers' next steps for engaging with your content. If you want to attract viewers to your channel and keep them there for longer, then creating end screens is an excellent way to go.
Adding end screen designs to your videos is a simple way to drive more traffic to other content and platforms. Let's take a look at a few important reasons to consider using end screen designs for your YouTube channel.
A Great End Screen Wraps Up Your Videos in an Attractive Way
Your YouTube end screen gives your viewers a clear ending and wraps each video in a way that looks polished and professional. The end screen can serve as a transition from one piece of video content to the next.
End screens on YouTube can be colorful and animated, or they can be simple and straightforward. Most importantly, they serve a clear and strategic purpose in your video content marketing.
For example, this end screen by author and speaker Gabrielle Bernstein gets right to the point with clarity and a simple design.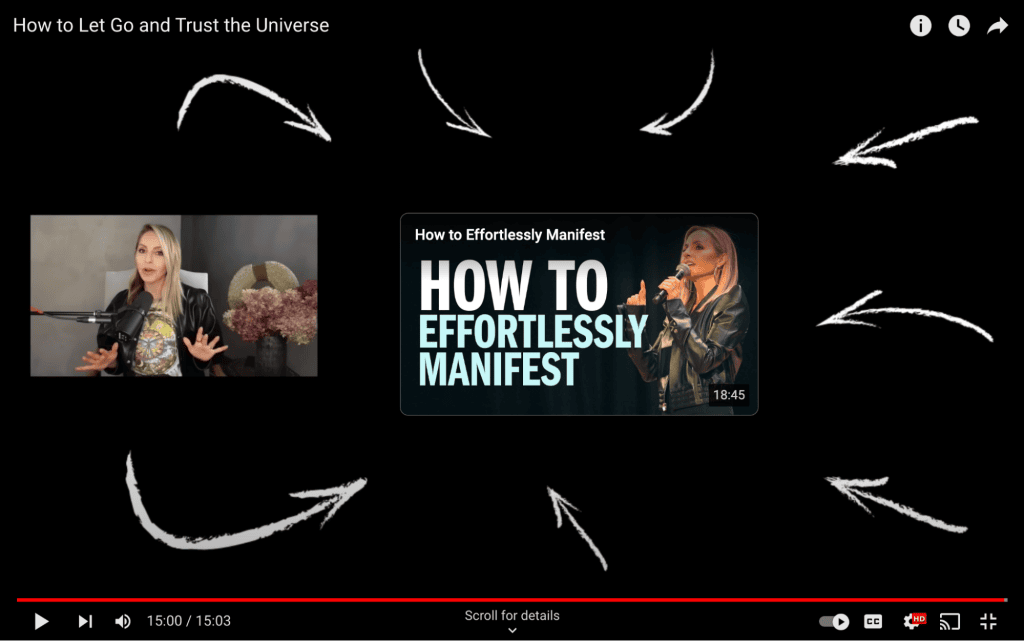 Well-produced videos with attractive banners and end screens don't tend to feel abrupt when they end. The clear intro and outro graphic treatments help to clarify your beginning and ending points with style.
A Well-Designed End Screen Levels Up Your Videos' Branding
A YouTube end screen that's designed well helps to elevate your videos' branding. This is especially important since repetition is so key to brand recognition. When your viewers see your banded visuals over and over, they're more likely to remember you.
Creating great banners and end screens for your YouTube videos can help set you up for success because you're opening and closing with excellent graphic design. Use a custom branded color palette, like entrepreneur team Andrew and Pete, for extra brand recognition.
Well-designed brand assets show your viewers that you truly care about their experience with your brand. Plus, the next time they see your particular combination of colors and imagery, they just might click on another video.
End Screens Tell Your Viewers What to Do Next
Most importantly, end screens give your viewers a clear picture of the next steps they should be taking when they complete a video. Most end screens contain links to one or more related videos your users can click to watch right away. Other end screens might have a prompt to subscribe to the channel.
Take this example from HubSpot, for instance. It contains a link to subscribe on YouTube, a link that opens a related video, a download link, and even a funny GIF to sweeten the deal.
YouTube end screens may contain even more information about where viewers can find you online. Consider including your social media handles and website URL, for example. The more opportunities you give viewers to find you elsewhere online, the higher the likelihood they'll click and follow!
5 Eye-Catching YouTube End Screens to Inspire Your Next Design
Ready to start building great-looking end screens for YouTube, but not sure where to begin? Tools like Snappa can help you get started.
We have a fantastic library of customizable YouTube end screen templates to inspire you. They're already optimized and right-sized for the platform, so the heavy lifting is done for you.
Here are some great-looking YouTube end screen prompts to get your ideas flowing.
1. People-Centric Professional Photos and Stock Images
Professional, people-centric photography that fits well with your brand design can work well for YouTube end screens.
Stick with an aesthetic that aligns with your brand's overall look and feel. Use images with plenty of breathing room and designs that don't distract viewers from what you want them to do next.
2. Product-Focused Images and Graphics
If you sell physical products, consider using your YouTube end screens to show them off. You can use an image that spans the entire background of your end screen. Or, you can give viewers a sneak peek using Snappa's easy-to-use design elements.
3. Pops of Color
If your brand relies on a simple color palette, using a monochromatic image or color scheme could work well. This template uses two shades of green with pops of blue. Add attention-grabbing pops of color if they align with your brand design so your next steps are hard to miss.
4. Simplistic Graphic Design Elements
When it comes to good design, less is sometimes more. Consider using an end screen with simplistic graphic design elements and branded colors to wrap your video content.
Your end screens don't have to be busy. They just need to lead users on a journey through your content.
5. Fun, Colorful Backgrounds
Try incorporating colorful end screen backgrounds that make it easy for your audience to take action. Solid colors with minimalist design elements can work well here. On the other hand, a gradient background can look great, too.
Looking for more tips and ideas? You can find more graphic design tips here.
Final Thoughts
When it comes to creating YouTube end screens, you want to give your audience a clear roadmap of where to go next. When you create end screens that are attractive and designed well, you're adding a distinctive level of branding to your channel that helps your content stand out. And, when you use a tool like Snappa, it's easy to create end screens without the need for a professional graphic designer. Even better, it's no problem to update your end screens as your brand aesthetic shifts.
What do you think? What kind of YouTube end screen would work best for your branded video content right now? Leave us a comment below and share your thoughts!