Flip images and more for free
Flip background images, photos, vectors, and icons vertically and horizontally in one click.
*Free. No credit card required.
Flipping an image shouldn't require expensive tools or tutorials
Flip background images
Upload an image, choose from 5,000,000+ free high-res photos, or design an image from scratch. Then flip your image vertically or horizontally in one click.
You shouldn't have to mess with layers or menus within menus to create a mirror image. And with Snappa, you won't.
Add photos and flip 'em
Drop your beautiful self onto any image and flip it so that you're facing the right direction and drawing attention to your text.
Of course, you can drop ANY photo on to your Snappa design and flip it vertically or horizontally.
Flip vector images
Choose from our library of free vectors, then flip your vector image vertically or horizontally in one click, resize it, change its color, and more.
It's never been easier to make it look like you paid big bucks for professionally-designed graphics.
Flip thousands of icons
Choose from emojis, icons commonly found in web apps and on landing pages, and icons that look like they were illustrated just for you.
Then change the size, color, opacity, and flip them vertically and horizontally in — you guessed it — one click.
Draw attention to your text
Isn't it annoying when you have the perfect portrait for your graphic, but the person is facing the wrong way? One click and it's fixed.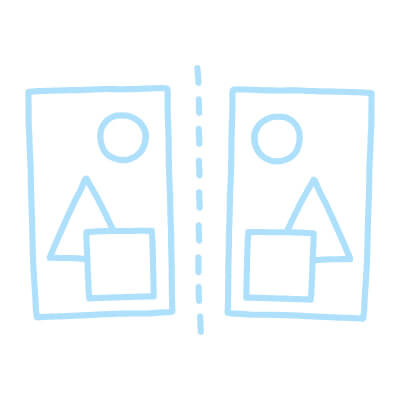 Go from "meh" to amazing
Images that flow from left to right and top to bottom draw us in. If the image you want to use doesn't flow — flip it.
Create surreal scenes
Sometimes, it's just a simple flip behind those out-of-this-world images that cause you to pause and think.
Snappa is the best tool I've used to create images for blog posts & Facebook ads. In 5 minutes I can do what used to take me hours to do or pay designers to do.
Sujan Patel,
Image flipper FAQ
How do I flip an image?
You ready? Select the background image, photo, or graphic you want to flip, then click the horizontal or vertical flip button. That's it.
Can I flip an image for free?
You can design, flip, and download up to three images on the free Starter plan each month, and unlimited images on the Pro ($10/month) or Team ($20/month) plans.
Do you have stock photos, graphics, and templates that I can use?
Do we ever! You get access to 5,000,000+ high-res free use photos and graphics and 6,000+ professionally designed customizable templates. Of course, you can flip these to fit any website, platform, or digital asset.
Snappa is SO MUCH more than a free image rotator
Photo Editor
Edit your photos in seconds.
Learn More
Speech Bubbles
Create quote posts that make your audience reflect, laugh, and share.
Learn More
More...
There are templates, high-res photos, icons, vectors, and so much more —
try it for free.
Ready to flip your image?