Instagram hashtags can help you get your brand in front of more users on the platform.
While Instagram is best known for its visuals—and now its video content, such as Reels—hashtags help you make your posts more specific. With Instagram hashtags, you can tell the platform more about who should be seeing your content.
Wondering how hashtags on Instagram work and why you should be using them? Let's jump right into it.
Why Do Instagram Hashtags Matter?
Instagram hashtags can strengthen your presence on the platform when you use them to their full potential. For example, hashtags can help you boost your reach and find more relevant users.
Users search for and follow specific hashtags on Instagram because they want to see new content associated with those topics. Accounts that don't get in on the hashtag game are definitely missing out on those potential warm leads.
For businesses and influencers on Instagram, using custom, branded hashtags helps to build brand awareness. They're great for getting users to share your content, and can also be used in user-generated content (UGC) campaigns to track others' posts about you.
Instagram hashtags can also add personality to your account. Beyond reach and branding, using a fun or humorous hashtag can boost engagement and give you a quirky trend to share with your followers.
How Much Do Instagram Hashtags Actually Matter?
Instagram hashtags are just one piece of your overall marketing strategy on the platform. They're not the most important part, but they do give Instagram context for what kind of content you post.
Your hashtags on Instagram can also help you find the right audience for your posts. If you want to reach specific demographics of followers who are interested in the types of content you post, then hashtags can play a part in getting your posts in front of them.
When you use Instagram hashtags, it's important to select and include them in your posts strategically. While they may not be as critical as your videos and images on Instagram, they can absolutely help you gain traction.
Let's take a look at some of the ways you can put Instagram hashtags to work for your brand.
How Many Instagram Hashtags Should I Use?
Instagram lets you include up to 30 hashtags in their post captions. However, the Instagram Creators account has advised users to stick to a 3-5 hashtag limit in captions.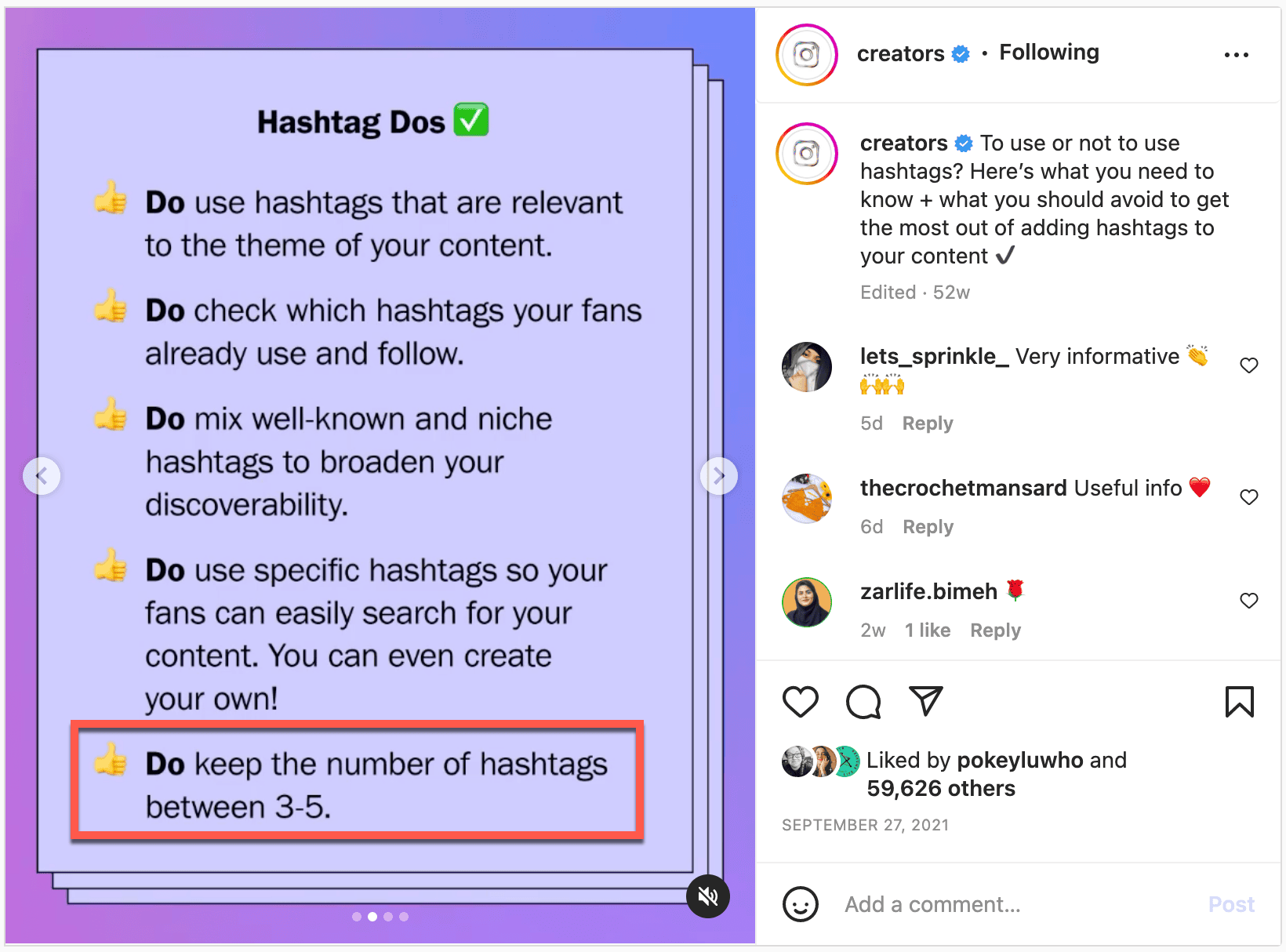 Research from Statista backs this guidance up. A report from March 2022 indicates that using 2-4 hashtags on your Instagram posts gets a 3.41% engagement rate, on average. That's the highest engagement rate among the posts studied at that time.
Still, switch it up. Don't be afraid to experiment with what works for your brand.
Some brands on Instagram prefer to only use one or two hashtags per caption. Others use 10, 20, or even the full 30-hashtag limit.
Remember that you can also use hashtags in your Instagram Stories. Give that a try to see what's most effective for you.
(If you need stellar visuals for your Stories, Snappa can help with that. We have a guide to help you get the perfect Story dimensions here.)
Keep an eye on your hashtag analytics and use different numbers and combinations of hashtags. When you test a variety of options for your brand, you'll get a clearer picture of what you should be replicating.
How to Find Great Instagram Hashtags to Include In Your Post
Now that you know the basics of hashtags on Instagram, let's take a look at how to find great hashtags to include in your posts and Stories.
1. Make a List of Topics Related to Your Brand
First, build a list of topics related to your brand. What product or service do you offer? What kinds of content are your target customers looking for?
Then, research your current analytics. It doesn't hurt to look at website and Google analytics in addition to your social media stats. This information can tell you a lot about what your users are actively searching for when they come to you.
Getting a good idea of the mix of topics you should be posting about will help you when you research hashtags. You can build your hashtag list using that information.
2. Use Hashtag Tools
Once you've written your list of topics, use hashtag tools such as Hashtagify or Later to help you conduct your research. You want to make sure you're landing on real hashtags that are actually in use on Instagram.
If Instagram users aren't actively using or searching for a specific hashtag, then there's no need to include it. The only exception is when it's a branded hashtag you're creating as part of your Instagram marketing strategy.
Once you've decided which strategic hashtags you'd like to use, incorporate a hashtag tracking tool to keep an eye on what's working and what's not. Tools such as RiteTag can give you analytics on specific hashtags and their performance.
On the other hand, tools like Later can tell you more about overall post performance and how your hashtag use factors in.
3. Look At Hashtags Other Brands Are Using
Take a look at your competition on Instagram. Which hashtags are they using?
Are they including hashtags you could also incorporate into your Instagram content? Try it out to see how your posts' performance changes.
You'll want to make sure you're not lifting any brand-specific hashtags they've created for themselves. Only use hashtags that are generally available.
Next, take a look at your own primary hashtags. Which of those are your competitors using?
You can search those hashtags on Instagram to find out what other posts are incorporating your primary hashtags. This method could give you additional inspiration for your own content.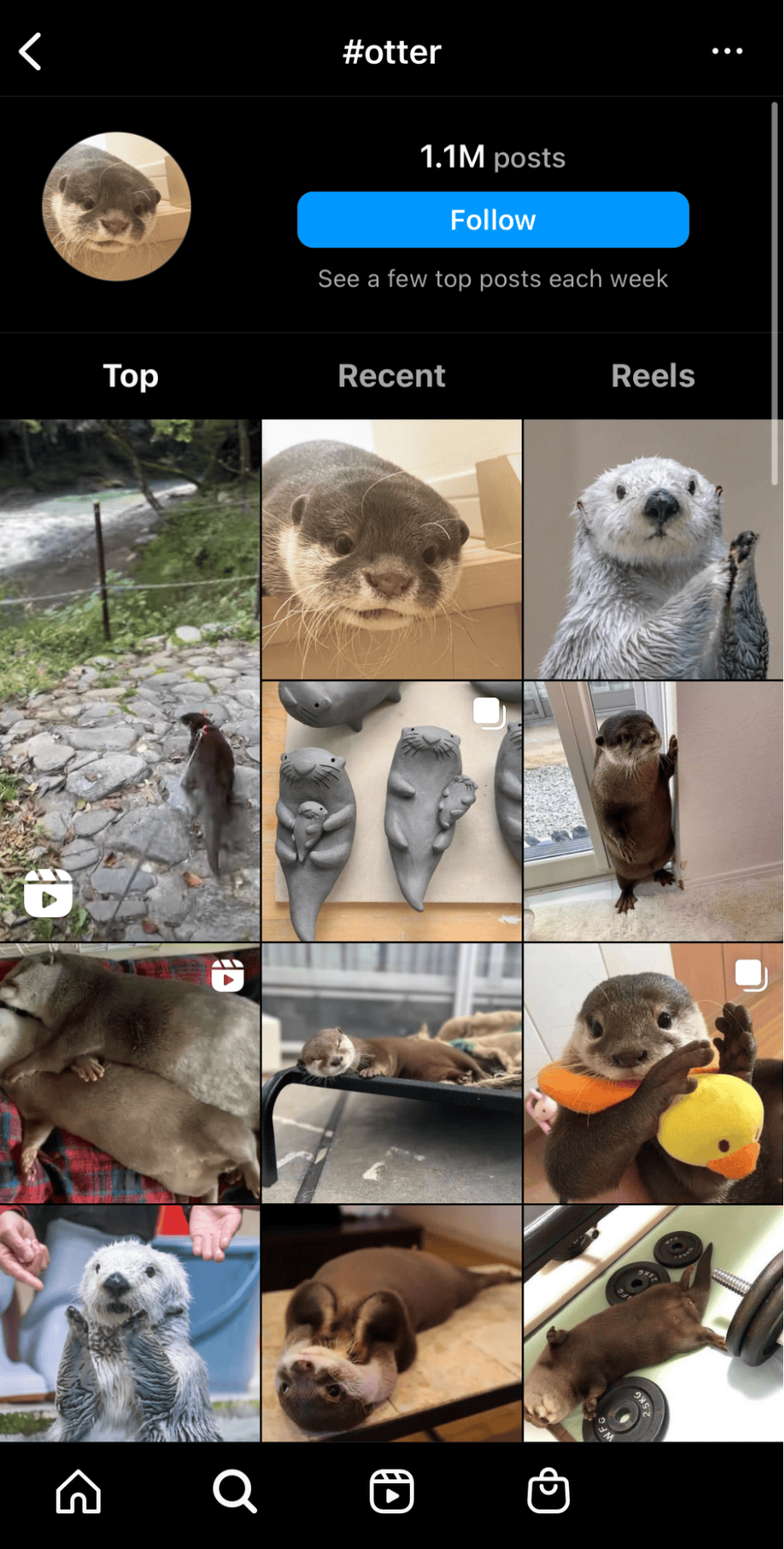 4. Make Your Own Branded Hashtag
Creating your own branded hashtag for your Instagram presence is a great way to set your posts apart.
As your brand grows, ask users to include your branded hashtag in posts about you or your products. This will help you keep track of posts, particularly if you're going to be incorporating UGC into your content strategy.
In addition to a branded hashtag, you can create campaign-specific hashtags to use during special events. These are great for challenges, giveaways, or product launches.
Final Thoughts
When used thoughtfully and strategically, Instagram hashtags can be an effective way to target the audience you want to reach. They can also help your branded posts stand out to current and prospective followers.
Of course, to get the maximum effect out of your hashtags, you'll need great Instagram visuals, too. Snappa can help with that. It's free to get started with our easy-to-use templates and tools. Click here to sign up.
What do you think? Have you seen brands using hashtags in really fun memorable ways lately? Let us know in the comments!