BeReal is a rising social media platform that encourages in-the-moment authenticity from its users.
Created in Paris in 2020, BeReal is widely considered a disruptor in the social media space. It boomed at the beginning of 2022 and has continued to grow in popularity since.
Like Stories on Instagram and Facebook, BeReal posts disappear after 24 hours. The posting process is completely different from the Meta apps, however, and lacks the creative tools found on other apps.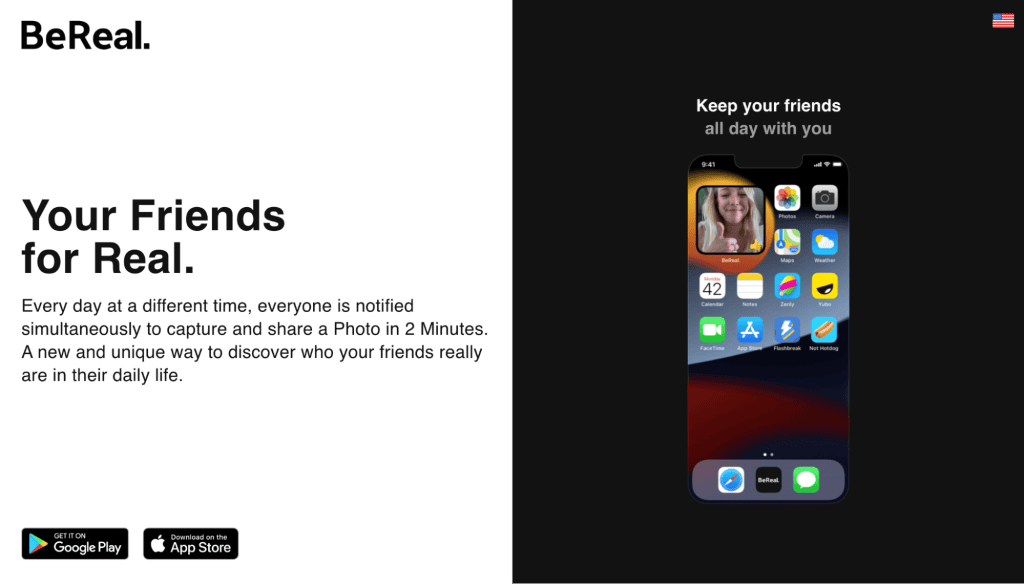 Posting to BeReal involves an incredibly stripped-down process: all users can do is snap a two-way photo. This photo includes whatever the user is looking at or doing in the moment, plus a candid selfie.
BeReal is targeted toward individual users. Some businesses like Chipotle have found creative ways to offer promo codes via the platform. However, advertising campaigns aren't allowed.
Why Does BeReal Matter?
BeReal works by encouraging candid posts with no filters or editing.
Users can't tweak the images they post to BeReal. Likewise, there are no stickers, lenses, filters, or creative tools to alter your posts.
When your daily notification comes in, you and your friends will all get the prompt at the same time. The app is meant to encourage authenticity, so your friends can see what you're really up to at the moment.
The appeal of posting this way is that nothing on BeReal can truly be staged. Rather than putting effort into photo prep, BeReal gives users the ability to see each other's real, unfiltered lives at any given time.
When you react to a friend's post on BeReal, you'll react with the platform's RealMojis. These display your actual facial expressions alongside corresponding emojis, making reactions much more personal and authentic.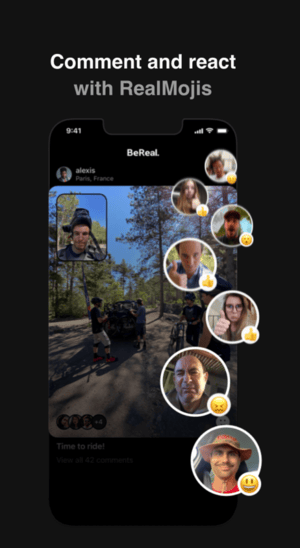 Notable BeReal Stats
While the interface may seem simplistic compared to other platforms, BeReal is wildly popular. The app has 10 million active daily users, growing from 10,000 active daily users in under two years.
BeReal is most popular in the US, with 2.7 million total downloads, followed closely by France and the UK. Women between the ages of 18 and 24 make up the majority of BeReal's users.
How to Set Up a BeReal Account
It's easy to set up an account on BeReal. First, you'll need to download the app from the App Store or Google Play. From there, the setup process is simple and quick.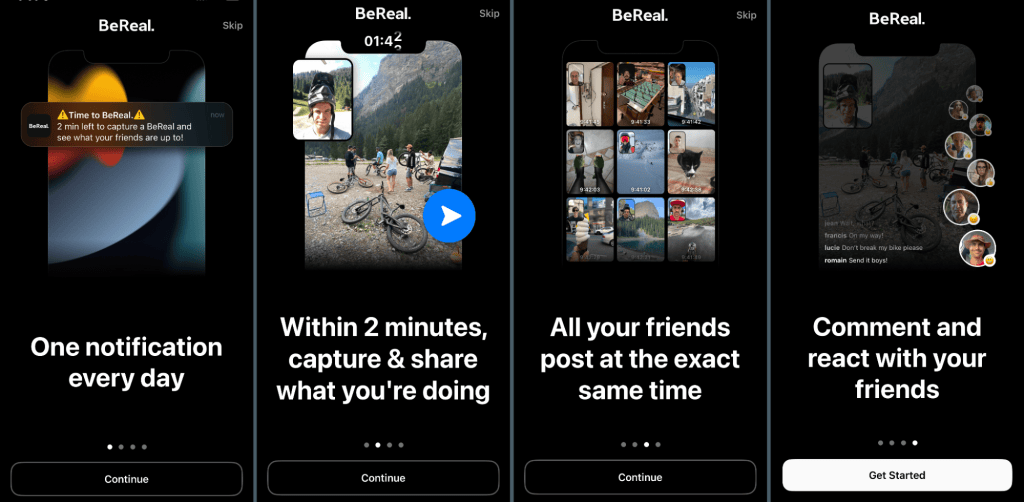 Open the BeReal app and move through the welcome screens. From there, you'll be prompted to enter your name, birth date, phone number, and username.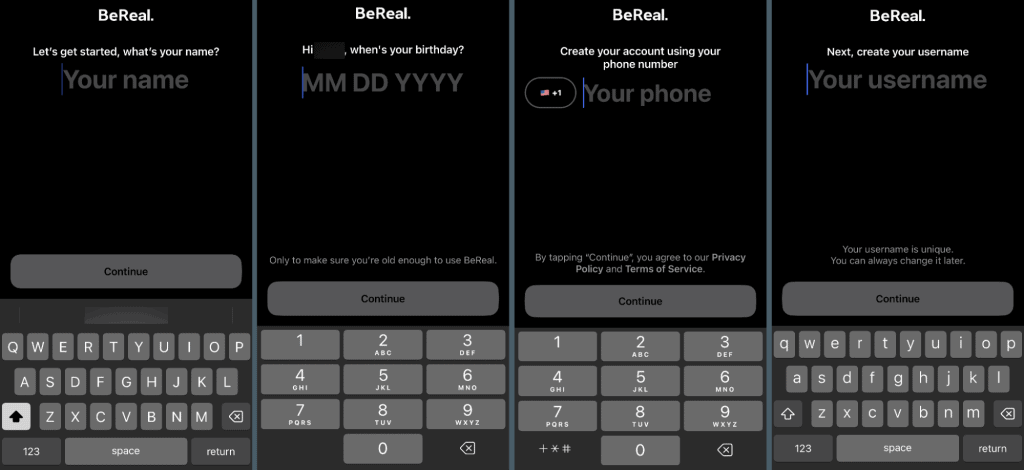 Next, BeReal will prompt you to connect your contacts so you can find friends with BeReal accounts. Once that's connected, you'll be able to scroll through a list of your contacts and start following friends.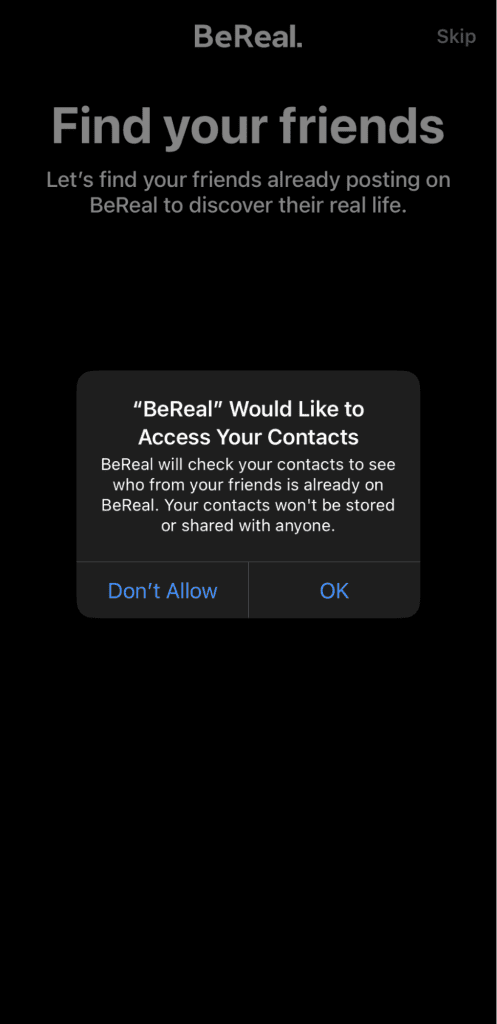 BeReal works by prompting users to post via notifications. For that reason, you'll see a prompt during the sign-up process to allow notifications for the app. Without notifications enabled, you won't be able to post at the designated time, which changes each day.
Once notifications are enabled, you'll get your first prompt to take a BeReal. When you tap your notification, BeReal will open the camera and give you two minutes to take your first image.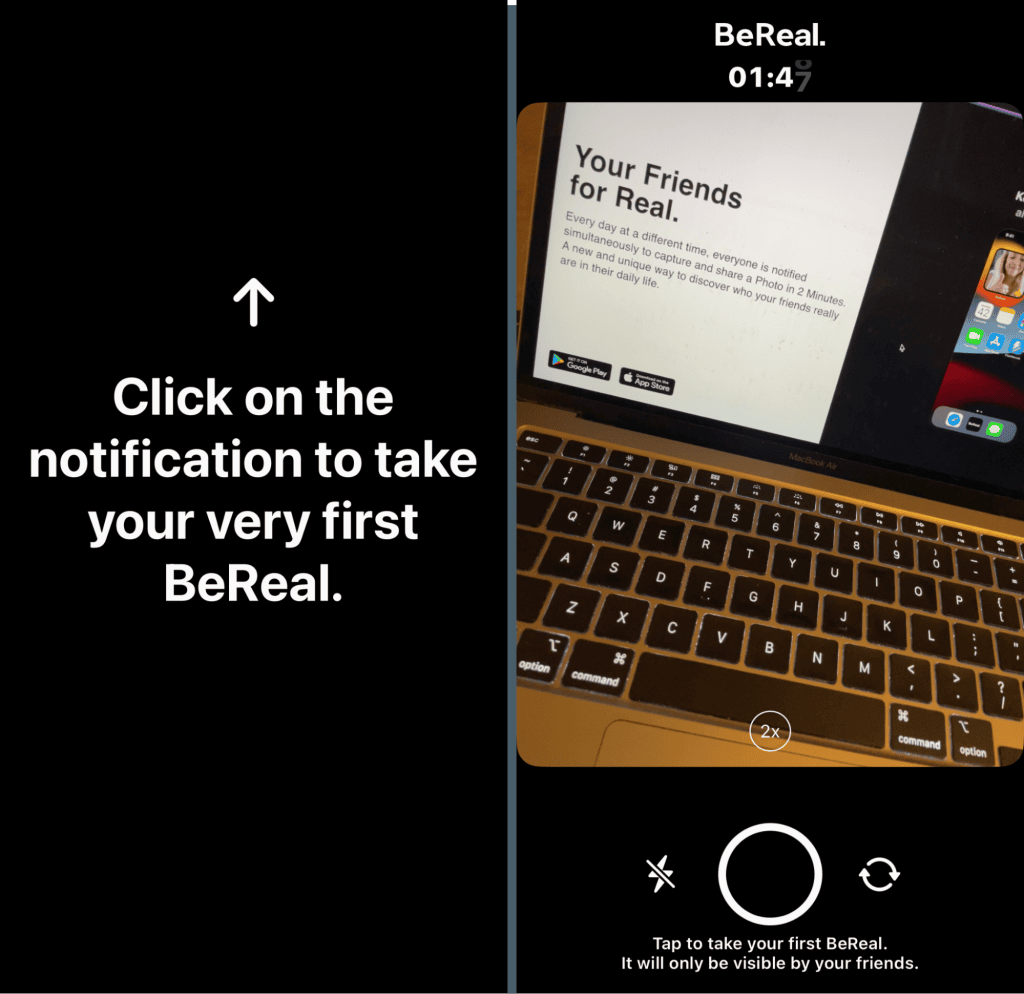 Decide (quickly) what you want to take an image of. When you snap a BeReal, your selfie will show up in the upper left corner of the screen. Note that you can't see your selfie before you take the picture.
After you post your BeReal, you'll have the option to add a caption to the image if you wish. Captions give you the chance to add more context to your post.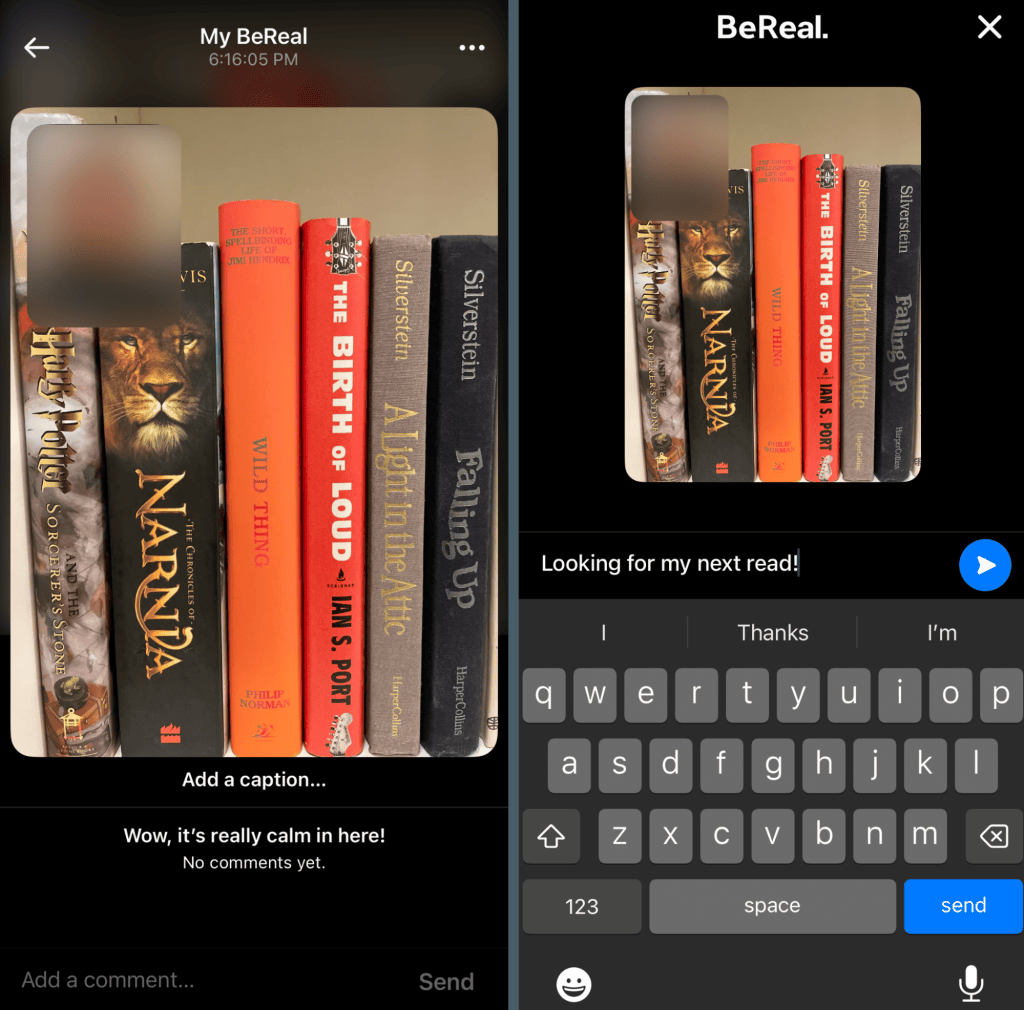 Once your post is live, you'll see it displayed in the My Friends feed. If your friends have posted for the day, this is also where you'll see their posts.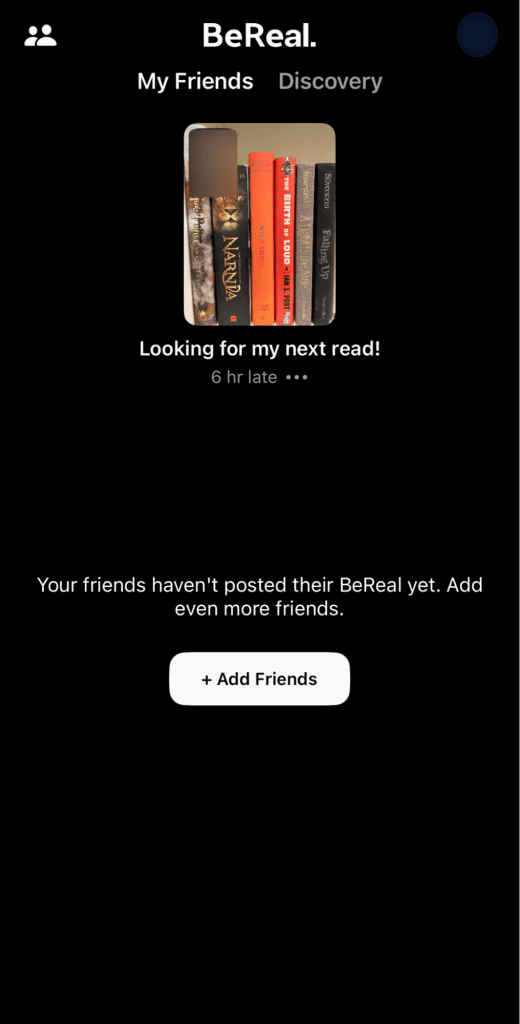 That's it! Keep an eye out for your notifications, and have fun posting.
BeReal Best Practices
If you're interested in jumping on board at BeReal, there are some best practices you should be following. Because BeReal is so straightforward, it's pretty easy to use with success.
Be Ready—Notification Times Are Random
You won't post at the same time every day on BeReal. The platform will prompt you to post at random times, so be ready for that notification to come through. If you normally set your notifications to silent or Do Not Disturb, for example, you might want to make sure BeReal's can push through so you won't miss it.
Be Quick
You only have two minutes to take your photo and post it. Not knowing what your selfie is going to look like is tricky when you're first getting started! If you want to retake your images, you can do so within that two-minute time frame.
Experiment with Selfie Angles
It's possible to give your friends a glimpse of what you're up to without always appearing on camera yourself. Play with angles when you take your image. That way, if you're not camera-ready when you get your notification, you can still snap a quick picture without showing your face.
Don't Worry About Graphics or Curated Content
One of the major appeals of BeReal is the fact that users don't have to spend the extra time thinking about, curating, or creating graphics or content for their posts. Using BeReal frees you up to simply take one picture a day, then go about your routine.
Because of how BeReal is set up, adding this social media platform to your current mix won't involve the same amount of time or effort as other apps. If you have a business, keep in mind that you won't be able to run ads, but BeReal could give you the opportunity to make more genuine connections with your audience.
Reflect with Memories
Feeling nostalgic? Review your previous posts in the Memories section. You can look through past posts by month. At the end of the year, the app will generate a year-in-review video for you.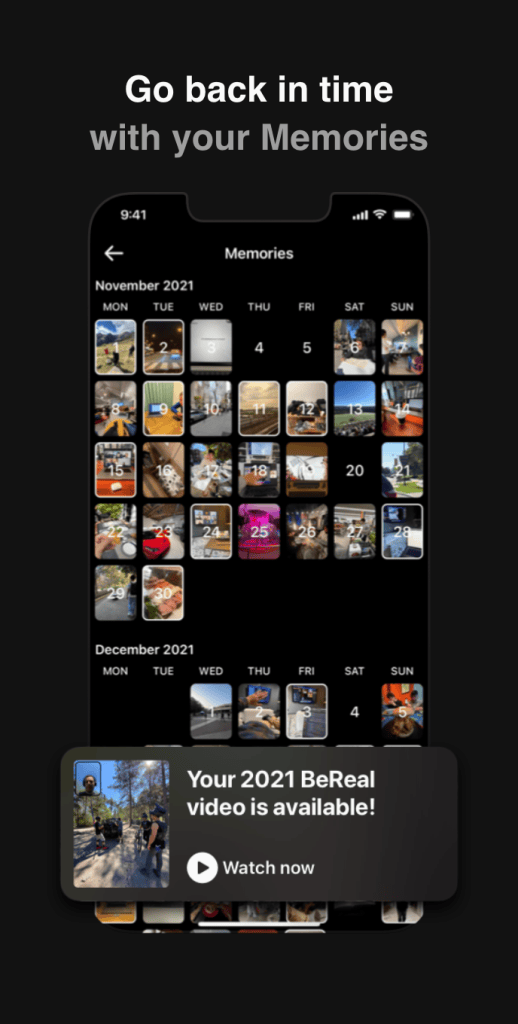 Have fun!
The point of BeReal is to strip away the prep time and filters of other social media platforms. Your friends and followers want to see you having fun with the app, so have fun being candid.
Many of us are used to curating content and setting up the perfect image. With BeReal, you don't have to spend time doing that, which is part of its appeal.
Final Thoughts
BeReal is an easy, straightforward social media platform to expand your online presence. It adds authenticity without overcomplicating your social content creation process.
Creating content for your other social platforms, like Instagram and Facebook, doesn't have to be difficult, though. Snappa simplifies the work of creating graphics, banners, profile images, and more—and it's free to start. Open your free account to access our library of templates, design elements, and more. Get started here.
What's your favorite thing to post on BeReal? Let us know in the comments!